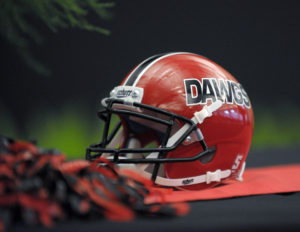 By D. Mark Mitchell
The Opelika wrestling team hosted Robert E. Lee and Stanhope Elmore in a tri-match last week in Opelika's main gym.
The Bulldog grapplers defeated Stanhope Elmore 42-40, coming back to win after trailing by as many as 30 points during the match.
Dez Shuman, Zeak Jones, Braden Bell, Trint Vaughns, Cameron Reese, Bevin Williams and James Dawson all won their matches, giving the Bulldogs a two-point victory.
Robert E. Lee defeated OHS 52-24. Shuman, Williams and Dawson won their matches in the loss.
Opelika will participate in two tournaments during the Christmas break, the Yellow Jacket Invitation in Oxford Dec. 28 and the Barry Mask Invitational in Wetumpka Dec. 29.
BASKETBALL
GIRLS
The (11-4) Opelika Lady Bulldogs split a pair of games this week, losing to Robert E. Lee 69-60 and beating Central 75-59.
The Generals outscored Opelika by 18 points in the second half to rally for the win.
Quala Walton led Opelika with 20 points. Abrea Green and Alexis Browning scored 12 and 10 points respectively.
Opelika defeated Central last Friday night 75-59 in front of a packed house at the OHS Sports Arena.
The Lady Bulldogs led by eight points at halftime and two points after three quarters.
Coach Devin Booth dialed up the defensive pressure in the fourth quarter, outscoring the Red Devils 24-8. Four players scored double digits for Opelika including:
Abrea Green's game-high 21 points; Anita Payne's 15 points; Claire Worth's 13 points and Alexis Browning's 11 points.
Opelika will take several days off for Christmas, then travel to Birmingham for the 'Ball 'N Prep Tournament' Dec. 28-29.
Opelika's next home game will be Jan. 5 against Auburn High School, with first tip set for 6 p.m.
BOYS
The Opelika boys basketball team played only one game last week because of finals. Opelika lost to Central 63-39 at the Sports Arena in front of a standing-room only crowd.
Coach John Wadsworth's team played a gritty first half, trailing 32-27 despite having a considerable height disadvantage.
The Red Devils used their size and athleticism in the second half to outscore Opelika 31-13 in the second half. Opelika's 13 second-half points is the the lowest output this season in one half.
Trey Boone led the Bulldogs with a game-high 17 points.
The Dawgs will travel to Handley for the 'Handley Christmas Tournament' Dec. 19-20.
Opelika will play Central (Clay), Handley and Wadley.
The Bulldogs return home Jan. 5 against rival Auburn. Tip-off is set for 7:30 p.m.
OPELIKA MIDDLE SCHOOL EIGHTH GRADE BASKETBALL
The OMS eighth-grade basketball team defeated rival Auburn 37-31 last week.
Jarrell Stinson led the Bullpups, scoring a game-high 22 points. Rashaad Frye added eight points to contribute to the victory.
CARLY PARKER
As many of you know, Opelika senior Carly Parker passed away after a long battle with cancer.
If you ever had the opportunity to meet Carly, there is no doubt that she has a big smile in Heaven.
I watched Carly bring an unusual love to her high school. The entire student body and staff embraced Carly.
The 2016 Opelika football team showed their love to Carly by recognizing her during one of its pep rallies.
The girls and boys basketball teams held a moment of silence in honor of Carly Parker prior to Friday night's game.
Rest in peace, Carly.
D. Mark Mitchell is sports director for iHeart Media, Alabama Dixie Boys State Director and vice president of the A-O Sports Council.