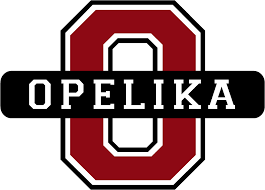 The Opelika High School boys and girls squads will head to the State Cross Country Meet on Nov. 7 in Oakville after qualifying in the sectional meet. The OHS girls finished first, second and third and Breckin Gould won the meet two seconds ahead of teammates Paola Torres and Margaret Bice. Following are results for the rest of the girls squad: Jul'ecia Beard (sixth), Susan Gaston (eighth) and Jhenny Hoover finished ninth.
The boys were led by Chas Brewer's 14th-place finish. Winston Tufts (32nd), Michael Hart (40th) and Evan Goodman (42nd) also finished in the top-50.
The two teams will run in the AHSAA State Cross Country Meet this weekend in Oakville.
OHS FOOTBALL TO HOST MCADORY IN FIRST-ROUND, 6A AHSAA PLAYOFF GAME
The OHS football team will host McAdory in the first round of the class 6A Alabama High School Athletic Association football playoffs this Friday at 7 p.m. at Bulldog Stadium. The Yellow Jackets (6-4) finished fourth in Region 4 behind Hueytown, Bessemer City and Paul Bryant.
McAdory is coached by Bart Sessions, who is in his first season as Jackets head coach. He spent three seasons as head coach of McGill-Toolen, Tuscaloosa County and Gadsden City.
Opelika and McAdory did not play last week, using the week to prepare for a potential five-game stretch. Classes 1-6 play four rounds prior to Super 7, while 7A teams play three rounds prior to Super 7. The Bulldogs have played a tougher non-region schedule than McAdory. Opelika plays two of the top 7A programs in Central and Auburn every year. McAdory's non-region games included Selma, Dallas County, Greensboro and Helena.
The Bulldogs are the better football team and should advance to the second round after Friday's game. McAdory is a good football team but not ready to play 6A playoff football or playing in the hostile confines of Bulldog Stadium. I look for the Bulldogs to use a physical defense and a balanced offense to beat the Yellow Jackets. The rushing game for the Bulldogs may be enough to keep the Jacket offense on the sideline.
Fans can purchase tickets at Bubba's Medicine Shop and Victory Design for $8 until noon Friday. Bulldog Stadium ticket office opens at 5 p.m. Friday. You can listen to the game on WKKR 97.7 Kicker FM, kickerfm.com and on the iHeartRadio app. Coverage begins at 6:30.
The winner advances to the second round of the AHSAA Playoffs on Nov. 15 against the winner of Lanier and St. Paul's. Look for St Paul's to make a return trip to Opelika after beating Lanier. The Saints play in a tougher region and have played a harder non-region schedule.
WRESTLING
Opelika High Wrestling Coach Jim Davis released the roster for the 2019-20 season, which currenly conists of only six grapplers:
Benjamin Daughtry
James Dawson
Julian Favors
-Adam Phillips
-Jackson Shoemaker
-Chris Willet
-Cameron Williams.
The Wrestling Bulldogs open the season on Nov. 19 at 5:30 p.m. against LaGrange and Russell County.
BASKETBALL
OHS Girls Coach Devin Booth and boys coach John Wadsworth plan to release their rosters and full schedules in the coming days.
The Lady Bulldogs will open the season Friday versus G.W. Carver (Birmingham) in the first round of the "Hazel Green Tip-off Tournament."
Both of Opelika's varsity teams will play at Beauregard on Nov. 14.
D. Mark Mitchell is sports director for iHeart Media, Alabama Dixie Boys State Director and vice president of the A-O Sports Council.