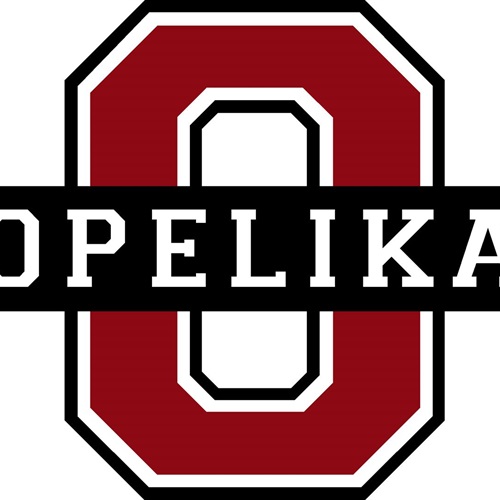 By D. Mark Mitchell
The Opelika Bulldogs (2-0) scored two touchdowns in the fourth quarter to beat Auburn 21-13 last Friday night at Bulldog Stadium.
The two rivals played tough defense throughout the game. Auburn took a 7-0 lead early in the second quarter. Tigers quarterback Patrick McGlon threw a 55-yard touchdown pass to Laquavious Nelms, with 11:25 in the second quarter.
Opelika tied the game in the third quarter as quarterback Brody Davis scored on a 1-yard run with 27 seconds remaining in the third quarter. Baker Rowan added the PAT.
The Tigers answered that score with 9:45 left in the game. McGlon threw a 42-yard screen pass to Aaron Diggs to take the lead. Jaylen Stinson blocked the ensuing point-after try, making the score 13-7.
The Bulldogs offense went to work on the following possession with Davis guiding the Bulldogs to a score. Running back Kani Kellum plunged in for a five-yard TD, tying the game at 13-13. Rowan added the PAT, leaving Opelika ahead 14-13 with 7:19 remaining.
Auburn started their next possession at the 35-yard line. After the Tigers picked up the first down, they faced fourth-and-4 from the Bulldogs 48-yard line.
Coach Adam Winegarden decided to fake a punt. Opelika held on, taking over after downs around midfield. Three plays later, the Bulldogs were forced to punt.
Auburn roughed punter Jaylen Stinson, giving Opelika a first down. Davis found Omar Holloway for a 42-yard TD pass with 2:31 left in the game.
Offensively, Opelika finished with 190 total yards. Davis ended the night 11-of-18 passing for 128 yards with one TD and one interception. Kani Kellum rushed 14 times for 44 yards, Holloway ended with 100 all-purpose yards, including 67 receiving yards.
Defensively, Kory McCoy led Opelika with 12 tackles. Stinson finished with 10 tackles, one interception, blocked a kick and punted for a 50-yard average. Dino Martin recorded nine tackles.
OPELIKA AT SELMA
The Bulldogs travel to Selma Friday for both their first region and road game. Selma beat Southside 28-20 last week in their season opener. Opelika leads the series 7-6, winning the last seven games in the series. The Saints won the first six games dating back to 1960s. The Bulldogs won 66-6 last year, have outscored Selma 303-32 during the last seven wins.
The bottom line is, Opelika should be 3-0 overall and 1-0 in region play after Friday's game. The Bulldogs will play in Memorial Stadium, which is located at 108 W. Ave. in Selma.
Fans can listen to Opelika at Selma on WKKR 97.7 Kicker FM and online at www.kickerfm.com.
OPELIKA CROSS COUNTRY
Opelika's cross country team participated in the "Trinity Trailblazer Meet" at AUM in Montgomery on Aug. 24. The girls were led by Breckin Gould's third-place finish, a time of 21:41.72. Margaret Bice (16th), Paola Torres (17th) and Jhenny Hoover (40th) also ran in the meet.
The boys team was led by Chas Brewer who finished fourth with a 18:14.91. Michael Hart (31st), Winston Tufts (38th), Tykell Jones (43rd), Benjamin Estes (72nd), Evan Goodman (78th) and Kadri Gates, Trey White, Jack O'Quinn and Landon Grace also competed in the meet for OHS.
OHS athletics website, www.opelikaathletics.com, does not show a schedule for cross country. According to the AHSAA website, Opelika was scheduled to run in Thompson last week. The team did not participate but will host the annual "Opelika Invitational" Sept. 14 at the Opelika Sportsplex.
OPELIKA
VOLLEYBALL
The Smiths Station Lady Panther volleyball team beat Opelika 2-1 last last week.
The Lady Bulldogs will host their first home matches against Handley on Sept. 5 at 4:30 p.m. in the Mainstreet Gym.
Following is a schedule of the team's game during September:
Sept. 7 @ the "Auburn High Tournament"
Sept. 12 v. Sylacauga
Sept. 17 @ Beauregard
Sept. 18 @ Benjamin Russell
Sept. 24 @ LaGrange
Sept. 25 v. Smiths Station
Sept. 26 @ Handley.
D. Mark Mitchell is sports director for iHeart Media, Alabama Dixie Boys State Director and vice president of the A-O Sports Council.