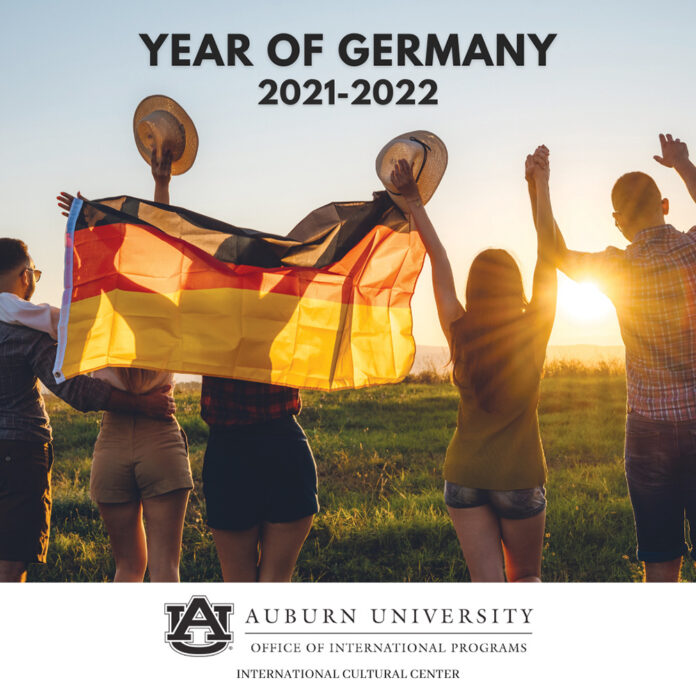 CONTRIBUTED BY
AUBURN UNIVERSITY
The Auburn University International Cultural Center in the Office of International Programs dedicates each year to the study of a particular country or region to share the rich variety of cultures around the globe with the Auburn community. The 2021-22 academic year is the Year of Germany.
In honor of Germany and its rich traditions, the International Cultural Center is inviting Auburn students, faculty, staff and the wider community to join in the Year of Germany festivities throughout the fall semester.
Events include:
• Culture & Cuisine Class: Sept. 13 from 5:30 to 8 p.m. at the Spidle Hall Kitchen, floor 2 — Cook and enjoy a traditional German dish
• Window to Your World Lunch Seminar: Sept. 15 from 11 a.m.to 1 p.m. in the Student Center, 2326 — Lunch featuring a presentation on working across cultures in the United States and Germany by Corinna Luz and Denis Haehn from Straehle + Hess USA, Inc.
• Watch the World International Film and Dialogue Series: Sept. 16 from 5:30 to 8 p.m. in the Library, 4129 — Screening of the German film "Goodbye, Lenin!" with free pizza and beverages
• International Cultural Café: Sept. 23 from 2:30 to 4 p.m. in the Foy Hall Lobby — An informal and relaxed forum for cultural expression and education conducive to an inclusive and culturally competent university community.
The Year of Germany fall celebration culminates on Sept. 25 prior to the Auburn vs. Georgia State homecoming football game for a German-themed tailgate outside of Spidle Hall, at the corner of Mell Street and Roosevelt Drive. The tailgate opens three hours before the game and will end 30 minutes before kickoff. Guests can expect servings of traditional German food and beverages, as well as interactive musical and dance activities. All members of the Auburn Family are welcome and encouraged to attend and participate in the festivities.
"This program is important to internationalizing Auburn's campus and engaging local and global communities," said Adeola Fayemi, manager of the International Cultural Center. "The cultural events help students break down stereotypes, build connections across cultures and develop the intercultural competencies needed to be globally competitive and responsive in today's complex, interdependent world."
In addition to the fall activities, the International Cultural Center will be offering several Year of Germany events throughout the spring semester. To stay up-to-date on the Year of Germany events and for more information on the program, please visit the Office of International Programs' website.
About Auburn University:
Auburn University is a nationally ranked land grant institution recognized for its commitment to world-class scholarship, interdisciplinary research with an elite, top-tier Carnegie R1 classification, life-changing outreach with Carnegie's Community Engagement designation and an undergraduate education experience second to none. Auburn is home to more than 30,000 students, and its faculty and research partners collaborate to develop and deliver meaningful scholarship, science and technology-based advancements that meet pressing regional, national and global needs. Auburn's commitment to active student engagement, professional success and public/private partnership drives a growing reputation for outreach and extension that delivers broad economic, health and societal impact.