BY Harrison Tarr
For the Observer
When the Auburn football program traveled to Columbia, South Carolina, to take on the Gamecocks of USC on Saturday night, first-year head coach Bryan Harsin and company were in desperate search of a victory to build upon going into the Iron Bowl and bowl season in general.
Despite jumping out to a 14-0 lead in the first quarter of play, the Tigers found themselves on the losing end of a 21-17 battle, sending the orange and blue to the loss column for the fifth time this season.
Backup quarterback TJ Finley posted a lack-luster stat line in his debut as starter following the injury to junior Bo Nix, sophomore kicker Ben Patton missed a chip-shot field goal to bring the Tigers within one and the Auburn offense fell silent in the second half yet again. Auburn needed a flame of hope; sophomore running back Tank Bigsby stepped into that role.
Throughout the course of the 2021 season, the Tigers have struggled developing — and committing to — their rushing attack; the lack of a run game was created, in large, by sophomore Bigsby's inability to return to the freshman form of himself that fans of the orange and blue had grown accustomed to seeing.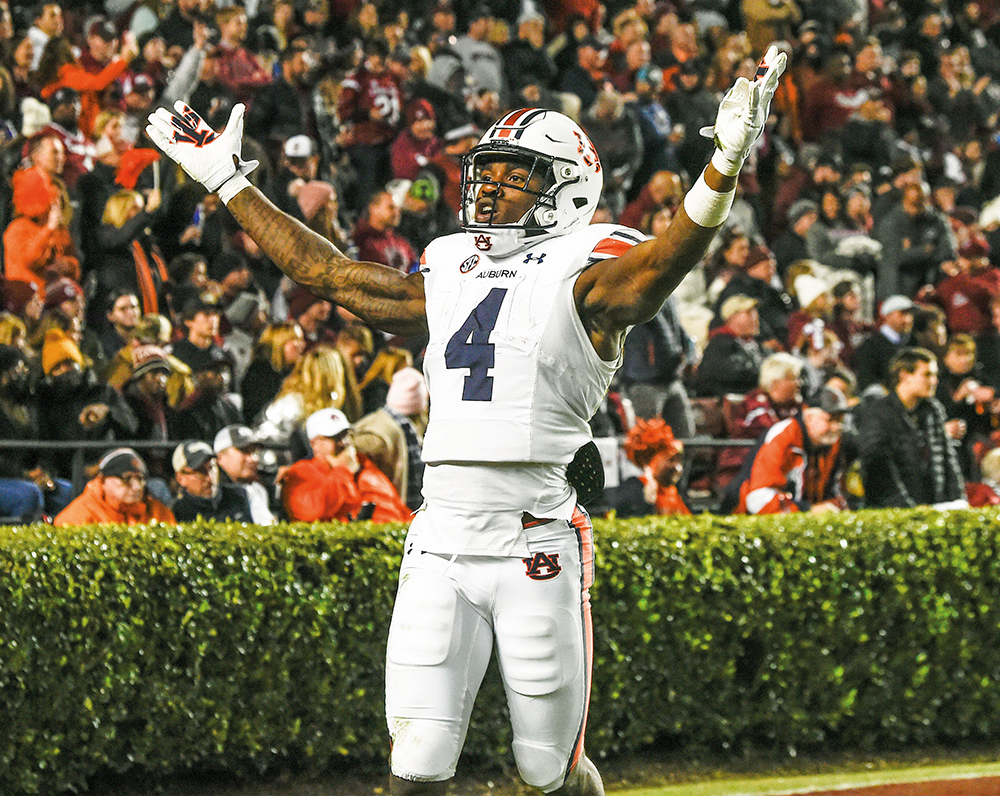 Bigsby was determined Saturday night to change the narrative surrounding his 2021 campaign, posting 164 yards on 22 touches, finding paydirt once on the ground and recording a performance which was reminiscent to that of his freshman year.
Harsin was impressed by the play of his standout back as well as the work provided by the Auburn offensive front.
"(Bigsby) had a great night," Harsin said in his post-game press conference. "He ran hard. Thought he did some great things. Thought the o-line did some great things."
Senior wideout — and Auburn's leader in receiving yards against the Gamecocks — Shedrick Jackson added that he is continually impressed with the production of Bigsby.
"Tank always plays hard," Jackson said. "I believe in him. He's always going to give his all and run hard. He's a good player and makes big plays."
Although Bigsby was seemingly Auburn's go-to guy when it came to attacking the garnet and black's defense, his absence in late-game scenarios was puzzling to many and drew a plethora of questions of the Tiger's new head coach, most notably about a fourth-and-one attempt which proved to be a designed play action and eventually failed.
Harsin did not regret the play call or his personnel package.
"That was part of being in that situation," Harsin said. "Maybe not in particular that yard line right there, but that play, trying to take a shot on fourth down. You know, you were on the road and you want to give yourself a chance, hopefully hitting a big play, and we felt like we needed to hit some explosive plays in this game."
In continuity to its inconsistencies thus far in 2021, Auburn was able to establish an identity on defense, holding the Gamecocks to just 21 total points; the trouble for the Tigers lied within the reality that Bigsby was — essentially — the only offense they had.
"I'm always surprised to see 17 points with what we're trying to get done on offense," Harsin said. "So, rushing, throwing and all that, 17 points just doesn't cut it. You've got to score points. Hopefully put your team in a position where you make it challenging for the other offense. Regardless about rushing or throwing, 17 points is not what we're trying to get done."
Auburn will need to find an offensive rhythm in a hurry as it looks ahead to its final regular season contest with No. 2 Alabama in the 2021 installment of the Iron Bowl, an opponent that Jackson knows can redefine the Tigers' entire season.
"Obviously everybody knows this is a big game," Jackson said. "One of the best rivalries in college football. So like I told them, we beat bama, it'll be a whole different story. Kind of turn things around, give a different perspective."
The Tigers will play host to the Tide at Jordan-Hare Stadium on Saturday, Nov. 27 at 2:30 p.m. CST. Coverage is available on CBS and the CBS Sports app.