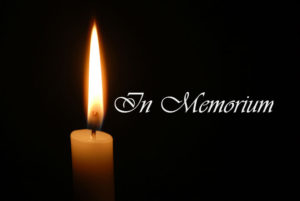 Mary Ceil Groce Foster
Mary Ceil Groce Foster (89 years young) was born on September 12, 1928 in Society Hill, Alabama, and entered her heavenly home on Sunday, February 11, 2018 at EAMC.
Known as Gandma, Grandmother, and MeMaw to her grandchildren, she moved to Beauregard when she married Frederick "Harold" Foster on her birthday in 1947. They were married for 68 years when he preceded her in death in 2016. Born the youngest of six children to Robert Hugh and Willie Pearl Groce, she grew up in Macon County with her brothers Lester Groce, Bernard Groce, Daniel "Sonny" Groce and her sisters, Elizabeth Mayberry and Emma Gooden who is her only surviving sibling. Mary graduated from Tuskegee High School and retired from the Lee County School System, as a school bus driver. After retirement, she joined Harold in successfully running Foster's Deer Processing. Mom and Dad met many wonderful people and gained many new friends through this venture as well as their many days of camping and riding their motorcycle. Mary was a member of Hopewell United Methodist Church where she received the Mother of the Year Award. Mary was a caretaker by nature taking care of everyone who crossed her path, especially Harold until his death. She was a wonderful cook, known for her little biscuits, fried catfish, butter rolls, and homemade coconut cake. Mom loved word search puzzles, chicken salad, sweet potatoes of any kind, collecting little shoes and reading. Her favorite color was blue, because she told everyone it matched her beautiful blue eyes.
Mary was preceded in death by two grandchildren, Melanie Ledbetter and Jamie Pugh.
She will be greatly missed by her children, Dianne and DeWayne Gullatt, Kathie and David Ledbetter, Debra and Randy Causey, of Opelika, and Freddie and Victoria Foster of Magnolia Springs, Alabama; grandchildren Theresa and David Owen, Sonja and Jesse Sanders, Jennifer and Jonathan Robinson, Jeremy Gullatt, Heather and Kevin Dees, Erica and Forrest Black, Jon and Stephanie Causey, Justin and Rosa Causey, Rick Foster, and Emili Foster; great-grandchildren Davis Owen, Jessica, Joshua, Ryan and Rebecca Sanders, Carter, Mary Payton and Hudson Dees, Liam Black, Daniel and Samuel Robinson and a host of nieces and nephews. Also, missing her is her faithful, old white bulldog, Opie, who rode many miles with Mom and Dad around the "Country Block".
Visitation was held in the Parlor at Frederick Dean Funeral Home Thursday, February 15, 2018, from 12:30 until 1:50 p.m.
Funeral service followed at 2:00 p.m. in the Chapel with Dr. Rusty Sowell and Reverend Drue Tubbs officiating. Internment followed at Hopewell United Methodist Church Cemetery.
The family would like to thank everyone at EAMC for their compassionate care and love during these difficult days. Also, a special thank you to her caregiver, Angie Wilson. Her last days were filled with love. Mom finished the race and is now resting in the arms of our Lord and Savior, Jesus Christ.
Frederick Dean Funeral Home directed.