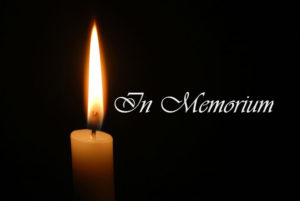 Kathryn Duncan
Cooper
Kathryn Duncan Cooper passed away July 27, 2018 at home in Opelika. She was born September 16, 1921, to the late Florence Hamilton Duncan and Daniel Webster Duncan of Rockwood, AL. She finished Russellville High School and obtained a B.S. degree in Foods and Nutrition from Alabama Polytechnic Institute (Auburn University) in 1942. She worked the next three years there as a dining hall manager and then spent three years as food service director at a Presbyterian college in Puerto Rico. Upon her return she met and married James Cooper and moved to Tuscaloosa, where she lived for 58 years.
In the early 1960's, she was employed by the department of Nutrition and Foods at the University of Alabama as a research assistant. She was an active member of Trinity United Methodist Church in Tuscaloosa, serving in many leadership roles, and was honored for her services there with a plaque when she moved to Opelika in 2006.
Other volunteer work included Brownie scout troop leader, PTA, and Children's Hands on Museum. In Opelika she was a member of the East Alabama Medical Center Auxiliary, where she worked until she was 91 years old.
She enjoyed traveling and set foot in all 50 states and five continents. She was a member of study and bridge clubs, both in Tuscaloosa and Opelika. She was a devoted wife, mother, grandmother, and friend. She was an excellent cook and enjoyed sharing her gift of hospitality and baking with others.
In addition to her parents, she was preceded in death by her husband, James Cooper; brother, Dan Duncan; sister, Martha McDowell; and sister, Carrie Grissom.
Survivors include daughter, Betty Cooper of Jacksonville, FL; daughter, Margaret Ann Walker (George) of Opelika, AL; grandson, Jim Walker (Kristen) of Opelika, AL; and brother, Tom Duncan (Wanda) of Hope, AR.
A private family graveside service was held Monday, July 30, 2018 at Elmwood Cemetery in Birmingham, AL. Visitation was scheduled for Tuesday, July 31, 2018, at 10 a.m. followed by a memorial service at 11:00 a.m. at First United Methodist Church of Opelika. The Reverend Robin Wilson officiated. Suggested places for memorials are First United Methodist Church, 702 Avenue A, Opelika, AL 36801, or Auburn University Foundation with memo for James Cooper Scholarship, 317 S College, Auburn, AL 36849.
Jeffcoat-Trant Funeral Home directed.