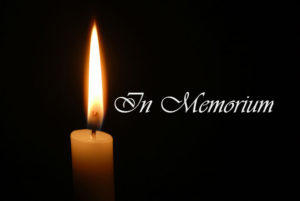 Jessie Depoister
Jessie Depoister was born on July 26, 1926 in Elmore County, AL to the late Thomas A. and Edna M. Yarborough Lyle and passed away at the Bethany House on December 25, 2018.
She was preceded in death by her stepmother, Lou Emma Myers Lyle; brothers, Thomas Clayton Lyle and Truman Lyle; and sisters, Nellie Pearl Roberson and Louise Lazenby.
She is survived by her daughters, Martha Bailey Smith (Bruce) and Mary Ann Bailey Meuth Longoria (Louie); son, Renza L. (Buddy) Bailey; brother, Charles A. Lyle (Cathy); 7 grandchildren, 10 great grandchildren, 4 great-great grandchildren, and several nieces and nephews.
Jessie, known to most as "Maw-Maw," never met a stranger and was loved by all. She was a tough woman with a great sense of humor and a strong work ethic that she passed along to her three children.
As a teenager, she sang in a gospel quartet on the radio on Sunday mornings. Her claim to fame was that she and her date double dated with Hank Williams, Sr. She was a member of the Ladies Auxillary of the American Legion. She worked in the textile mills in Tallassee, Alexander City, and Opelika, which was hard work for a woman. She also worked at Ampex and Diversified Products and was a waitress at several restaurants and bartender at The Elk's Club and the American Legion. Later in life she worked as a demo agent to demonstrate products at Wal-Mart. This was the job she loved the most because she loved talking to and meeting people.
We will miss her wit and her sweet smile. The family would like to thank the angels who cared for her at the Bethany House, EAMC, and especially at The Harbor of Opelika.
Visitation was held in the Parlor at Frederick-Dean Funeral Home Friday, December 28, 2018 from 11:00 a.m. until 12:00 noon.
Funeral services were held Friday, December 28, 2018 at 12:00 noon in the Chapel at Frederick-Dean Funeral Home with Pastor Thomas Bo Smith officiating. Interment followed at Pleasant Hill Cemetery in Eclectic, Alabama.
Frederick-Dean Funeral Home directed.