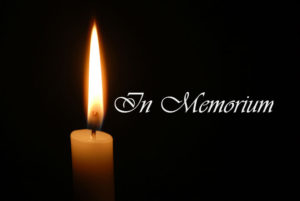 James William
Olmes Rogers, Sr.
Yep, I'm dead now! But I had the foresight to write this obituary prior to my death, believing it is better to come from me rather than a disinterested third-party!
I was born in the DuBois Hospital on December 14, 1935, an eon of years ago. My dad, James G. Olmes, was a Pennsylvania State Trooper, my mother, Grace Ann Hipps Olmes, was a homemaker. My sister, Cynthia Ann, was born in 1940, shortly before my dad was transferred to the troopers' Punxsutawney barracks. In 1942 he suffered an accidental death and my mother, sister and I moved to the Curwensville home of her father and mother, William A. "Bill" Hipps and Beulah Haggarty Hipps. My grandfather, who owned an eponymous insurance agency, became my father-figure, mentor and best friend.
In 1945 I had the great good fortune of having Ms. Hilda Passarelli as my 5th grade teacher. She was the most gracious and influential teacher I ever experienced, regardless of the grade. She started me on the path that led to my career in radio and TV.
In 1946 my mother remarried. She, Ann and I moved to Clearfield; at Leonard Grade School, I became a member of the CHS class of '53! The post WWII years were filled with the trials and joys of "growing up," and in 1950 I began working as an announcer at WCPA, beginning a career that led me to WMIE, Miami; KCRS, Midland, Texas; WCED, DuBois, then KDDA in Pittsburgh; WERE in Cleveland; WCAU-TV in Philadelphia; WNEW in New York, then to WXIA-TV in Atlanta; WKIX, Washington, DC; WBAP, Dallas/Fort Worth; ABC Radio News in New York City and Washington, DC; WBIG and WMAL, Washington, DC; KOI, Denver and KFI, Los Angeles. between radio and TV stations I was a licensed real estate broker in Georgia, South Carolina, Virginia, Colorado, Nevada and Washington, DC. Yes, my family and I moved a lot!
I graduated from Penn State in 1960, also receiving a commission as a 2nd Lt. in the United States Air Force, leading to an assignment as an Information Officer at the MATS Provisional Base in Chatereau, France. Following my active duty I was an AF reserve member until I was discharged in 1968 with the rank of Captain.
In 1961 I Married Allie Richards Short, the daughter of Alice and Paul J. Short, prominent funeral directors in DuBois. Our first son, my namesake, James William Olmes, Jr., was born in 1963. Our second son, Paul Scott Olmes, was born in 1966. Sadly I was preceded in death by Allie (1980) and Jimmie (2008). Paul Scott was a United States Army Blackhawk pilot and flight instructor until his retirement in 2017. He, his wife Lisa and my granddaughter, Amanda Scott, live in Hammock Bay, Florida. Amanda Scott is an undergraduate student at Auburn University. My grandson, James William Olmes Rogers, III is being raised by his maternal grandfather following the death of his father, then the death of his mother, Marnie Padgett Rogers, in 2010.
In 1975 while living in Atlanta, we added "Rogers" to our name. "Jim Rogers" was the name given to me at WCAU-TV and it became the last name by which we all were known and which we have carried, or will carry, to our graves.
1935 until now is a very long time. My life was filled with many peaks of joy, including husband, fatherhood and career achievements, and a few deep valleys of sadness and despair. I have one surviving son, a beautiful daughter-in-law, a granddaughter filled with intelligence and beauty and a handsome, namesake grandson. I wish them joys and achievements that eclipse mine! And you, too, readers who have stayed with me through this brief remembrance of my life!
Part of my cremains will be scattered by my nephew, Rob Shank, over the graves of my family at Oak Hill Cemetery in Curwensville. The rest will be scattered by my son, daughter-in-law and granddaughter into the four winds and seven seas, via a beach on the Gulf of Mexico, following their private celebration of my life! So, the next time you get a speck in your eye, smile!
It might be me! Thank you for reading my obituary.