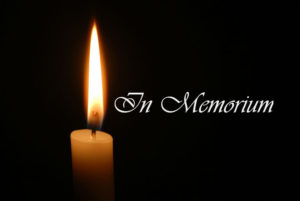 Henry Quinton Walton
Henry Quinton Walton, age 94, passed away Thursday, November 22, 2018 at home surrounded by his family. A native of Lee County, Alabama, Sgt. Walton served as a flight engineer on B-24 Bombers and C-47 Transports in the Army Air Corps, stationed in the Pacific during World War II. While serving he was awarded a Good Conduct Medal and a World War II Victory Medal.
When he returned from service, he married his high school sweetheart, Merle Parker Walton. He began his career in the automotive parts business. He was part owner of East Alabama Auto Parts in Opelika and later formed an auto parts business, Tiger Parts, with his two sons until 2005.
Mr. Walton is survived by his loving wife of 73 years, Merle Parker Walton; oldest son Charles Walton (Virginia) and their children Suzanne Callahan (Joey) and April Farr (Justin); son Jimmy Walton ( Beth) and their children Courtney Thomas (Earl), Katie Walton, Sarah Friley (Nick), Robbie Cartron (Kim), Michael Cartron (Charis); and daughter Anne Robison (Robbie) and their children Hillary Allen (Patrick), Spencer Norrell (Haylee), Matt Robison and Angela Dunnam (James).
He is also survived by his sister Dorothy Mitchell, and numerous grandchildren, nieces, and nephews. He loved his family with all of his heart.
The family would like to express their sincere appreciation to all the caregivers that so lovingly cared for Mr. Walton over the past few years as well as the Hospice care he received.
Funeral services were held Sunday, November 25th at Jeffcoat-Trant Funeral Home.
Visitation was from 1:30-2:30 at Jeffcoat-Trant and funeral service followed at 2:30.
The burial service was held at Mount Olive Cemetery in Opelika.
In lieu of flowers the family requests donations be made to University of Maryland Baltimore Foundation Inc. (UMBF) for the Polycystic Kidney Disease Research Fund.
University of Maryland School of Medicine
31 South Green Street Ste. 302
Baltimore, MD 21201
Jeffcoat-Trant Funeral Home and Crematory directed.