GEORGE KENNETH PARKMAN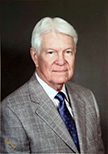 George Kenneth Parkman was born in Russell County, Alabama, on June 9, 1935, to Hilda Maggie Bryant and Leslie Huell Parkman. In 1946, the family moved to Salem, Alabama, where they ran a general merchandise grocery store for twenty years. A 1953 graduate of Opelika High School, George earned a degree in Industrial Engineering from Auburn University in 1957. A member of Phi Kappa Tau fraternity and the Army ROTC, he was commissioned as Second Lieutenant upon graduation.
After working as an industrial engineer for Southern Bell Telephone Company, George was assigned to the Army Corps of Engineers in Germany from 1958 to 1960 where he attained the rank of captain. In 1961 he was recalled to active duty at Fort Campbell, Kentucky, during the Berlin Wall crisis in order to ready his Army Reserve Company for combat duty in Germany. On a trip to Germany for training, he met Callie Mae Williams, an American Airlines flight attendant. In 1964 they were married; their meeting and life together were a true love story.
After a brief return to Southern Bell Telephone in 1962, George joined Morbark Debarker as a sales engineer. In 1964, he was hired by Taylor Machine Works, a manufacturer of large forklift trucks, as a factory sales representative for Louisiana and Arkansas, and in 1966, he and his family moved to Ruston, Louisiana. In 1981, after having become a dealer, he established Arkla Taylor Inc., with sales and parts facilities in Louisiana, Arkansas, Oklahoma and Texas. After receiving many top dealer awards, in 2011, Arkla Taylor was sold to Hugh and Hall Inc. George stayed involved in the business community as owner of Stor-a-Way Mini Storage, a self-storage facility in Ruston.
George contributed his time and financial support to Four Paws Rescue in Ruston, where he was also a member of the Ruston Kiwanis Club and Trinity Methodist Church. In his free time, he enjoyed duck, deer and pheasant hunting with friends, his daughters and grandchildren. He was a lifelong Auburn Tiger and always enjoyed football season. His favorite activity was spending time with his family in Crested Butte, Colorado, where he enjoyed fly fishing and snow skiing. Tennis was a lifelong passion of George's, especially playing doubles with his friends.
He is preceded in death by his parents; brothers Huell Parkman, Charles Parkman and Robert Parkman; sisters Elizabeth Noe and Mary Colman. Survivors include his wife of 59 years, Callie Mae Parkman; daughters Carol Parkman Williams and Laura Ligon Parkman McElroy and son-in-law Robert McElroy; grandchildren Maggie and Jack Williams; sister Betty Letlow and numerous nieces and nephews.
Honorary pallbearers include Darryl Johnson, John O'Neal, Ed Shell, Johnny Maxwell, James Mays and Robbie James.
George's family would like to give special recognition and thanks to Dr. Tommy Smith and all of the caregivers for their care and devotion.
Visitation was held Wednesday, Sept. 6, at Trinity Methodist Church prior to a Memorial Service in the Burkhalter Chapel.The Rev. Doug DeGraffenreid officiated. A private family burial service followed under the direction of Kilpatrick Funeral Home of Ruston, Louisiana. In lieu of flowers memorials may be made to Four Paws Rescue or the charity of your choice.
LYNN S. WOODROW
Lynn S. Woodrow, 75 of Auburn, died at her home on Aug. 29, 2023, after a long illness.
Lynn was born in Troy, New York in 1948, to Laurel B. and Donald L. Scott. She was raised in Troy and graduated from Our Lady of Victory School and Catholic Central High School. She continued her education at Samaritan Hospital School of Nursing and graduated as a registered nurse. Her nursing career started at Samaritan Hospital in the area she loved — labor and delivery. While a student at Samaritan she met her future husband. He survives her after over 53 years of marriage.
Lynn was preceded in death by her parents and is survived by her husband, Philip T. Woodrow; her son, Philip T. Woodrow Jr.; daughter-in-law Judy Lynn Woodrow and grandsons, Philip T. Woodrow Ill and Zachary Shafer. In addition, she is survived by her sister, Donna Young (Brian); brother, David Scott (Vicki); niece, Kris Mclssac (Jim) and Ian Young (Michelle). She is also survived by an aunt, Norma B. Dixon and numerous cousins.
A funeral mass was held Wednesday, Sept. 6, 2023 at St. Michael the Archangel Church in Auburn. Interment will be at Evergreen Cemetery in Wynantskill, New York, on a date to be determined.
In lieu of flowers, please consider a donation in Lynn's memory to CurePSP (wwwwww.psp.org/); Lee County Humane Society (www.leecountyhumane.org/) or the charity of your choice.
JOHN ELLA "JOHNNIE" E. KEANE
John Ella "Johnnie" E. Keane, age 89 of Auburn, passed away Aug. 28, 2023. A Mass of Christian Burial was held Thursday, Aug. 31, 2023, at St. Michael's Catholic Church with Father Michael Farmer officiating. The family received friends at the church prior to the Mass. Burial followed in Town Creek Cemetery.
Mrs. Keane was born on April 29, 1934. She was a graduate of Mercy Hospital School of Nursing in New Orleans, Louisana in 1955. She served as an officer in the United States Air Force Nursing Corps where she met her husband of 62 years. She gave up her career to raise four children but remained active as a volunteer in both church and school activities. She was a communicant of St. Bede Parish in Montgomery for 25 years until she moved to Auburn in 2005.
Mrs. Keane is survived by her children Philip (Cathy) Keane of Cleveland, Georgia; Kevin Keane, decedent; Diane (Jason) Blunt of Delray Beach, Florida, Maureen (Rob) Fain of Auburn; grandchildren: Ashley (Jason) Babicka of Charleston, South Carolina, Christine Antinoro of Hiram, Georgia, Christopher Keane of Cleveland, Georgia, Grayson, Cooper, Phelps, Lyla Fain of Auburn; great-grandchildren Cameron Schulz of Hiram, Harbor, Joah Babicka of Charleston; sister Dorothy (Michael) McMahon of Houston, Texas; brother-in-law Paul Keane of Brentwood, New Hampshire, and several nieces and nephews.
In lieu of flowers the family suggests Masses for Mrs. Keane or a memorial contribution to a charity of one's choice.
Jeffcoat-Trant Funeral Home directed.
MARY NELLE SUMMERS HESTER
Mary Nelle Summers Hester, age 100, passed away peacefully on Tuesday, Aug. 29, 2023, in Opelika. She was born to Carl and Mattie Will Summers on Oct. 6, 1922, in Lee County, Alabama, on the family farm. Her father worked as a third generation farmer and her mother was a home economics teacher at Beulah School. She was raised on the farm with her older sister, Dorothy, and her younger brother, Carl Jr. After graduating from Beulah High School, she attended Huntington College for one year and later transferred to Auburn University where she graduated with a degree in early childhood education.
After graduation, she journeyed to Vanport, Oregon, for one year to work as a caregiver for children of working mothers who were employed in the shipbuilding industry assisting with the war effort. She then returned to Auburn where she became the first director of the Child Development Center on campus for married couples. While at Auburn, she met an architecture student from Birmingham, Harry Hester, and they married in Lee County. They moved to Birmingham where she was active in the raising of four children. In the early 1980's, she returned to the family farm in Lee County where she has lived since.
Mary Nelle stayed active in Auburn United Methodist Church and community civic affairs until 2017 when a hip fracture made it impossible for her to drive on her own. Mentally alert and active, she enjoyed keeping abreast of current events in Washington and locally.
She leaves behind a daughter Martha Stagg (Jim) of Shelby, Alabama, two sons, Kenneth (Liz) Hester of Pensacola, Florida, and Wayne (Elizabeth) of Birmingham. She also leaves behind five grandchildren Allison Stagg (Mike), Mackenzie Stagg, Haley Knight (Zachary), Summers Hester, Georgeann Hester and two great-grandchildren. She is pre-deceased by her son Carl Hester, her parents Carl and Mattie Will Summers, her brother Carl Summers Jr. and her sister, Dorothy Cooper.
The family would also like to extend heartfelt thanks to her caregivers Mary, Mae Ola, Veronica, Geraldine and Alicia for their loving care for the last four years.
A graveside service was held Friday, Sept. 1, at 11 a.m. at Auburn Memorial Park Cemetery located at 1000 E. Samford Ave. in Auburn.
Frederick-Dean Funeral Home handled all arrangements.
CASSANDRA MILLS
A memorial service for Cassandra Mills, 68, of Decatur, Georgia, formerly of Opelika, was held at 11a.m. (CST), Saturday, Sept. 2, 2023, at True Deliverance Holiness Church in Auburn.
Bishop Nolan Torbert, Pastor Elder Abraham Harris I and Eulogist Elder Doris Kyles officiated.
Ms. Mills, who passed away Thursday, Aug. 24, 2023, in Decatur, was born Aug. 24, 1955, in Lee County, Alabama.
At an early age, she confessed Christ and received the precious gift of the Holy Ghost. She was a lifelong member of Tabernacle Church of God Jesus Only under the leadership of the late Bishop Abraham Harris Sr. where she served as secretary, choir director and praise leader.
Cassandra graduated from Opelika High School in 1973. Upon graduation, she attended Opelika Technical College and received a degree in business administration. Prior to relocating to Decatur, Georgia, she was employed at Opelika-Auburn News. Later, Cassandra began working at the Jewish Family and Career Services where she was a dedicated employee for more than 20 years.
She leaves to cherish her memory, special aunt as a mother figure, Kathleen Strickland of Opelika; four siblings Abraham (Donyal) Harris of Sugar Hill, Georgia, Annette (Rickey) Pitts of Opelika, Sandra (Josue) Mateo of Orange Park, Florida, and Bryan Harris of Atlanta, Georgia; two godchildren, Benjamin (Natalie) Harris of Dallas, Texas, and Raquel Mateo of Orange Park, Florida; two aunts, Dorothy Strickland and Carrie Strickland both of Opelika and a host of nieces, nephews, cousins and friends.