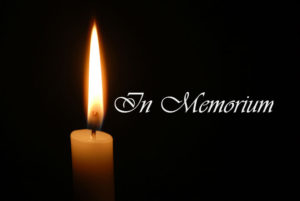 Daylynne "Dale" Virginia Rogers
Daylynne "Dale" Virginia Rogers passed away Saturday, December 16, 2017 at her home in Opelika, AL.
Ms. Dale was born in Seattle, Washington on January 31, 1927 to the late Olda and Alma Cox. Ms. Dale was the youngest of six brothers and sisters. Ms. Dale was a faithful member of Cornerstone Church since January 30, 2005.
Ms. Dale is survived by her daughter Penny Daylynne Laich; son, Jay Desmond Rogers, wife Kristine; three grandsons: Eddie, Kenneth, and Christopher; four granddaughters: Henrietta, Erica, Levina, and Rhonda; one great grandson, Shaun, along with her best and dearest friend Bertha Webb.
A memorial service was held at 1:00 p.m. on Wednesday, December 20, 2017 at Cornerstone Church, Pastor Rusty Hutson, Dr. Shirley Dempsey, Chaplain, and Pastor Josh Agerton officiated.
Jeffcoat-Trant Funeral & Crematory directed.