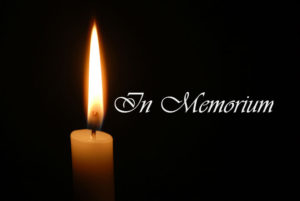 Claude Milton "Boots" Mitchell
Claude Milton "Boots" Mitchell, age 92, died at Bill Nichols State Veteran Home in Alexander City, Alabama on March 12, 2018 of natural causes.
Born on January 22, 1926, in Dadeville, AL to parents Claude and LuAnne Mitchell, Boots grew up on the family farm in the community of Beauregard, Al as the youngest of seven children.
In 1945, he joined the U.S. Merchant Marine Service and served for 2 years. During this time he worked on ships and visited the ports of Hong Kong, Shanghai, San Francisco and Honolulu. In the early 1950's he joined the U.S. Air Force and worked as a radar technician. While stationed in Front Royal, Virginia he met and married Claire Madeline Houck in 1954. They later moved to Opelika, Alabama.
Boots owned and operated two businesses in downtown Opelika, the first of which was Mitchell TV, Sales and Service, and later Mitchell Furniture, for approximately 30 years. He was active in Wesley Memorial United Methodist Church, Civitans, and Alabama Brittany Club where he judged and participated in field trials all over the Southeast and had the American Brittany Club National Champion, 'Rosie' in 1995.
He is pre-deceased by his parents and 6 brothers and sisters: Cecil, Ralph, Alfred, Sarah Rainey, Gladys Guy and Jessie Edwards. He is survived by his wife Claire; daughter Angela Calhoun, son-in-law Porter and granddaughter Grace of Franklin, TN; son Grady, daughter-in-law, Arlene of Bakersfield, CA; son Jeff, daughter-in-law Sheryl of Auburn, AL, grandson Justin, granddaughter-in-law, Natalie, great grandchildren Eli, Brennan, Vidalia and Aurora of Mobile, AL; son John, daughter-in-law, Kathy, granddaughters Maria, Elise, and Julia of Opelika, AL and numerous nieces and nephews.
Services were held on Friday, March 16, 2018 at Jeffcoat-Trant Funeral Home in Opelika. Visitation began at 12:30pm with funeral service at 2:00p.m, officiated by Reverend David Chunn. A burial at Garden Hill Cemetery followed.
In lieu of flowers, memorial contributions may be made to the Bill Nichols State Veterans Home, 1784 Elkahatchee Road, Alexander City, AL, 35010.
Jeffcoat-Trant Funeral Home directed.