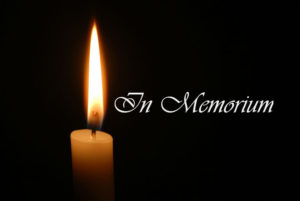 Benjamin Edgar
Edwards
1938-2018
It is with great sadness that our family announces the passing of Benjamin Edgar Edwards on Friday morning, September 28, 2018. As his sister-in-law described him, Edgar was a "warrior" who battled through a twenty-six year struggle with prostate cancer and it's attending complications. Edgar had many qualities that garnered abundant respect: a great love of family, a calm reserve, thoughtful ponderence and an acute, conservative business acumen. Upon occasion, he did "push the envelope": most notably his purchase of a red Honda motorcycle in his 50's, his surreptitious drive to Tuskegee for a sky diving adventure and then an audience repeat to celebrate his 70th Birthday! He had a keen sense of humor that stayed with him through all of his trials and remained intact until the very end. A man of few words, he was known to freely extend an "I love you", "I'm proud of you", "You are doing a really good job" and "Thank you".
Edgar leaves a large and loving family to mourn his passing but to also cherish his memory. Foremost among those is his wife of sixty years, Lila Jo Kent Edwards, his three daughters: Laura Edwards Byrd; Jamie Edwards Condon (Mike); and Joellen Edwards James (Cooper). In addition, he was blessed with ten grandchildren to whom he was their "BeeDaddy": Martha Anne Byrd (Omar Shalaby); Bennett Edwards Byrd and Emma Laura Byrd; Benjamin Michael Condon (Allie); Catherine Clark Condon; and James William Hughes Condon; Mary Margaret James; William Cooper James Junior; Angus Edwards James and Sigmon Lunceford James. Most joyfully, he was also blessed with his first great-grandchild, Zachary Michael Condon, who was born on September 22, 2018. In addition, he is survived by his only sibling, Sam Houston Edwards; his nephews: Judson and Hunter Edwards and their families; his brother-in-law, William Clark "Sonny" Kent and his wife, Barbara, their children: Kelly, Stacey, and Jimbo and their families; as well as his cousins: Sigmon and Tommy Hutchinson and their families.
He was preceded in death by his parents and his sister-in-law, Nelda Edwards.
Edgar was the eldest son of Ocie Lee and Cornelia Emma Lunceford Edwards and was born on October 18, 1938 in West Point, GA. Edgar spent his formative years in Shawmut, AL where he became an Eagle Scout. His maternal family included many educators, and his grandmother, Tennie C. Lunceford, encouraged his enrollment at The Baylor School in Chattanooga, TN where he delivered The Chattanooga Times and made many friendships that remained close to his heart his entire lifetime. Edgar was athletically gifted and excelled at football and wrestling, receiving the Chattanooga All City Football award in 1956, earning the Midsouth Wrestling Championship in 1957, and being honored with induction into the Baylor Sports Hall of Fame in 2002.
Edgar graduated from Auburn University and pursued a career in management within the financial services field including the Savings and Loan, brokerage and banking business, first in West Point, GA and then Opelika where he enjoyed a long lasting career as President of First Federal Savings and Loan. Edgar was an advocate for home ownership and gladly accepted Governor Fob James' appointment to chair the inaugural Alabama Housing Finance Authority selling tax free bonds and loaning the proceeds to low and moderate income residents of the State to buy and build homes. Following retirement, Edgar and Lilia Jo enjoyed time together at Still Waters, Perdido Key, on the golf course, sailing and spending time with their grandchildren.
At 2:00 p.m., on Monday, October 1, 2018 the family received visitors at Jeffcoat-Trant Funeral Home until the memorial service which began at 3:00 p.m. As it was Edgar's wish that his family and friends "raise a glass" to his memory, a gathering was held at Joellen and Cooper James' home following the service. Reverend Robin Wilson officiated.
The family would like to express their most sincere gratitude to the physicians and caregivers who so diligently and lovingly aided Edgar along his health journey: Drs. Brandon Johnson, Robert Patton, John Mitchell and Oliver Sartor, the nurses at EAMC, Auburn Fire Department and EMTs and, most recently and gratefully, Tonya Heard, whom he assured of his love when she left his hospital room the last time. We are eternally grateful for the care each of you provided.