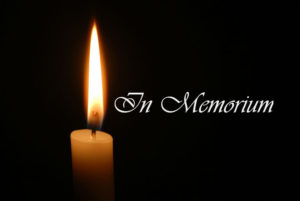 Alice Saylor
Thompson
Mrs. Alice Saylor Thompson, age 86, passed away peacefully on Tuesday, October 2, 2018 at 11:50 a.m. in Opelika at East Alabama Medical Center. Funeral services were held on Friday, October 5, 2018 at Jeffcoat-Trant Funeral Home Chapel. Visitation was Thursday, October 4, 2018 from 6:00 p.m. until 8:00 p.m., at Jeffcoat-Trant Funeral Home. Interment followed at Hephzibah Cemetery in Opelika. Reverend Phillip Saylor officiated.
She was born on The Red Land Farm near Woodland, Georgia on August 6, 1932 to Tressie Ann Waters Saylor and Earnest Franklin Saylor. She was also preceded in death by her sisters: Clara Lou Taylor, Mary Lee Pike, and her brother, Larry Jefferson Saylor. She left this world to find the love of her life, Floyd Jackson (Jack) Thompson to whom she was married 46 years.
"IB", as her family called her, led a full and happy life. As a child, she would be lowered into wells to clean them out. When she was an adult, she burned the barn down. She had dinner with the cast of "Norma Rae", and she fought off the man who kicked in her door to rob her, with nothing more than her cane at the age of 86. However, her pride and joy was driving her school bus, retiring at the age of 70. Almost everyone in the Beulah community knew her.
Mama left behind a family who loved her with all of their heart.
She is survived by her two daughters: Wanda Thompson McCary (Richard) and Shirley Thompson Kelley (Lee Roy); one son, Floyd Jackson (Jackie) Thompson (Wanda); She loved six grandchildren: Gerald Kelley (Charlotte), Karen Kelley Ingram (Billy), Twyla Thompson, Shane Thompson (Beverly), Joshua McCary (Edith), J.P. McCary, and Ricky Pouncey; eight great-grandchildren: Jessica Core, Piper Ingram, Parker Ingram, Pryce Ingram, Owen Kelley, Jebediah Kelley, Christian McCary, and Gabriel McCary; her sister, Jewel Saylor; brother, Lester Saylor. Also many many nieces and nephews; and two very special friends who were like children to her, Sandra and Randall Willis.
Jefcoat-Trant Funeral Home & Crematory directed.