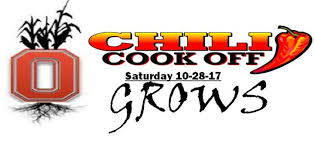 By Morgan Bryce
Staff Reporter
Opelikans are invited for a day of fall fun and good eats at O Grows's inaugural Fall Festival and Chili Cook-Off Oct. 28 from 11:30 a.m. – 3 p.m.
The event is a fundraiser for O Grows, a nonprofit dedicated to ending hunger insecurity, educating area youth and benefiting local agriculture through its summer farmer's market.
"Ultimately, what we receive from this will help us to continue to help other groups with food insecurity. It also furthers our ability to engage all students in the community," said O Grows Executive Director Dr. Sean Forbes. "And thirdly, it will help shed light on the small and medium (size) farms that participate in our market. These farmers have only three places to sell … so the more exposure we can bring to O Grows, (the more)we can make people aware of what's going on around here."
Costing $5 for adults and $2 for children 12-and-under, festival patrons will be able to sample and vote for their favorite cornbread and chili. Chili samplings will be available on an all-you-can-eat basis.
At 3 p.m., event judges will announce the winners of the food competitions. Winners of the chili contest are eligible for a cash prize and plaque, and cornbread contestants will be recognized and receive a plaque.
In addition to the food samplings, Forbes said the festival aspect of the event will include a music feature and artisan/maker market, with items for sale including pottery and jewelry.
Forbes added that there is still time to register to be a vendor or participate in the cook-off.
Those interested can fill out registration forms available on the event's Facebook page, or by calling Susan Forbes at (334) 744-1191. The deadline for vendor registration is this Friday, and cook-off contest Oct. 27.
O Grows's community garden and greenhouse is directly behind the Southside Center for the Arts, which is located at 1103 Glenn St. For more information, like and follow the 'O Grows: Fall Festival and Chili Cook-Off' event page on Facebook.