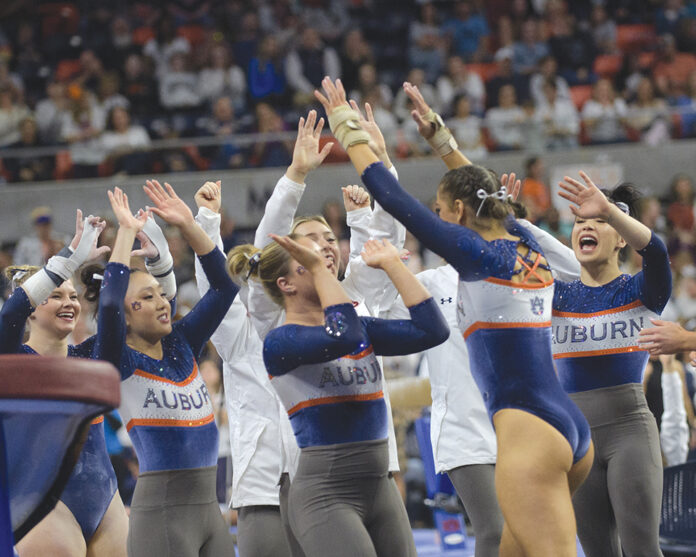 CONTRIBUTED BY AU ATHLETICS
AUBURN —
Derrian Gobourne put the crown on for the last time at Neville Arena on Friday night. The fifth-year capped the night for No. 9 Auburn with her renowned floor routine and helped the Tigers score a 197.600 to beat Penn State in the regular season finale.
"I just wanted to come in here and feel the positive energy and just be grateful for a great career," Gobourne said. "I didn't want to put any pressure on myself. I didn't want to make it something that it wasn't. I just wanted to have a good time and be grateful — grateful for the fans, grateful for this opportunity and shine bright tonight."
Gobourne was one of seven seniors recognized on Friday as part of Senior Night.
For Auburn, it was the third-highest score of the season despite not having Sunisa Lee in the lineup. The sophomore was recognized along with the seniors but did not compete.
Instead, it was a team effort from the Tigers, who had at least two gymnasts score 9.9 or higher in every event. Senior Cassie Stevens won the all-around title with a score of 39.525 and shared the individual titles with Gobourne on vault (9.9) and bars (9.925).
"I think we came together as a team tonight, and it was really fun," Stevens said. "The vibes were different. We were doing it for each other. We were having fun while we were doing it. That's Auburn gymnastics."
"I'm just really proud of the effort tonight," said Auburn head coach Jeff Graba. "I thought the girls did a good job of coming in and building off what we've tried to work on in practice. This is a hard night, a lot of emotions, and I thought they did a really good job to get through it and get us set up for the next few weeks."
While the crowd anxiously awaited Gobourne's floor routine, it was Olivia Hollingsworth who stole the show with one of the top performances of the night on floor. The junior set a new career high with a score of 9.95 to win the individual title.
Stevens, fellow senior Aria Brusch and Sophia Groth all posted a 9.9 on floor while Gobourne and Gabby McLaughlin rounded out the rotation with a pair of 9.875s. As a team, Auburn finished with a score of 49.525.
The Tigers also earned a 49.525 on bars, a season high on the event, despite not having Lee in what is her best event. Gobourne and Stevens led the way at 9.925 — which matched a career high for Stevens — while Brusch and Groth both went 9.9.
"We're great at bars," Gobourne said. "With Suni in or out, we're going to have her back. We're going to do what we need to do. Showing up the way we did even though we were missing her is really special, and it shows what we can do."
The highlight on beam came from McLaughlin, who anchored the event and set a season high with a score of 9.95 to win the individual title. It matched Hollingworth's floor routine as the top score of the night for Auburn. Brusch (9.9) and Hollingsworth (9.85) also set season highs on beam as the Tigers finished with a 49.250.
The Tigers will now set their sights on the postseason. First up is the SEC Championship on Saturday, March 18 in Duluth, Georgia.
"This (meet) shows that we can compete with anybody in the country when we're on," Graba said. "It's our job to be on."