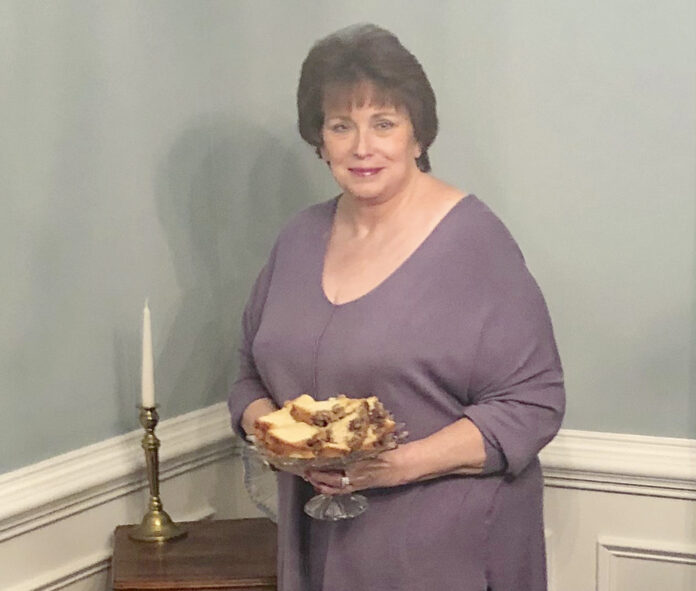 By Ann Cipperly
Sunday dinners at grandmother's house with homemade ice cream and blackberry cobbler in the afternoon, breakfasts with country fried steak and family fish fry suppers are cherished childhood memories of Cindy Avery's. She inherited her grandmother's and mother's love of cooking and finds being in the kitchen relaxing. Cindy especially enjoys baking a variety of delicious pound cakes to share with others.
Cindy and her husband, Houston, moved to Opelika last September from Dothan to be near their daughter, Shannon Edwards, and granddaughter, Grace, who live in Auburn. They purchased a new house in Trillium and are enjoying the area, as they make Opelika their home.
When Cindy was born, her family was living in Corpus Christi, Texas, where her father and grandfather were working with Brown and Root, a large construction company. When they built a chemical plant in Washington County, Alabama, the family moved to Jackson when she was 5 years old.
Her maternal grandparents also lived in Jackson, and her grandmother had a love of cooking. "I got my love of cooking from my grandmother," Cindy said. "She was a great cook. There were eight siblings in my mother's family. Every Sunday, my grandmother would have the family over for big Sunday dinners after church. She would cook roast, fried chicken or chicken and dumplings."
In the spring, when blackberries were ripe, Cindy and her family would pick the berries for their grandmother to make cobbler to serve with homemade ice cream. There were so many grandchildren that they would fuss over who was going to sit on top of the old-fashioned hand-turned ice cream maker.
Cindy has many happy memories with her cousins. Her grandparents had a big front porch with swings on each end. The cousins would race to see who could get on the swings.
Her grandmother lived three or four blocks from where she attended school. Many mornings, Cindy and her siblings would go to her grandmother's house for breakfast. She always had a pan of homemade biscuits with honey on the side. While some breakfasts could be eggs and bacon, many times her grandmother would have pork chops or chicken fried steak and gravy with rice.
Her grandmother had a red Formica countertop. Cindy would sit on bar stools to watch her cook. Her grandmother didn't have written recipes, but Cindy managed to get the blackberry cobbler recipe.
Vanity Fair had several factories in Jackson and Monroeville and built a park with a huge swimming pool that was spring-fed. Her family would go there during summer for picnics. They would put watermelons in the cool spring to get cold. Cindy recalls how refreshing the chilled watermelon slices were on hot summer days.
After her grandmother passed away, Cindy's mother took on being the matriarch of the family and doing the cooking. Cindy's father and her paternal grandfather fished often. They would cook freshly caught fish, hand-cut French fries and homemade hushpuppies for family fish fry suppers.
Her parents owned a cabin in Miller's Ferry where they would go to fish. They were in a fishing tournament, and her mother caught the largest crappie, winning the $3,100 first place prize.
Cindy and Houston met in Jackson. After high school, she attended Auburn University. After they married, the couple moved to Dothan, where they lived most of their married life. Houston worked for Michelin Tire and then started a lawn care business in 2002 at which he worked until he retired.
Cindy worked at an oral maxillofacial practice for 15 years in Dothan.
The Averys were active in their church, which was the hardest part about leaving Dothan. Houston was in charge of ushers and served on the board. Since moving to Opelika, they have been attending Trinity United Methodist.
They also miss the Wiregrass Angel of Hope memorial at the West Gate Park for parents who have lost a child. The founder, Steve Hardwick, places flowers once a month at the memorial for children who have birthdays that month. Cindy and Houston lost a little girl. The memorial is dear to their hearts.
Their other daughter, Shannon, has a daughter, Grace, who is 11 years old. When Shannon was growing up, Cindy made lots of cookies and brownies. She has always enjoyed making pound cake, and now bakes more cakes since Shannon is grown.
Cindy makes layer cakes as well and recently learned a method for baking the layers so that they don't rise in the center. She takes a strip of towel, gets it wet and then wraps it around the cake pan, securing it with straight pins. She found this method on a recipe.
Having a love of baking, Cindy has been baking cakes and sharing them. She recently took her Pecan Sour Cream Pound Cake to the office at Trinity United Methodist Church, where she and Houston are attending services. It was a huge hit!
"I just love being in the kitchen," Cindy said. "Cooking is therapy for me, and I love it when people enjoy what I cook. Most of what I cook are various recipes that were handed down in the family. I like to look at recipes and will try new dishes to share with others too. I love cookbooks and especially cherish the ones from my mother that she has written notes in the margins."
When making pound cakes, she has the butter and eggs at room temperature. If using cream cheese, she lets that reach room temperature too before using. She really likes her Kitchen Aid mixer but treasures her grandmother's hand mixer.
"We really like Opelika," Cindy said. "I like the quaintness and the Historic District. We went to the Victorian Porch Tour and loved it."
As Cindy and Houston are making Opelika their home and becoming involved in the community, be sure to give them a big welcome to our wonderful community. Just maybe, Cindy will have a slice of cake to share.
Pecan Sour Cream Pound Cake
1/4 – 1/2 cup chopped pecans
3 cups cake flour
1/2 tsp. salt
1/4 tsp. baking soda
1 cup unsalted butter, softened
3 cups sugar
6 eggs
1 tsp. vanilla
1 cup sour cream
Glaze
1 cup confectioners' sugar
3 Tbsp. orange juice
1 tsp. vanilla
Preheat oven to 300 degrees. Grease and flour large Bundt pan or regular pound cake pan , depending on size you may need two loaf pans.
Sprinkle pecans in bottom of Bundt pan and set aside. Sift together the flour, salt and baking soda. Set aside.
Cream butter and sugar in large mixing bowl until light and fluffy. Beat in eggs one at the time until well incorporated. Stir in vanilla. Add flour mixture, alternately with sour cream. Mix well.
Pour batter in prepared pan. Bake for 70 to 90 minutes until toothpick or cake tester comes out clean. Let cool in pan for 20 minutes and turn out.
Prepare glaze by whisking together the confectioners' sugar with orange juice and vanilla. Drizzle over warm cake. Enjoy!
Chocolate Pound Cake
1 ¼ cups all-purpose flour
1/3 cup cocoa powder
1/2 tsp. baking powder
1/4 tsp. baking soda
1/4 cup (4 Tbsp.) butter, softened
1 cup granulated sugar
1 egg, slightly beaten
1 tsp. vanilla
3/4 cup buttermilk
1/4 cup sour cream
Preheat oven to 350 degrees. Line a 9×5 loaf pan with parchment paper and set aside.
In a medium bowl, whisk together the flour, cocoa powder, baking powder, and baking soda.
In a large mixing bowl, beat the butter and sugar until light and fluffy. Beat in egg and vanilla.
In a separate medium mixing bowl, combine sour cream and buttermilk.
Add half of the flour mixture to butter mixture. Beat to combine. Add the sour cream mixture. Mix well. Add the remaining flour mixture and mix well.
Spread mixture into the prepared pan and bake for 55 minutes. Cool for 20 minutes, then turn out. When cool, sprinkle powdered sugar over top. Good served warm with vanilla ice cream.
Hot Chocolate Marble Pound Cake
2 sticks unsalted butter, at room temperature, plus more for the pan
1 3/4 cups all-purpose flour
1/2 tsp. salt
4 large eggs, at room temperature
2 Tbsp. sour cream
1 tsp. vanilla extract
1 1/4 cups sugar
1/2 cup hot chocolate or cocoa mix (do not use hot chocolate or cocoa mixes that contain powdered milk or other dairy products)
Place rack in lower third of oven and preheat to 325 degrees. Butter a 9-x-5-inch loaf pan.
Sift flour and salt into a medium bowl. Whisk together eggs, sour cream, and vanilla in a small bowl.
Beat butter in a large bowl with an electric mixer on medium-high speed until smooth. Gradually add sugar, 1/4 cup at a time, to cream.
Continue to beat butter mixture until light and fluffy, about 5 minutes.
Reduce mixer speed to low. Beat in flour, 1/4 cup at a time, then beat the batter for 30 seconds. Gradually beat in egg mixture. (Do not overmix.)
Transfer about 1/3 of the batter to a medium bowl and stir in the hot chocolate mix. Spoon 1/2 remaining vanilla batter into the prepared loaf pan, and smooth over the top with a spatula.
Using 1/2 the hot chocolate batter, drop spoonfuls on top of the vanilla batter. Repeat with the remaining vanilla and hot chocolate batters. Run a skewer (or knife) through the loaf pan to swirl the 2 batters together. Tap the pan on the counter.
Bake until a toothpick inserted in the center comes out clean and the top springs back when lightly pressed, which will be about 1 hour to 1 hour and 30 minutes.
Let cake cool in the pan for a few minutes, then invert and let cool completely on a rack.
Butter Pecan Cake
2 1/3 cups chopped pecans
2 1/4 cups unsalted butter, divided, room temperature
2 cups sugar
4 eggs, at room temperature
2 tsp. vanilla
3 cups all-purpose flour
2 tsp. baking powder
1/2 tsp. salt
1 cup milk
Frosting:
1 cup softened butter
7-8 cups confectioners' sugar
5 oz can evaporated milk
1 1/2 tsp. vanilla
Preheat oven to 350 degrees. Grease and flour three 8-inch cake pans (you can use Baker's Joy which is a combination of both).
Melt ¼ cup of the butter and add to pecans. Toast pecans in oven for 15 minutes, stirring frequently. Set aside to cool while preparing cake batter.
Cream remaining butter with sugar until light and fluffy and lighter in color, usually about 5 to 7 minutes. Add eggs, one at a time until well combined. Stir in vanilla.
Mix flour with baking powder and salt. Add flour mixture to creamed butter mixture, alternating with milk. Mix well. You can add 1 1/3 cups of toasted pecans to batter or you can add pecans between layers after frosting, depending on what you prefer.
Place even amounts of batter into cake pans and bake for 25 to 30 minutes. Test with a toothpick in the center of cake.
Cool for 15 minutes and turn layers out to cool. When cooled completely, frost cake.
To make frosting, mix softened butter with confectioners' sugar, adding a little milk at a time. When all sugar and milk are mixed to frosting consistency, add vanilla.
Note: I frost layers, then add pecans in-between the frosted layers. Once frosted, I garnish with pecans halves and finely chopped pecans on top. Slice and enjoy!
Tip: Tear strips of from an old cloth or towel to fit around cake pans. Drench in water and leave enough water in strips so that it doesn't drip. Secure around cake pans with straight pens. This will keep cake layers even without rising in the middle.
Sugar Cream Pie
1 prepared unbaked deep dish pie shell
4 Tbsp. cornstarch
¾ cup sugar
4 Tbsp. melted butter
2 ¼ cups heavy cream
1 Tbsp. vanilla
Topping:
3 Tbsp. melted butter
¼ to ½ cup cinnamon sugar (mix 2-3 tsp. cinnamon w/1/4 to ½ cup sugar)
Preheat oven to 325 degrees. Prick deep dish pie shell with fork, then bake for 12 minutes in oven. Set aside.
Mix cornstarch with sugar. In heavy quart saucepan, mix melted butter, sugar mixture and heavy cream. Heat over low to medium heat, stirring constantly until mixture thicken (it will get thick and creamy).
Remove from heat, add vanilla. Pour into pie shell. Bake for 25 minutes.
Spoon melted butter evenly on top of mixture, then sprinkle with cinnamon sugar. Broil until bubbly for about 1 minute but watch carefully. Remove from oven and cool completely. Refrigerate for 1 hour to set. Store in refrigerator.
Honey Pecan Squares
1 cup unsalted butter, softened
3/4 cup packed dark brown sugar
1/2 tsp. salt
3 cups all-purpose flour
Filling:
1/2 cup unsalted butter, cubed
1/2 cup packed dark brown sugar
1/3 cup honey
2 Tbsp. sugar
2 Tbsp. heavy whipping cream
1/4 tsp. salt
2 cups chopped pecans, toasted
1/2 tsp. maple flavoring or vanilla extract
Preheat oven to 350 degrees. Line a 13 x 9-inch baking pan with parchment paper (or foil), letting ends extend up sides of pan.
In a large bowl, cream the butter, brown sugar, and salt until light and fluffy. Gradually beat in flour. Press onto bottom of prepared pan. Bake 16 to 20 minutes or until lightly browned.
In a small saucepan, combine the first six filling ingredients; bring to a boil. Cook 1 minute. Remove from the heat; stir in pecans and maple flavoring. Pour over crust.
Bake 10 to 15 minutes or until bubbly. Cool in pan on a wire rack. Use the parchment paper to lift bars from the pan before slicing.
Southern Girls Breakfast Casserole
2 lbs. ground sausage
2 cups water
2 cups chicken broth
1 tsp. salt
1 1/4 cup quick cooking grits
1 lb. grated sharp cheddar cheese
6 Tbsp. butter
1 cup milk
1 tsp. paprika
1 tsp. cayenne pepper
1 tsp. garlic powder
6 eggs, beaten
Preheat oven to 350 degrees.
Brown sausage and drain; set aside.
Bring water and chicken broth to a boil; add salt and grits. Bring to a boil again and turn down to simmer until liquid is absorbed, stirring occasionally. This will take 5 minutes or so. Remove from heat and add grated cheese, butter, milk and seasonings; stir until well mixed.
Add sausage; stir well. Then add beaten eggs to mixture. Pour into greased casserole dish and bake 45 to 55 minutes until golden and bubbly, and a knife inserted in middle comes out clean.
This can be prepared ahead of time and refrigerated. Set at room temperature for 30 minutes before baking. Individual servings can be made and pour into ramekins, baking for 20 to 25 minutes.
Zesty Chicken dip
3-4 cooked chicken breasts, cut into small cubes
2 tomatoes, chopped and seeded
1 red onion, diced
1 green, yellow, and red bell pepper, diced
Chopped parsley
2 avocados, cubed
Chopped garlic
Salt and pepper to taste
1 small bottle of Zesty Italian dressing
Mix all ingredients except avocados. Refrigerate overnight, stir occasionally. Add avocados right before serving. Serve with bagel rounds or Dorito scoops.
Quick and Easy Chicken Pot Pie
This is a take on my mother's homemade chicken pie. She used cooked potatoes, cooked carrots and English peas with a chicken stock roux. You can certainly cook it this way. Since I worked, I modified her recipe to be quick and easy!
1 rotisserie chicken , cut up meat (can substitute 3 cups cooked chicken breasts)
2 large cans Veg all, drained
1 can mushrooms, drained (optional)
1 can cream of chicken soup
Chicken broth
1½ tsp. poultry seasoning
1 can biscuits
Preheat oven to 350. In large bowl, mix chicken, Veg-All, and mushrooms.
Heat cream of chicken soup; add chicken broth to thin soup just a little to get to desired consistency (You do not want to get it really thin, but do not want it gravy consistency).
Add poultry seasoning. Mix with chicken and vegetables. Pour in greased 9 x 13 casserole dish.
Flatten out biscuits and arrange on top of chicken mixture. Bake 25 minutes or until biscuits are browned on top.
Chicken Enchiladas
16 oz. jar picante sauce
1 cup sour cream
2 cups cooked, cubed chicken breasts
2 tsp. chili powder
½-1 cup Fiesta blend or Monterey jack cheese
Six 6-inch flour tortillas
1 can red enchilada sauce
Chopped green onions
Toppings: chopped tomatoes, lettuce, sour cream, jalapenos, guacamole Preheat oven to 350 degrees. Spread ¼ cup of picante sauce in bottom of 9 x 13 casserole dish.
Combine remaining picante sauce with sour cream and chili powder. Add cubed chicken to mixture. Add ¼ to ½ cup cheese to mixture. Spoon chicken mixture down center of each tortilla, sprinkle more cheese on top. Roll tortillas up and place seam side down in casserole dish.
Cover with enchilada sauce. Bake for 20 minutes.
Sprinkle green onions over top. Serve with toppings of choice.