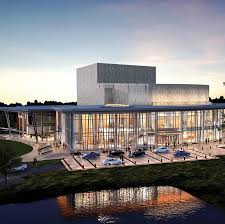 Special to the
Opelika Observer
The Jay and Susie Gogue Performing Arts Center at Auburn University announced the full schedule of dates and performances for its 2019–20 inaugural season on March 6.
As unveiled by Christopher Heacox, executive director, the Gogue Center will present an eclectic mix of 27 headlining acts during its premier season. Performances span nine genre- specific series, including americana roots, broadway, celebrity concerts, chamber arts, dance, family, global stage, jazz and vocal songbook.
Season highlights include performances by surf-rock legends The Beach Boys; the Jazz at Lincoln Center Orchestra with Wynton Marsalis; star of stage and screen Sutton Foster; banjo virtuoso Béla Fleck and the original Flecktones lineup; soprano Renée Fleming; acclaimed choreographer Camille A. Brown and Dancers and hit Broadway musicals "RENT: 20th Anniversary Tour" and "Waitress."
"We're thrilled to present such a diverse and dynamic inaugural season," Heacox said. "We've put a great deal of thought into our lineup and have selected acts from around the world that will inspire, engage and entertain audiences."
In addition to presenting high-caliber entertainment, the Gogue Center—Alabama's first land- grant university performing arts center—will elevate and transform the cultural landscape of the university and region through education and community engagement.
"Several of our inaugural season artists will present school show performances for Auburn area students as part of our K-12 education program," Heacox said. "These performances are opportunities for thousands of schoolchildren to gain exposure to American music, circus arts, dance and more." Many visiting artists will also interact directly with Auburn University students and faculty through artist talks, master classes and lecture demonstrations."
Starting off the festivities for its historic first year, the Gogue Center will host a four-day grand-opening festival Aug. 22–25. A different musical act is planned for each day of the festival. Scheduled performances and events include a free Auburn University student concert on Thursday; a Grammy Award-winning artist (to be announced April 22) in concert on Friday; a black-tie Grand Opening Fête featuring performances by bel canto tenor Santiago Ballerini and Michael Feinstein and Friends on Saturday and a "Campus and Community Day" with local and regional performers on Sunday.
Heacox also announced that season and series subscriptions for the inaugural season are now available to all Gogue Center sponsors and donors.
"Subscriptions are really the best way to guarantee a seat at a performance—and they provide the best value in terms of ticket price," Heacox said.
Season subscriptions include tickets to all 27 season performances and offer patrons a savings of 25 percent off regular ticket prices. Series subscription packages include tickets to three shows per series and are priced at a discount of up to 20 percent off regular ticket prices.
Subscriber access to seat selection for individual performances will be prioritized based on cumulative giving to the Gogue Center and will begin March 12 and continue through May 14.
Sponsorship opportunities for the season are still available. Those who would like to become a season sponsor and gain priority access to subscriptions and seat selection should contact Leah O'Gwynn, director of development, at 334-844-1287 or leah.ogwynn@auburn.edu.
Additional subscription packages will be made available in the coming months and remaining single tickets will go on sale to the general public Aug. 22.
Dates and performances for the Gogue Center's 2019-20 inaugural season are as follows:
• Sept. 25 – Renée Fleming (Vocal Songbook)
One of the most celebrated singers of our time, Grammy Award winner Renée Fleming is a world-renowned touring soprano who has performed for momentous occasions from the Nobel Peace Prize ceremony to the Diamond Jubilee Concert for Queen Elizabeth II.
• Sept. 27 – An Evening with Sutton Foster (Celebrity Concerts) Tony Award-winning actress, singer and dancer Sutton Foster will perform her tour de force cabaret show "An Evening with Sutton Foster."
• Sept. 29 – Scott Bradlee's Postmodern Jukebox (Vocal Songbook) Taking contemporary popular hits and reframing them in vintage musical genres, Scott Bradlee's Postmodern Jukebox's live show is full of dancing, pageantry and can include anything from a 1920s brass band cover of Aerosmith to a hot jazz reworking of ABBA's "Dancing Queen" to a 50s-style interpretation of the 1980s Toto hit "Africa."
• Oct. 3 – DIAVOLO: Architecture in Motion (Dance)
The dancers of DIAVOLO: Architecture in Motion combine elements of contemporary dance with martial arts, acrobatics, gymnastics and hip-hop while interacting with the elaborate, unique set pieces designed by creative director Jacques Heim.
• Oct. 12 -Larry, Steve and Rudy — The Gatlin Brothers (Celebrity Concerts)
For more than six decades, the Grammy Award-winning trio of Larry, Steve and Rudy—The Gatlin Brothers has dazzled audiences everywhere with their gospel harmonies.
• Oct. 18 -Blue Note Records 80th Birthday Celebration. The State of Jazz featuring Kandace Springs, James Carter Organ Trio and James Francies (Jazz)
As jazz's longest-running and most-respected label, Blue Note Records has elevated everyone from Miles Davis to Herbie Hancock to John Coltrane.
• Oct. 30-31 – "42ft — A Menagerie of Mechanical Marvels" by Cirque Mechanics (Family)
The innovative circus troupe's latest creation, "42ft — A Menagerie of Mechanical Marvels," takes place inside a 42-foot single-ring circus, mesmerizing audiences with wonders like acrobats, strongmen and a galloping metal horse. •
Nov. 1 – Allman Betts Band (Americana Roots)
The sons of Greg Allman and Dickey Betts have combined their talents to form the Allman Betts Band.
• Nov. 21 – Béla Fleck and The Flecktones (Americana Roots) Innovative bluegrass and jazz quartet Béla Fleck and The Flecktones have reconvened for a long run of live performances in celebration of the band's 30th anniversary. Their performance at the Gogue Center marks the band's first appearance in the state of Alabama in more than 10 years.
• Dec. 3 – Montrose Trio (Chamber Arts) Praised in the "Washington Post" for its "absolutely top-notch music-making," the Montrose Trio has rapidly earned a reputation for performances of unmatched distinction.
• Dec. 4 – 5 – "Escape to Margaritaville" (Broadway)
Featuring the music of Jimmy Buffet and based on a book by Emmy Award winner Greg Garcia and Emmy Award nominee Mike O'Malley, "Escape to Margaritaville" is the ideal musical comedy for every Parrothead.
• Dec. 17 – VOCES8 (Vocal Songbook)
The spellbinding "a cappella" talents of preeminent British vocal ensemble VOCES8 span everything from early English choral works to modern jazz and pop.
• Jan. 17, 2020 – "Dino-Light" by Lightwire Theater (Family) A menagerie of neon-lit creatures moves around a completely darkened stage, choreographed to exhilarating music and including the occasional neon sword fight—this is "Dino-Light" by Lightwire Theater.
• Jan. 31 – Dorrance Dance (Dance) Founded in 2011 by artistic director and 2015 MacArthur Fellow Michelle Dorrance, Dorrance Dance is an award-winning, New York City-based tap dance company whose exceptionally talented dancers and musicians deliver innovative, powerful performances at every show.
• Feb. 13 – The Beach Boys (Celebrity Concerts) The legendary surf-rock band has hit the road for a globe-trotting new tour, led by original member Mike Love. This will be the Beach Boys' first appearance in Auburn in almost 45 years.
• Feb. 18 – 19 – "RENT: 20th Anniversary Tour" (Broadway) "RENT" premiered in 1996 to rave reviews and became the hit Broadway musical of the year.
• Feb. 21 – Terrance Simien and The Zydeco Experience (Global Stage)
A signature blend of American roots music, New Orleans funk, reggae, world and blues, Terrance Simien and The Zydeco Experience is a massively entertaining live show that incorporates all that is great about Louisiana's diverse musical heritage.
• Feb. 25 – 26 "Waitress" (Broadway)
A hit Broadway musical based on the beloved 2007 film starring Keri Russell, "Waitress" tells the story of Jenna Hunterson, an expert pie maker who dreams of a way out of her small town.
• March 1
Pablo Sáinz Villegas: Americano Trio (Global Stage) Celebrated as the soul of the Spanish guitar, virtuoso Pablo Sáinz Villegas brings passion and emotion to each of his stirring live performances.
• March 3 – Matt Haimovitz and Simone Dinnerstein (Chamber Arts) "The New York Times" has lauded Matt Haimovitz as a "ferociously talented cellist [of] uncommon, expressive gifts," and the "Independent" praises pianist Simone Dinnerstein for the "majestic originality of vision" in her artistic approach.
• March 20 – Sierra Hull Band (Americana Roots) A mandolin prodigy, Sierra Hull had already signed to a record label by age 13 and released her debut "Secrets" three years later. The bluegrass virtuoso's latest album, 2016's "Weighted Mind," received a Grammy Award nomination for Best Folk Album and was produced by banjo master Béla Fleck.
• March 24 – Dover Quartet and Bridget Kibbey (Chamber Arts) Cherished harpist Bridget Kibbey and the world-renowned Dover Quartet unite for the first time in a celebration of Johann Sebastian Bach.
• March 26 – Jazz at Lincoln Center Orchestra with Wynton Marsalis (Jazz) Wynton Marsalis leads 15 of the finest jazz soloists and ensemble players today as they perform a vast repertoire ranging from original compositions to masterworks by Duke Ellington, Count Basie, Fletcher Henderson, Thelonious Monk, Mary Lou Williams, Dizzy Gillespie, Benny Goodman, Charles Mingus and many others.
• April 7 – Alfredo Rodríguez and Pedrito Martinez Duo (Jazz) This Cuban jazz supergroup is the combination of classical piano prodigy Alfredo Rodríguez and ingenious percussionist Pedrito Martinez. Their first collaborative album, "Duologue," was released in February 2019 and produced by the legendary Quincy Jones who discovered Martinez at the 2006 Montreux Jazz Festival.
• April 18 – Camille A. Brown and Dancers (Dance) Founded in 2006, Camille A. Brown and Dancers is a Bessie Award-winning, New York City- based dance company whose high theatricality, gutsy moves and virtuosic musicality connect timeless stories and history with contemporary culture through innovative social dance.
• April 21 – Zakir Hussain and Friends featuring Kala Ramnath and Jayanthi Kumaresh (Global Stage) Zakir Hussain is appreciated as an international phenomenon and a classical tabla virtuoso.
• May 8
"Air Play" by Acrobuffos (Family) Since 2005, Acrobuffos have been redefining traditional circus performance to the delight of all ages.
The Gogue Performing Arts Center's 2019-20 inaugural season is sponsored by the Auburn-Opelika Tourism Bureau and WLTZ.