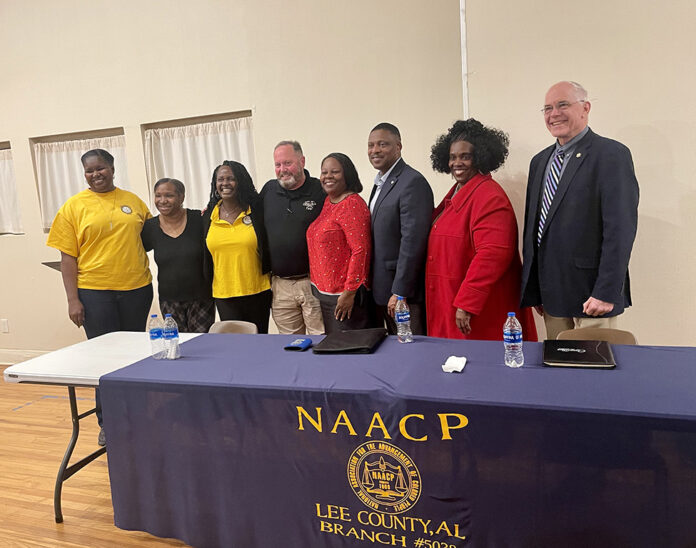 BY SAM DICHIARA
THE OBSERVER
LEE COUNTY —
The Lee County branch of the NAACP held a community and law enforcement town hall discussion on Friday, Feb. 10.
Citizens gathered at Southside Center for the Arts to voice questions and concerns to a panel of top law enforcement officials, including Lee County Sheriff Jay Jones, Auburn Chief of Police Cedric Anderson and Opelika Chief of Police Shane Healey.
The conversation began with discussion of the police killing of Tyre Nichols in Memphis, Tennessee, on Jan. 7. This expanded into topics such as hiring and decertification policies, relationships between police and the community, and training in de-escalation, unconscious bias and mental health.
"The more we talk about tonight, the more questions we answer for you guys, the more information you get from us, the better you can feel about the police agencies that represent you," Healey said.
Community members asked how law enforcement is attempting to address mistrust issues and raised concerns about interactions that friends and loved ones have said they experienced with police. Some of the issues brought up involved police questioning, traffic stops, mental health calls and public intoxication arrests.
The panel of law enforcement leaders frequently emphasized their focus on maintaining high standards and strict accountability.
"You have to hold your people accountable for their actions," Healey said. "It should be a simple thing in a police agency to put systems in place to hold your people accountable for their actions.
"None of us are perfect. And if we do have an officer that makes a mistake — that does something wrong — we hold them accountable to the policies and procedures, and to the letter of the law."
Anderson emphasized the Auburn Police Department's high standards, first citing a lengthy hiring process involving a sequence of in-depth interviews, a polygraph test and a psychological evaluation.
He also outlined training and supervision policies.
"Before we do anything else, we have them sit for weeks and read our directives," Anderson said. "We make sure they know what's expected of them, what the rules are that they have to follow at the Auburn Police Department."
The conversation shifted toward relations with community members with input from local educator Dwight Howard.
"As we look at all the issues that take place on television, young people are affected," Howard said. "I mentor young people in Lee County, and I want to make it real to you: They hate you, some of them. They don't like you. They have these things at a young age. Think what will happen as they grow older. … What do you do to diffuse that?"
Healey responded first, saying, "We try to put in the work on the front end."
He emphasized the importance of conversation and rapport between police and civilians before a traffic stop or 911 call occurs.
Healey also mentioned the Knowledge Is Power program, which aims to familiarize young people with traffic stop procedures and what expectations officers and civilians can have of each other.
"It's all about building some sort of a relationship before something happens," Healey added.
Jones spoke on the importance of student resource officers (SROs).
"The primary reason they're there is to establish relationships with these young people at an early age, and establish bonds in a non-adversarial atmosphere to where they can become friends," Jones said. "Where they can understand that, 'Hey, these deputy sheriffs, these police officers, they're just like me. They go to church. They go to the Kroger. They have kids that play with ours.'"
As the forum continued, attendees expressed sentiments ranging from frustration over cases they considered to have been handled unjustly to appreciation for the police departments' work. Many questions centered on how to properly handle the wide array of calls police departments receive and how to increase trust between officers and civilians.
The panel of law enforcement officials often circled back to the importance of accountability and service.
"At the end of the day, we have an obligation to the people that we work for," Healey said. "That's not the mayor of Opelika. It's not our city council. It's y'all. That's who we're accountable to."
Anderson assured those in attendance, "[Our officers] go out with the mentality that they're there to serve. They're there to do what the public really needs them to do: to keep [Auburn] safe.
"The final thing I think makes us different and unique is prayer. At the end of every one of our roll calls, our officers sit down at the table together and pray — not just for one another, but for our community."
The event ended with a prayer from Lee County NAACP Chaplain Apostle Carolyn Morton, as well as comments from President Laticia Smith.
"It's all about bringing our community together, having our law enforcement officers share information [and letting] us ask questions, but more importantly, walk out of here with a certain level of understanding and knowledge gained," Smith said in closing.