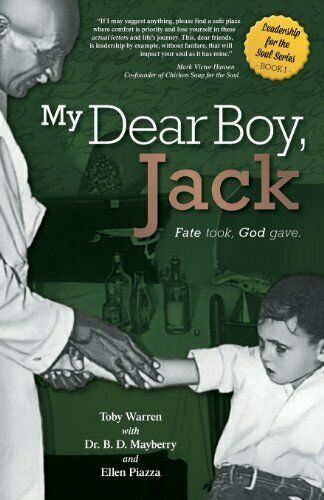 By Kayla Evans
For the Opelika Observer
Relationships are one of the most valuable parts of life. Toby Warren beautifully demonstrated this in his book, "My Dear Boy, Jack."
Set in the 1930s, the book explores the relationship between a young boy, Jack Harris, and Dr. George Washington Carver, Jack's doctor.
Jack, crippled with polio, writes a letter to Carver thanking him for everything he has done for him and catching him up on his life, academics and athletics. Carver responds to each letter which sparks a relationship between them. Each letter begins with the words, "My Dear Boy, Jack."
Going through the journey of Jack's life, the book paints a story through uncovered letters between two people despite being of different age, social status and skin color. With polio, Jack sees his doctor every two weeks for years.
Warren started developing the story in 2013 after finding written letters between his grandfather and Carver. After searching through more, he came across a letter from Jack to Carver.
"I spent a year and a half to two years with George Washington Carver's papers," Warren said. "It was the most unbelievable, eye-opening experience. I read letters to both. Read their responses."
Carver became one of the most prominent scientists and inventors of his time. Not only did he help Jack with his polio; he was also a professor at Tuskegee Institute (now Tuskegee University).
After graduating from Iowa State, Carver started his career of teaching and research. He was hired to run the school's agricultural department by Booker T. Washington, founder of the historically Black Tuskegee Institute.
Warren read a telegram from President Theodore Roosevelt written on Jan. 6, 1943. It was the day Carver died, and Roosevelt was admiring Carver's work.
"The world of science has lost one of its most eminent figures and the race from which he sprang an outstanding member in the passing of Dr. George Washington Carver," Roosevelt wrote. "The versatility of his genius and his achievements in diverse branches of the arts and sciences were truly amazing. All mankind is the beneficiaries of his discoveries in the field of agricultual chemistry. The things which he achieved in the face of early handicaps will for all time afford an inspiring example to youth everywhere. Count it a great privilege to have met Dr. Carver and to have talked with him at Tuskegee on the happy occasion of my visit to the institute which was the secne of his long and distinguished labors."
"My Dear Boy, Jack" can be purchased on Amazon at www.amazon.com/My-Dear-Boy-Jack-Gave/dp/1460236955/ref=tmm_pap_swatch_0?_encoding=UTF8&qid=&sr=.