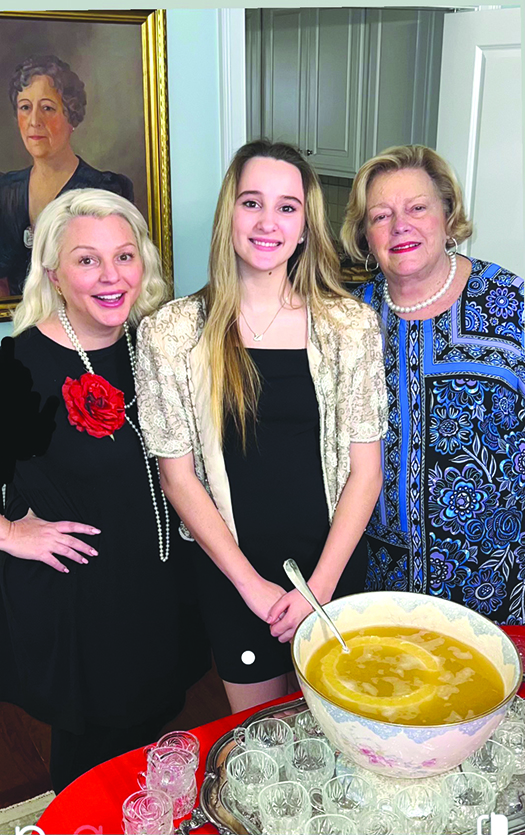 BY ANN CIPPERLY
Since Caroline Cannon was 4 years old, her grandmother, Lucinda Samford Cannon, has honored her with a Mother-Daughter Tea every year during the Christmas season. Now that she is a senior in high school, this year's tea on Dec. 19 was especially meaningful. The tea has evolved over the years with the menu and activities. Caroline, daughter of Heather and Race Cannon, and her grandmother reminisce about the teas over the past 13 years.
Growing up on Ninth Street in Opelika, Lucinda remembers when her mother, Evlyn Samford, hosted teas for her friends. Memories of those fun events led Lucinda to host a tea for Caroline and to have an opportunity to meet her friends and their mothers. The tea has been a popular event, and in the early years, the younger sisters and their grandmothers also attended. Caroline, Heather and Lucinda have enjoyed looking at pictures of the teas over the years.
Reminiscing over the years, Lucinda remembers at the first couple of teas Caroline and her friends would wear tights and party dresses. Being at a tea was a little more than they could handle, so they ended up playing in the yard climbing trees.
"The first year," she said, "I remember telling Caroline about the cookies we would have and the punch. Then Caroline said, 'What is punch?'"
Every year Lucinda serves punch from her paternal grandmother's beautiful antique porcelain punch bowl. This was probably a wedding gift when she married in 1899. "People ask me if I am worried the punch bowl will get broken or chipped," she said. "I don't want that to happen, but I think my grandmother would be pleased that her punch bowl is being used at her great-great-granddaughter's tea parties."
In the early years there were many punch spills. One year, Lucinda also served hot tea, but the girls didn't like it much. They preferred the punch with pineapple juice and ginger ale. Lucinda always has an ice ring in the punch to keep it chilled.
The food is different now than the early tea parties. "It used to be about how many M & M's I could have," Lucinda said, as she figured out over the years what the girls would eat.
Through trial and error she developed a menu that the girls would enjoy. Cookies and sweets were mostly served in the early years, along with chunks of cheese. Lucinda made peanut butter and jelly sandwiches in Christmas shapes. She would also roll up slices of ham and turkey with cream cheese in bite-sized pieces.
Now, Caroline's friends are interested in healthier food and having a protein to balance the sweets. Cucumber with dill sandwiches and pimento cheese sandwiches were on the menu, along with roasted pecans, Chex mix snacks, cheese straws, petit fours and an assortment of cookies.
Caroline considered serving scones this year, but thought there was already enough on the menu.
Caroline enjoys cooking and has helped prepare food for the teas over the years. In addition, she has helped to polish the silver and set the table. During this process, she has learned a great deal about preparing dishes with her mother and grandmother. She will try new recipes to see if she thinks they will work for the tea. Caroline now has a more sophisticated palate from the countries she has visited. She recently returned from traveling to Paris with her mother.
Over the years, Caroline has learned to prepare dishes ahead and offer hospitality. This year she arranged the flowers for the centerpiece.
Planning for the tea begins in October. The first thing is selecting a date, which has become more difficult as the girls became teenagers with busy schedules. This year, being high school seniors, not only did they have to work around finals but also the Nutcracker production since some of the girls were dancing. Dec. 19 was chosen as the date since school was dismissed for the Christmas break.
The girls were so excited to see each other when they arrived. While there is a core group of six or seven friends who have attended the tea over the years, Caroline's circle of friends from Opelika High School, Auburn High School and Lee-Scott Academy has continued to grow. Her childhood friends enjoy mingling with new friends every year.
"It has really meant a lot to see my friends from childhood at the tea," Caroline said. "In the future it will be hard to stay connected with them now since we will not be in each other's life every day."
During the tea, Mary Slaton played Lucinda's baby grand piano that belonged to her great aunt, Caroline Samford Giles, who lived 1880 to 1984. Mrs. Giles was well known for her beautiful piano music. The girls gathered around the piano to sing Christmas carols. They used a booklet that has Caroline's favorite songs for the Christmas season.
Among the many different kinds of cookies served at this year's mother-daughter tea, the meringue cookies are Caroline's favorite, and the church windows cookies have also been fun for her to make in years past.
The ice box cookies bring back childhood memories to Lucinda. It was a cookie that her mother always had on hand. "My brother and I would slice the roll when we got home from school," she said. "Having them on hand, Mamma was always ready for someone to stop by to see her or for friends to come see us."
After enjoying cookies, tea sandwiches and punch, the girls went into the living room where they played "Dirty Santa" with gifts under the tree.
"It has been so much fun watching these girls grow up," said Lucinda. "I remember one year most of the girls had their two front teeth missing. I am so happy to be part of their memory, too. Having a son, I never had the opportunity to have teas. This tea has brought me great pleasure to be able to do girl things with my granddaughter. It is so rewarding. It is very special to meet Caroline's friends. They are so sweet and caring."
"The tea is a fun and festive way to celebrate Christmas and have a special connection to these friends," Caroline said. "I am happy we had the chance to be together at the tea before we all part ways going to different colleges. We will be meeting new friends and studying new subjects."
The following recipes feature Caroline's favorite dishes served over the years at her special tea, as well as other favorites she enjoys making for her brothers and parents.
Caroline's Meringue Cookies
2 egg whites
1/8 tsp. salt
1/8 tsp. cream of tartar
¾ cup sugar
1 tsp. peppermint extract
3 Tbsp. peppermint candy, crushed
Preheat oven to 350 degrees. Line two or more baking sheets with parchment paper. Using an electric mixer, beat egg whites until foamy.
Add salt and cream of tartar; beat until soft peaks form. Add sugar 1 Tbsp. at a time and continue beating until meringue is stiff. Fold in peppermint extract. Add candy a little at a time.
Drop by teaspoonfuls ½ inch apart on prepared cookie sheets. Put in oven and turn oven off. Leave in oven 2 hours or overnight. Makes about 4 dozen.
Mamma's Ice Box Cookies
1 cup butter, softened
1 cup sugar
1 cup packed brown sugar
2 eggs, beaten
4 cups flour
1 tsp. baking soda
1 tsp. salt
1 tsp. vanilla
1 cup chopped pecans (optional)
Beat butter and sugars until creamy. Add eggs and mix well. Gradually add flour, baking soda, salt and vanilla. Mix well. Stir in pecans.
Shape dough into logs and wrap with plastic wrap or freezer paper.
Chill in refrigerator (at least an hour) or freeze.
Slice thinly and bake in a 350-dgeree pre-heated oven for 10 minutes.
Church Windows
1 stick butter
12 oz. chocolate chips
1 tsp. vanilla
12 oz. colored mini marshmallows
1 cup pecans, minced
Melt butter in large saucepan and add chocolate chips. Stir constantly over low heat. Add vanilla, pecans and marshmallows. Mix well. Place on wax paper. Makes 4 logs. Refrigerate. When ready to serve, slice rolls about ¼-inch thick.
Ribbon Pimento Cheese Sandwiches
2 cups shredded extra-sharp cheddar cheese
8 oz. whipped cream cheese
½ cup mayonnaise
4 oz. jar diced pimento, drained
¼ tsp. garlic powder
½ tsp. cayenne pepper
Salt and pepper to taste
Thin sliced white bread, whole wheat bread
Mix cheddar cheese, cream cheese, mayonnaise, pimento, garlic powder, cayenne pepper, salt and pepper in a large bowl until thoroughly mixed.
Using thin sliced white bread and whole wheat bread, spread mayonnaise on one side of the bread. On that same side, spread the pimento cheese.
Put the white piece of bread, pimento cheese, whole wheat bread, pimento cheese and white bread together. Cut off the edges. Slice into three small slices.
Chicken Salad
1/2-2/3 cups mayonnaise
1 Tbsp. lemon juice
2 cups cooked chicken (I use rotisserie chicken), finely chopped)
Salt and pepper to tase
1 stalk celery, finely chopped
1/2 onion, finely chopped
Mix mayonnaise and lemon juice. Add chicken, celery and onion. Season with salt and pepper to taste.
Cucumber Sandwiches
8 oz cream cheese, softened
1 packet ranch dressing mix
1/2 cup mayonnaise
Fresh dill, (enough for flavor), finely chopped
2 English cucumbers, peeled and thinly sliced
Combine cream cheese, ranch dressing, chopped dill and mayonnaise. Cover and refrigerate for an hour or overnight.
With a biscuit cutter, cut each slice of bread into rounds. Spread rounds with cream cheese mixture and top with a cucumber slice.
Tomato Sandwiches
Bag of bacon bits
2 cups mayonnaise
Finely chopped scallions, optional
Roma tomatoes
Salt and pepper to taste
White bread
Pour a bag of bacon bits into mayonnaise (can add finely chopped scallions). Let this marry overnight.
Slice a Roma tomato into very thin slices and drain on paper towels.
Spread mayonnaise mixture on bread and top with a tomato. Sprinkle with salt and pepper.
Note: Can use white bread and cut into rounds with a biscuit cutter or an empty small can of tomato paste.
Ham or Turkey Rolls
Take each ham/turkey slice and spread it with soften cream cheese. Roll up along the long side. Put in refrigerator to chill. Just before the party, slice each roll into bite-size pieces. Place on a tray showing the circular slice.
Holiday Chex Mix
3 cups Rice Chex
3 cups Corn Chex
2 cups stick pretzels
12 oz. bag plain M&M candies
12 oz. white chocolate morsels
Spread all ingredients out on wax paper except white chocolate. Melt white chocolate and pour over mix, trying to coat everything. When it cools, break apart into bite size pieces. Store in airtight container.
Tea Party Punch
1 cup sugar
3 cups water
Boil and cool. Add the following.
7.5 oz. frozen lemon juice
6 oz. frozen orange juice
48 oz. pineapple juice
2 liters ginger ale, cold
Can freeze for slushy drink.
Makes 5 quarts.
Ice Ring
Make punch recipe without ginger ale. Pour into a circular mold and freeze.
Rice Crispy Treats
3 Tbsp. butter
4 cups miniature marshmallows
6 cups Rice Crispies cereal
In large saucepan melt butter over low heat. Add marshmallows and stir until completely melted. Remove from heat. Add cereal. Stir until well coated.
Line a cookie sheet with wax paper. Using buttered spatula evenly press mixture into 13 x 9 x 2-inch pan. Cool. Cut into 2-inch squares. Best if served the same day.
Thumb Prints
2½ cups all-purpose flour
1/4 tsp. baking soda
1/4 tsp. salt
1 cup butter, at room temperature
3/4 cup sugar
1 large egg
1 tsp. vanilla
Jam or jelly
With a mixer, beat butter and sugar until smooth. Add egg and beat until fluffy. Beat in vanilla. On low speed, gradually add flour mixture, mixing until just incorporated (dough will be stiff). Shape into balls about the size of a tablespoon.
Make a well in the center of each ball. Fill with jam or jelly. Grease the cookie sheet or use parchment baking sheets. Bake at 350 degrees for 15 minutes (until just beginning to brown). Cool slightly and transfer to a wire rack to finish cooling.
Store cookies in an airtight container at room temperature for up to 1 week. Makes about 3½ dozen.
Eskimo Oatmeal Cookies
2 cups rolled oats
1/2 cup sugar
3 Tbsp. unsweetened cocoa powder
1 Tbsp. water
1/2 tsp. vanilla
1/2 cup butter, softened
1 cup confectioners' sugar
Combine oats, sugar and cocoa. With clean hands, mix in water, vanilla and butter. Roll dough into teaspoon size balls. Roll in confectioner's sugar. Chill for 30 minutes. Makes 2 dozen.
Easy Peppermint Cookies with Variations
1 box yellow cake mix with pudding or super moist type
1 tsp. baking powder
2 eggs
½ cup vegetable oil
1 cup crushed peppermint
Mix dry ingredients together. Add eggs and oil. Mix until blended. Stir in crushed peppermint. Drop by teaspoon onto cookie sheet. Bake 8 minutes at 350 degrees. Allow cookies to cool a few minutes on cookie sheets before moving to wire racks.
Variations
Can make the cookies with chocolate cake mix; add chocolate chips and chopped pecans. You could add M&M's, chocolate chips, cinnamon or walnuts etc. Don't add too much of the extras because the dough will break apart. Makes 2 dozen.
The following recipes are Caroline's favorites to cook for her brothers and parents.
Stuffed Mushrooms
24 large mushrooms (small enough to be one or two bites)
1 lb. sausage
1 onion, diced
4 oz. grated Parmesan cheese, divided
¼ cup Italian breadcrumbs
1 tsp. minced garlic
1 tsp. chopped fresh parsley
8 oz. cream cheese
Cook sausage, onion and mushroom scraping (stems) until sausage is done. Drain and discard grease. Return sausage mixture to the skillet.
Stir 3 oz. Parmesan cheese, breadcrumbs, garlic, cream cheese and parsley into sausage mixture. Cook and stir until heated through.
Stuff mixture into mushrooms. Bake stuffed mushrooms at 350 degrees for 12 minutes.
Sprinkle remaining Parmesan cheese over mushrooms and bake about 3 minutes more.
English Muffins with Sausage
1 lb. sausage, cooked
½ stick of butter
2 jars Old English cheese spread
1 can small green chiles, chopped
1 pkg. English Muffins
Cook sausage and drain well. Stir together sausage, butter, cheese spread and chilies. Split muffins and spread with cheese and sausage mixture.
Bake 350 degrees until bubbly. These can be frozen on a cookie sheet and stored until you are ready to bake and serve. Serves 6.
Banana Split Dessert
3½ cups graham cracker crumbs
2/3 cup butter, melted
4 to 5 medium bananas
½ gallon Neapolitan ice cream (block carton)
1 cup chopped walnuts
1 cup chocolate syrup
½ cup butter
1 pint Cool Whip
In a small bowl, combine crumbs and melted butter. Set aside ½ cup; press remaining crumbs into a 9×13 dish. Slice bananas widthwise and layer over crust. Cut ice cream widthwise into ten slices; place over bananas. Spread edges of ice cream slices to cover banana and form a smooth layer. Sprinkle with nuts. Cover and freeze until firm.
Pour chocolate syrup over ice cream; freeze until firm.
Spread Cool Whip over top of chocolate. Top with reserved crumbs. Store in freezer (will keep for several weeks). Remove from freezer about 10 minutes before serving. Yield: 20 servings.
Ice Cream Sandwich Pie
8 ice cream sandwiches
1 medium Cool Whip
Chocolate syrup
2 Butterfinger candy bars
Unwrap ice cream sandwiches and place in a 9 x 13 baking dish. Cover with Cool Whip. Squeeze chocolate syrup around on the top. Crush Butterfinger and crumble on top. Keep in freezer until ten minutes before serving. Cut in squares. Serves 10 to 12.
Slow Cooker Roast
¼ cup water
3 lb. chuck roast
1 oz. pkg. dry ranch seasoning
1 oz. pkg. dry au jus gravy mix
6 Tbsp. unsalted butter
5-6 pepperoncini (in a jar)
Add ¼ cup water into the insert of your slow cooker and place chuck roast on top.
Sprinkle dry ranch seasoning mix on top of the chuck roast, then sprinkle the dry au jus mix on top. Place 6 tablespoons butter on top of roast and 5-6 pepperoncini around the roast.
Cook on low for 8 hours. Shred and serve with gravy. You can add vegetables to the slow cooker, if desired.
Chicken and Rice
8 chicken breasts
2 cups white rice, uncooked
3 cups water
2 pkg. onion soup mix
20 oz. cream of mushroom soup
Spray 9 x 13 inch dish. Add chicken breasts and season with salt and pepper.
Pour uncooked rice over chicken. Sprinkle with onion soup mix.
Combine mushroom soup and water. Pour over chicken.
Cover and bake for one hour and 15 minutes until rice is tender.