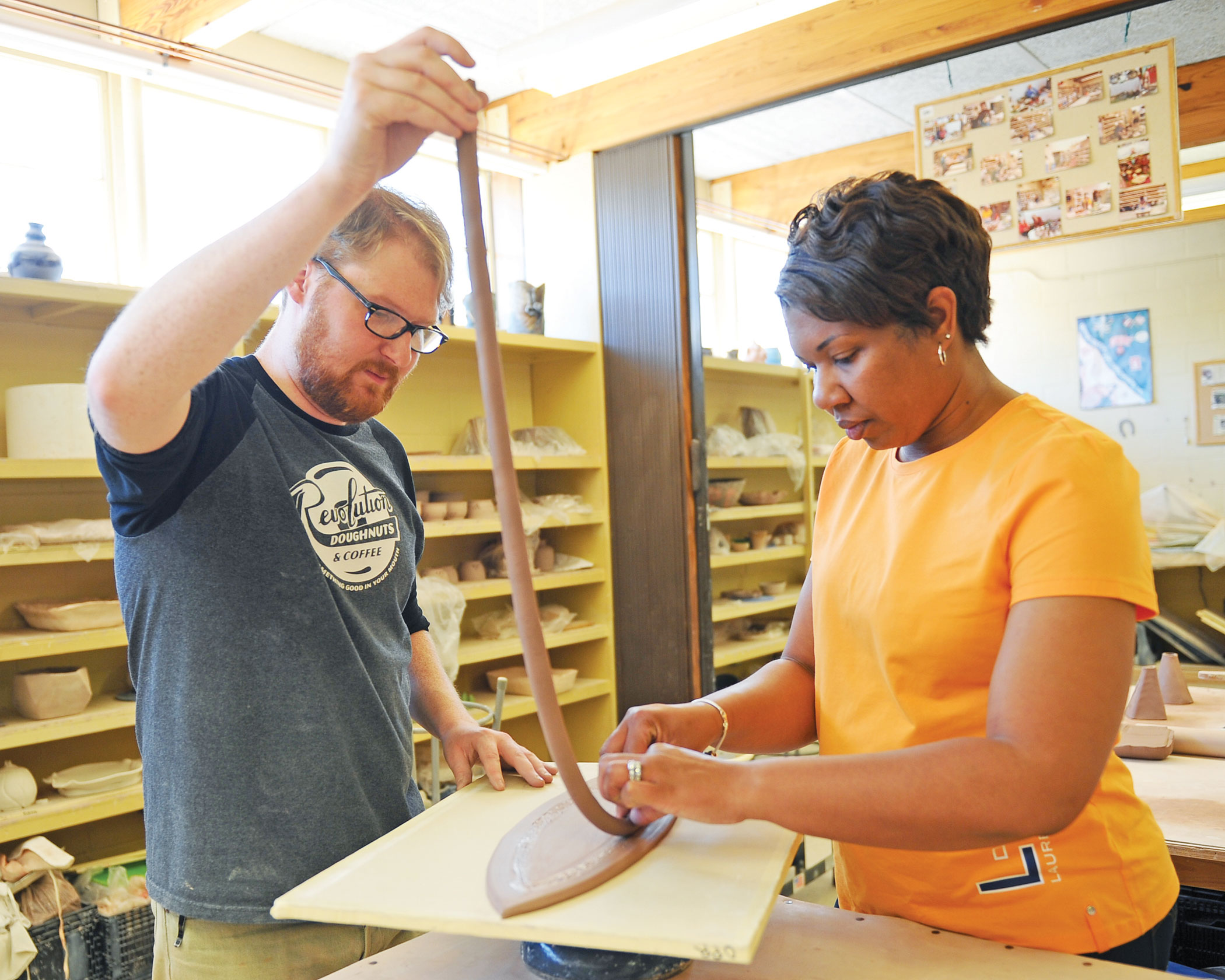 Opelika's pottery department promotes creativity, community involvement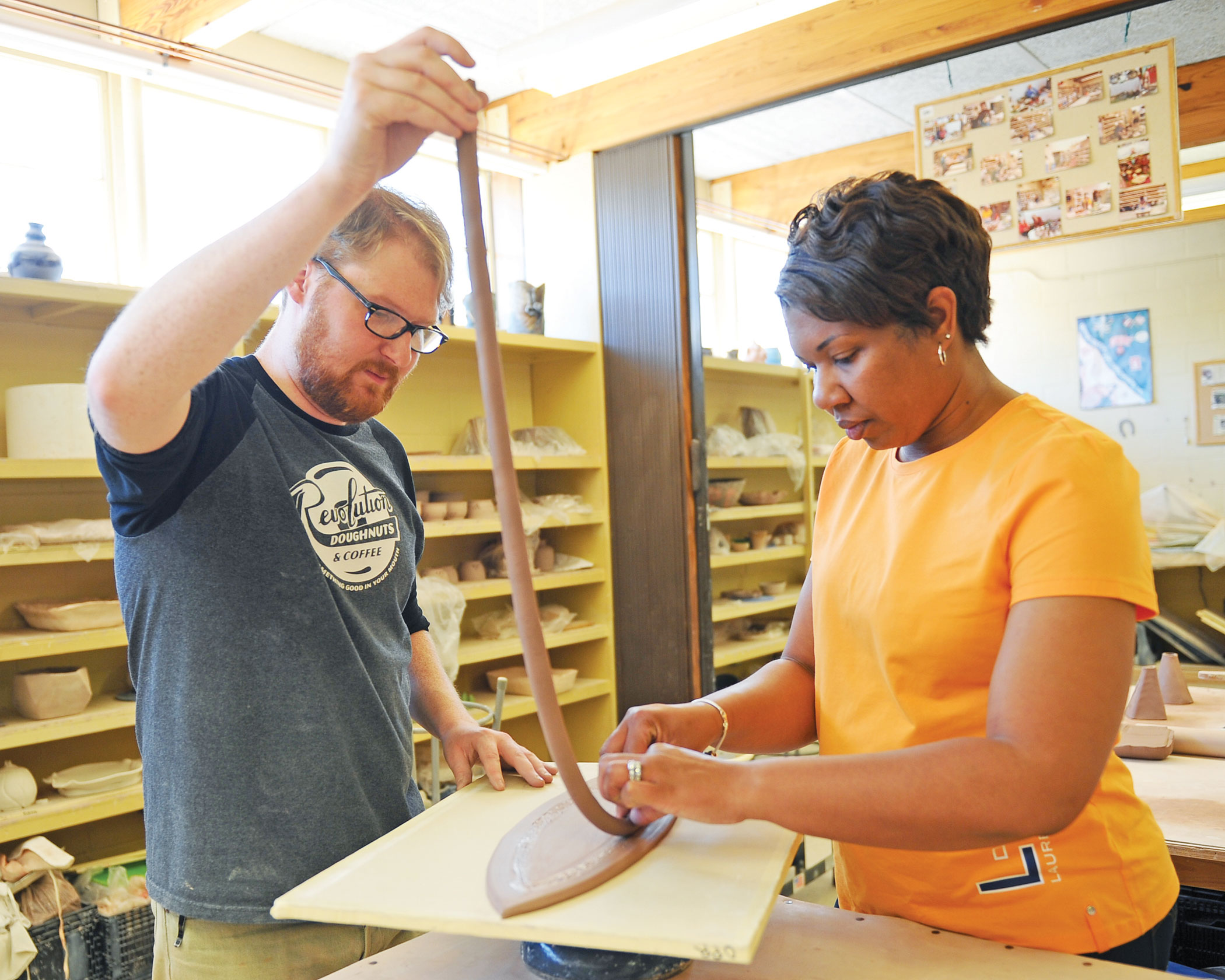 By Rebekah Martin
Associate Editor
"There are so many people I run into who say 'Oh you have pottery over there in Opelika?' That's our main problem … very few people know we're here." So said Sherrie Spain, the director of the Opelika Pottery Department. The department is not a new addition to the city – it's been in operation for more than 15 years.
Spain and her assistant, Charlie Mabry, head up the department – which has about 25 regular participants, some coming from around Lee County, Montgomery and cities in west Georgia.
In fact, the pottery department brings a certain uniqueness to Opelika.
"They're pretty rare actually – a set-up like this. They happened to have one in Auburn and there's one in Columbus, but most places don't have a pottery studio like this connected to the city," Mabry said.
Opelika's pottery department is dedicated to donating their time and services to organizations in the community. Habitat for Humanity and various church missions are a some of the most recent outreach programs Spain's department has been involved with.
The department recently concluded its largest event last month – the Empty Bowls Project. This year the group broke all previous records, raising more than $13,000 for the Food Bank of East Alabama. All in all, Spain, Mabry and the members of the department produced 1,300 bowls that were sold to raise the funds.
Spain and Mabry said they are looking forward to a little down time now that the annual Empty Bowls project is finished. "We don't want to slow down too much though, because we will have to start producing for next time before too long," Mabry said.
The Empty Bowls project is a year-round effort. The pair praised the efforts of the Lee County Master Gardeners, who came together to help pull-off the event.
"Coming up to the event, we were very nervous, wondering if we were going to have enough volunteers and the Master Gardeners came and just took care of everything," Mabry said. "There were points in the day when I was just walking around and there was nothing for me to do because they just took over the event so well," he said. "Every time I asked if someone needed help, they would say it was taken care of. It's just amazing how much people gave – without hesitation. People were so generous with their time – no complaining. It's such a good cause that it was easy for people to give," Mabry said. "I think Opelika is a very generous city, full of thoughtful people," Spain added.
Spain and Mabry said the pottery department is like a family. "This is a very tight-knit community here. Some people come and work to make things everyday, and some people come for the interaction, to see their friends, to work on something for a little while, but to catch up with everybody," Spain said. "More than anything it's friendship and communication … it's just a family-oriented type place."
Spring classes will begin this month and are still accepting enrollees.
Spain said they recommend first timers take the hand building class to begin with to get a feel of the material and also, a feel of success. "It's immediate success, the first night you can actually make a nice, big bowl … where when you sit down at the wheel, it's constant practice," Spain said. "There's a steeper learning curve with the wheel before you're really making things," Mabry added.
Each class runs for 8 weeks and costs $100. All materials are included in the fee.
Mabry said the pottery department offers Opelikans the opportunity and education to tap into their creative side. "You can make things here that are not only artistic, but have a direct function in your home, so you can interact with it, and that educational aspect of it it really important," he said.