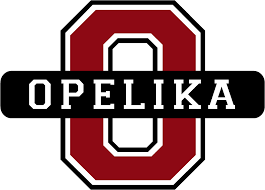 By D. Mark Mitchell
I wanted to take this opportunity to wish you all a Merry Christmas and a Happy New Year!
I wanted to say a special "thank you" to Doug Horn for asking me to write a weekly sports column years ago, the entire group of original investors and current owner Michelle Key. My "On the Mark" column has been in the Opelika Observer since day one.
The only exception was June through August 2018 when Opelika City Schools Superintendent Dr. Mark Neighbors demanded I leave as "Voice of the Opelika Bulldogs" after 37 years. I appreciate Morgan Bryce's patience and his friendly, helpful attitude. I am thrilled for the sponsors, staff and support from our community. You, the readers, are the boss until pay day!
AHSAA NEW CLASSIFICATIONS (2020-2022)
The Alabama High School Athletic Association released new classifications for football, cross country, swimming and volleyball after the organization's Central Board voted to accept during their board meeting last Wednesday. The new numbers will take effect in fall 2020 and extend through the end of the 2022 school year.
Every two years, the AHSAA reclassifies schools based on average daily enrollment for the first 20 school days after Labor Day. Public school numbers are reported to the ASDE while private schools supply school data to the AHSAA.
The AHSAA added the seventh class in 2015 after using six classes from 1984 to 2014. The new competitive balance factor caused Mars Hill Bible (1A to 2A), Mobile Christian (3A to 4A) and UMS-Wright (4A to 5A) to jump up a class. Two schools dropped a classification because of this competitive factor, Madison Academy (5A to 4A) and St. Paul's (6A to 5A).
Opelika High remained in 6A with 953.70 students in grades 9 to 11. The Bulldogs are the eighth largest in their classification, with Mountain Brook being the largest 6A with 1039.365 students, followed by R.E. Lee (1037.10), Helena (1032.90), Robertsdale (1022.85), Chelsea (1022.40), Buckhorn (997.15) and Hillcrest-Tuscaloosa (996.20).
Opelika's football region changed drastically and will have a total of eight teams. Joining the Bulldogs are Carver (Montgomery) R.E. Lee, Sidney Lanier, Park Crossing, Russell County and Valley.
The new region helps Coach Erik Speakman with the schedule.
Opelika will have seven region games on top of rival games against Central and Auburn.
The Bulldogs will only need one game to have a 10-game schedule.
Opelika's volleyball area will have four teams instead of three.
Eufaula, Valley and Russell County join the Lady Bulldogs in the area. The AHSAA will release the area for the other sports in January.
I expect Opelika, Eufaula, Russell County and Valley will make up the teams in the baseball, soccer and softball areas.
D. Mark Mitchell is sports director for iHeart Media, Alabama Dixie Boys State Director and vice president of the A-O Sports Council.