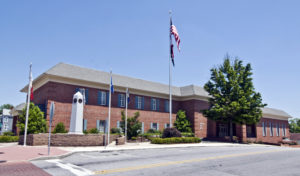 By Robert Noles
Photojournalist
An organizational and information meeting for the Pepperell Branch Watershed Management Plan was held Sept. 18 at the Opelika City Hall Council Chambers.
The 2009 study placed Pepperell Branch on Alabama Department of Environmental Management, ADEM, on a list of small watersheds in Alabama which Pepperell Branch is part of instead of the larger watershed in this area. The 1987 amendments to the Clear Water Act 319 (h) established the funding for watershed management plans like the grant that will be used for this project.
This project runs from September 2018 – August 2019. A big part of attaining this grant came from City Engineer Scott Parker and those in the Opelika City Engineering Department.
Eve Brantley and Nikki Dictson of the Alabama Cooperative Extension Service Water Program are working to organize the program, which will consist of identifying and pinpointing problems within the watershed this are harmful and the education of the public about this element. Dictson introduced the watershed partnership, steering committee and covered the basics of watersheds and water quality.
Important meetings and events in the future will be:
– first watershed partnership meeting, Oct. 18 from 3-5 p.m.
– storm drain marking volunteer event, Oct. 27 at 8 a.m.
– creek cleanup and cleanup and environmental fair March 2, 2019, beginning at 8 a.m.
For more information or to volunteer, contact Nikki Dictson with the Alabama Cooperative Extension System at 979-575-4424 or City of Opelika Storm Water Coordinator John Harris, at 334-705-5450.