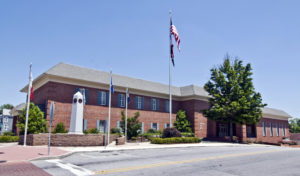 By Morgan Bryce
Associate Editor
Plans for constructing a Sportsplex connector road took another step forward during the Opelika City Council's regular meeting Tuesday night.
The council awarded a bid for the construction of the project to W.S. Newell and Sons, Inc. of Montgomery, at a total cost of $1,679,373.50.
In an earlier interview with the Observer, City Engineer Scott Parker said the development will extend Exit 64 off I-85 to connect it to the Sportsplex.
"It will improve the connectivity and allow better access to the Sportsplex facility … another part of the project which is very unique is the installation of the sanitary sewers. Right now, there is no sanitary sewer access at the Anderson Road and West Point Parkway intersection at Exit 64," Parker said. "You need sanitary sewer (access) for developments and things like that to come in for that area, so we think that the addition with the roadway will really help spur and encourage development along the interchange area and corridor area along that part of town."
The council also passed a resolution to support legislation that will require all child-care and child-daycare facilities in the state to register and license their employees. City Attorney Guy Gunter provided statistics to council members evidencing the need for this legal action.
"Approximately one-half of all center-based and nearly one-third of all child-care facilities in Alabama are now unregulated, and if (the resolution) is adopted, the city council would be expressing its sentiment that all child-care facilities in the state should be regulated by the state to make sure they meet certain standards," Gunter said.
In other business, the council:
-recognized Daryl Mitchell with the 2017 Ward 2 Community Service Award
– recognized Huntington College graduates who finished their bachelor's degrees at the Opelika Southern Union campus
– recognized Juanita Slaughter, Johnnie Mae Gibson, Shirley Farley and Peggy Baskin for completing the first Senior Tech Computer Session
-awarded a bid for the construction of a three-sided metal building for Opelika Power Services to J.A. Lett Construction Co., Inc. at a cost of $74,921
– approved a resolution for expense reports from various city departments
– approved a resolution for the purchase of new furniture for the Opelika Fire Department
– approved a resolution for a weed-abatement assessment for property located at 1211 Old Columbus Road
– approved a resolution for demolition of property located at 111 South Railroad Ave.
– approved a resolution for a FY2018 appropriation contract with the Opelika Chamber of Commerce
– approved a resolution entering the city and Opelika Power Services into a mutual-aid agreement with the Electric Cities of Georgia
– passed an ordinance allowing the refunding of Series 2011 Warrants (bonds) with proceeds from the 2017 Electric System Revenue Refunding Warrant.