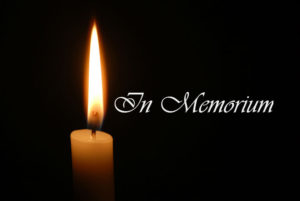 Mattie Lou
Zachry Akin
Longtime Opelika resident Mattie Lou Zachry Akin died Nov. 27, 2019 at Bethany House in Auburn, Alabama. Mattie Lou was born in Coaling, Alabama, on April 1, 1931, as the third of three children to James and Lucy Abernethy Zachry. Growing up in Notasulga, Alabama, she graduated from Macon County High School in 1949 and later attended Auburn University. She married Earl Akin of Opelika in 1953 and lived there for years.
Married for 50 years, Mattie Lou and Earl raised three children and were active members of the First Baptist Church of Opelika where she volunteered for many years as a nursery worker, attendance records keeper, offering counter, and regularly provided meals for the bereavement committee. She made her career in banking at AmSouth Bank and had risen to the level of Assistant Vice President by the time of her retirement in 1996. Many of her dearest friendships were forged at the bank.
Known for her tireless energy, Mattie Lou always had a project going but was never too busy to stop and lend a hand to anyone who had a need. She spent her life serving and caring for others. Mattie Lou was an accomplished seamstress, sewing both for her family and friends, and she was known for hemming countless pairs of pants, free of charge. She enjoyed cooking and was a gracious host. Her home was a welcoming one and had a place for every visitor at her table. She enjoyed family and friends and was a loving grandmother to three grandchildren and two great grandchildren. She was never one to complain, and was delighted by the simplest things. Mattie Lou will be missed by many for her selflessness, her cheerfulness, her can-do attitude, her service, and her loving kindness. Her life was lived as an example of her faith in Jesus Christ.
She was preceded in death by her husband Earl and her brothers James and Graham Zachry. She is survived by her daughter and son-in-law LuAnne and Jerry Taff; daughter and son-in-law Cindy and Cliff Roberts; son Jim Akin; granddaughter and grandson-in-law Lindsey and Chad Fullerton; granddaughters Jessica Taff and Shelby Taff; great grandchildren Olivia Fullerton and Jackson Fullerton; and loving nieces and nephews.
Visitation was held on Dec. 1, from 1 to 3 p.m. at Jeffcoat-Trant Funeral Home in Opelika, followed by the funeral at 3 p.m. in the chapel.
Jeffcoat-Trant Funeral Home directed.