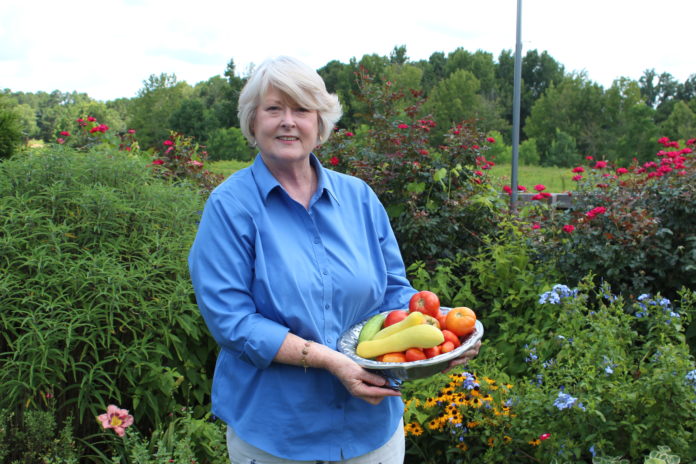 By Ann Cipperly
Sitting on her sun porch, Dianne Wages looks out over her garden to the Black Angus cattle in the pasture beyond. Seeing the cattle reminds her of growing up in Sumter County where her father was a cattle farmer.  Her garden, named "Childhood Memories," also reminds her of those happy days with the flowers, a Purple Martin birdhouse, wooden gate and bottle tree.
Dianne has collected plants from her childhood days and every place she and husband Theo have lived. She also has flowers from friends, including lilies from the Cahaba River and special day lilies from the garden of Coach Shug Jordan's wife Evelyn. A neighbor of the Jordans was given the day lilies and divided them, sharing with the Master Gardeners.
Along with the flower garden, Dianne also has a vegetable and herb garden. When she was growing up near the Mississippi line in the western part of the state, Dianne enjoyed being outdoors and helped her father work in the garden.
Dianne remembers wonderful meals served at noon for dinner with the table laden with fresh vegetables, beef dishes and also venison at times since her family also hunted. Her father raised Charolais cattle.
Her mother was a good cook as was one of her grandmothers, "Miss Lucy," who ran the Bellemy Hotel in Sumter County. The restaurant at the hotel was a popular for Sunday dinners. Her grandmother made Caramel Icing for a cake every week.
While they were excellent cooks, Dianne learned more about preparing dishes from the family maid who did most of the cooking. She would watch her in the kitchen and developed a love of baking.
Dianne and Theo met when he attended the University of West Alabama in Livingston. Theo, who is from Birmingham, attended Auburn for a short time and then joined the Army. He was sent to Germany and played football for the Army for two years.
When he returned to Alabama, Theo attended the University of West Alabama.
After her junior year in high school, Dianne attended Mississippi State College for Women, now MUW. She then received a master's degree at the University of West Alabama.
Dianne and Theo married while they were in graduate school. Their son Trey was born in Livingston. A few years later they moved to Tuscaloosa where Theo worked with ODECO, an off shore drilling company. He worked internationally on the oil rigs in industrial relations.
After the downturn in the oil industry, Theo taught in continuing education at the University of Alabama.
While in Tuscaloosa, they went back to Sumter County often to attend barbecues. "The Barbecue Clubs were started after the men came home from WWII," says Dianne. "They were all young men and would get together with their families once a month to barbecue whole hogs. They built community houses, which are still being used by third generation members.
"We belonged to the Emelle Barbecue Club," adds Dianne. "I wanted Trey to have the experience of those clubs."
Dianne's mother would prepare Butterscotch Pie as one of the desserts at the barbecues. The Chocolate Pie recipe is from Dianne's cousin whose son owns the Diamond Jim's Steakhouse, which was noted recently by Southern Living as among the best in Alabama.
In Tuscaloosa she became involved in a ministry with a caterer to entertain young women in the church with luncheons. Since Dianne's home was spacious, the luncheons were held at her house, as she also had lovely china and crystal for 20.
Dianne prepared the appetizers and desserts, while the caterer cooked the entrees. "There was a waiting list," says Dianne. "We were inclusive, and the church worked with us to provide childcare."
She would work in the kitchen as well as at every church they attended before moving here.
Dianne was busy and taught anatomy and physiology at high school in Tuscaloosa. When she retired, she did adjunct work for the University of Alabama to supervise student teachers and also worked with tutoring programs at another school.
When both the Wages retired, they moved to the area in 2013 to be near their son, Dr. Trey Wages, an anesthesiologist at East Alabama Medical Center, and his family. Dr. Wages and his wife Wynne have four children, Ted, 18; Anna Louisa, 15; Tanner, 12; and Wake, 8.   Trey and Wynne both attended Auburn University and wanted to return to raise their family.
Grandson Ted Wages, who played football for Auburn High School, was recruited to play football for West Point.
"We have enjoyed being a part of our grandchildren's lives, " says Dianne. "It was always Ted's dream to go to West Point."
At Ted's going away party, his mother gave everyone small plastic soldiers to set around their home as a reminder to pray for him and members of the Armed Forces.
At her home, Dianne feels looking out over her garden and pasture is coming full circle. She is sharing a variety of favorite recipes from her family, as well as ones she prepares with fresh vegetables from her garden.
Ann Cipperly can be contacted at recipes@cipperly.com.
Recipes:
Zucchini Bread
I grate fresh zucchini and freeze in 2 cup portions for making this bread throughout the year. Recipe is from Sumter County, Mennonite Cookbook.
3 eggs, beaten
1 cup oil
2 cups sugar
2 cups grated zucchini
2 tsp. vanilla
3 cups flour
1 tsp. soda
1/2 — 1 tsp. baking powder
1 tsp. salt
1 tsp. cinnamon
1/2 cup chopped nuts
Grease and flour 2 loaf pans.
Beat eggs; add oil, sugar, grated zucchini and vanilla. Sift together dry ingredients and add to creamed mixture. Add nuts.
Bake at 325 for one hour.
Marinated Squash Salad
The salad is my favorite way to use extra squash.
8 cups sliced yellow squash
2 onions, sliced and separated into rings
1/2 cup sliced stuffed olives
8 oz. bottle Italian salad dressing
Salt and pepper to taste
Combine squash, onions and olives. Add dressing; season with salt and pepper. Refrigerate overnight, gently stirring several times.
Drain dressing. Arrange salad on a serving platter.
Caramel Icing
My grandmother, Lucy Jackson, made this recipe every Sunday for dinners at the Bellamy Hotel.
2 1/2 cups sugar, divided
1/2 pt. whipping cream
1 stick oleo (margarine)
1 tsp. vanilla
In heavy skillet caramelize 1/2 cup sugar.
In a big boiler on low heat, put the remaining 2 cups sugar, cream and oleo. When it starts boiling, add caramelized sugar.
Boil 3 to 4 minutes until soft ball stage. Add vanilla and beat until cool.
Favorite Corn Pudding
I have been making this corn pudding for over 25 years.
1/4 cup sugar
3 Tbsp. all-purpose flour
2 tsp. baking powder
2 tsp, table salt
6 large eggs
2 cups heavy cream
1/2 cup butter, melted
6 cups fresh corn kernels or can use frozen whole kernel corn
Vegetable cooking spray
Preheat oven to 350. Stir together sugar, flour, baking powder and salt in a small bowl.
Whisk eggs together in a large bowl; whisk in cream and melted butter. Gradually add sugar mixture, whisking until smooth; stir in corn.
Pour mixture into a lightly greased (with cooking spray) 13- x 9-inch baking dish.
Bake at 350 for 40 to 45 minutes or until mixture is deep golden and set. Let stand 5 minutes. Serves 8 to 10.
Bruschetta
5-6 Roma tomatoes
3 Tbsp. olive oil
3 Tbsp. balsamic vinegar
Fresh basil
1/2 purple onion, diced fine
Salt, pepper to taste
French sour dough bread
Extra olive oil
Fresh Parmesan cheese
Dice tomatoes, onions and basil. Then mix in a bowl with salt and pepper, add olive oil and balsamic vinegar. Mix well and let flavors blend.
Cut bread into rounds and brush with olive oil, top with cheese and toast until cheese is melted; add tomato topping.
Tomato Casserole
Casserole is delicious with string beans, field peas, pork, ham or fish.
6 to 8 medium-sized fresh tomatoes or can use 1 1/2 can tomatoes
1/2 tsp. salt
Dash of pepper
Dash of oregano
1 tsp. sugar
2 cups Pepperidge Farm bread stuffing
2 onions, cut in thin rings
3 cups grated sharp cheddar cheese
Mix tomatoes and juice with 1/2 tsp. salt, dash of pepper, dash of oregano and 1 tsp. sugar. Place alternate layers of tomato mixture, bread stuffing, onion and cheese in casserole and top with bread crumbs.
Bake at 350 degrees until well done. Can be prepared ahead.
Betty Bell Dial's' Chocolate Pie
This is my cousin's pie recipe that was served at barbecues. She was well known for her cooking in Sumter County. Her son owns the Diamond Jim Steakhouse.
2 1/2 cups milk, divided
1 cup sugar
1/2 cup corn starch
1/4 tsp. salt
2 1/2 Tbsp. cocoa
3 eggs, separated
3 Tbsp. butter
1 tsp. vanilla
Baked pie shell
Meringue:
3 egg whites
1/4 cup sugar
Put 1 1/2 cups milk into saucepan and heat until hot.
In a bowl, combine dry ingredients; add hot milk.
Add egg yolks that have been beaten to remaining 1 cup milk. Then add to flour mixture.
Cook on stovetop, stirring, until thickened. Add butter and vanilla. Pour into baked pie shell.
Beat egg whites with 1/4 cup sugar until stiff. Spread over filling.
Bake at 375 until meringue is lightly browned.
Tommy Lou's Tomato Pie
5 tomatoes, peeled and sliced (Roma work best)
10 fresh basil leaves, chopped
1/2 cup chopped green onion or red onion
9-inch pre-baked deep dish pie shell
1 cup grated mozzarella
1 cup grated cheddar
3/4 cup mayonnaise (or half mayo, half Greek yogurt)
2 Tbsp. freshly grated Parmesan cheese
Salt and pepper
Preheat oven to 350 degrees.
Place tomatoes in a colander in the sink in 1 layer. Sprinkle with salt and allow to drain for 10 minutes. Use a paper towel to pat-dry tomatoes and make sure most of the excess juice is out. (You don't want juicy tomatoes or your pie will turn out soggy).
Layer tomato slices, basil and onion in pie shell. Season with salt and pepper. Combine the grated cheeses and mayonnaise together. Spread mixture on top of tomatoes and sprinkle Parmesan cheese on top. Bake for 30 minutes or until lightly browned.
Serve warm cut into slices.
The Globe's House Dressing
Favorite dressing from the former restaurant The Globe in Northport
1 cup fresh basil
5 cloves garlic
1 cup grated Parmesan Cheese
1 cup extra virgin olive oil
1/2 tsp. black pepper
1 cup rice vinegar
Place basil, garlic, cheese, olive oil and pepper in a food processor; blend until finely chopped. Pour into a bowl; whisk in vinegar until blended. Makes about 2 2/3 cups.
Boudro's Famous Guacamole
This is my favorite guacamole that is served at Boudro's restaurant in San Antonio, Tex.
Juice of 1/4 of an orange
Juice of 1/2 of a lime
1 avocado, seeded and scooped out of skin
2 Tbsp. roasted and charred Roma tomatoes, diced
1 Serrano pepper, roasted, seeded, diced
1 tsp. chopped cilantro
Coarse salt or sea salt to taste
Squeeze juices into a bowl. Add avocado and coarsely chop. Add onions, tomato, pepper and cilantro; fold into avocado mixture. Add salt. Mixture should be chopped not mashed.
Frozen Whiskey Slushies
I have been making these 30 years for parties.
12 oz. frozen lemonade or limeade
12 oz. blended whiskey
36 oz. unsweetened tea
Mix all ingredients together in a plastic bowl and freeze for 24 hours before serving.
Serve in old fashioned glasses with a slice of lemon or lime. Can be made with gin or vodka.
Beef Fajitas with Pico de Gallo
1 (8-oz.) bottle zesty Italian dressing
3 Tbsp. fajita seasoning
2 (1-Lb.) flank steaks
12 (6-inch) flour tortillas, warmed
Shredded Cheddar cheese
Pico de Gallo, recipe follows
Garnishes: Lime wedges, chopped fresh cilantro sprigs
Combine Italian dressing and fajita seasoning in a shallow dish or zip-top plastic bag; add steak. Cover or seal, and chill 8 hours, turning occasionally. Remove steak from marinade, discarding marinade.
Preheat grill to 350 to 400 degrees (medium-high) heat. Grill steaks covered with grill lid, for 8 minutes, turn and grill 5 more minutes (medium-rare) or to desired degree of doneness.
Remove steaks, and let stand 5 minutes. Cut steaks diagonally across the grain into very thin slices, and serve with tortillas, cheese and Pico de Gallo. Makes 6 servings.
Pico de Gallo
1 pt. grape tomatoes, chopped
1 green bell pepper, chopped
1 red bell pepper, chopped
1 avocado, peeled and chopped
1/2 medium-size red onion, chopped
1/2 cup chopped fresh cilantro
1 garlic clove, pressed
3/4 tsp. salt
1/2 tsp. ground cumin
1/2 tsp. lime rind zest
1/4 cup fresh lime juice
Stir together all ingredients; cover and chill 1 hour. Makes 3 cups.
Aunt Pauline's Coconut Buttermilk Pie
1 1/2 cups sugar
2 Tbsp. flour
1/2 cup butter, melted and cooled
3 eggs, well beaten
1/2 cup buttermilk
1 tsp. vanilla extract
1 heaping cup flaked coconut
1 (9-inch) pastry shell, unbaked
Heat oven to 350 degrees. Combine sugar and flour
well. Add butter, eggs, buttermilk, vanilla and coconut.
Pour into unbaked pie shell.
Place on a cookie sheet and bake about 1 hour or until just firm.
If the crust starts to brown too rapidly, tent it with foil.
Cool before slicing.
Bacon Cheese Muffins
Good for brunch
1 cup self-rising flour
1 cup sour cream
1 stick butter, softened
3/4 cup grated sharp cheese
1/2 cup real bacon bits
Combine ingredients and spoon into mini muffin tins that have been coated with nonstick spray. Bale at 400 degrees for about 20 minutes.
Muffins will be golden and crunchy. Makes about 2 dozen.
Mother's Butterscotch Pies
1 1/2 cups sugar, divided
4 cups milk
7 Tbsp. flour or cornstarch
1 pinch of salt
6 egg yolks (reserve whites)
4 Tbsp. butter
Two baked 9-inch pie shells
Meringue:
6 egg whites
1/2 sugar
Caramelize 1 cup of the sugar by placing in a heavy saucepan on low heat and leave until melted and brown, being careful not to let it burn.
Heat milk; add browned sugar.
Combine flour and remaining 1/2 cup sugar and salt; set aside.
Add milk and sugar to egg yolks and then to flour mixture.
Cook over low heat until thicken; add butter.
Pour into two baked 9-inch pie shells.
Beat egg whites with 1/2 cup sugar until stiff. Spread over filling in both pies.  Bake in a 375-degree oven until meringue is lightly browned.
Frosty Strawberry Dessert
A family favorite from Mother Wages
Topping:
1 cup sifted all purpose flour
1/4 cup brown sugar
1/2 cup walnuts (or pecans)
1/2 cup butter, melted
Dessert:
2 egg whites*
1 cup sugar
2 cups sliced fresh strawberries (or 10 oz. frozen) if frozen, reduce sugar to 2/3 cup
2 Tbsp. lemon juice
1 cup whipping cream or Cool Whip
To make topping, first four ingredients, spread in baking pan. Bake at 350 degrees for 20 minutes. Stir several times, baking until brown.
Sprinkle 2/3 of crumbs on bottom of dish you'll put dessert in.
Combine egg whites, sugar, berries and lemon juice. Beat on high speed until forms stiff peaks. Whip cream separately (can use Cool Whip). Then fold into dessert. Do not re-whip, just fold in. Put in dish.
Sprinkle rest of crumbs on top. Can add whole strawberries on top to garnish.
Better to let crumbs cool completely before putting dessert in dish.
*Do not consume raw eggs if you are pregnant or have health issues.
Gail's Pasta Salad for the Lake
4 carrots, chopped
Fresh cauliflower, chopped
Fresh broccoli, chopped
2 cans pitted black olives, drained
Feta cheese
Chopped celery, optional
Cooked chicken, optional
Pepperoni, optional
2 Tbsp. McCormick Salad Supreme seasoning
2. (8-oz. bottles Wishbone Salad Dressing
2 (16-oz. pkg. small screw pasta, cooked and drained
Combine all salad ingredients except the pasta in a large bowl. Add Salad Supreme seasoning and dressing and toss. Store in refrigerator overnight. Toss in the pasta.
Watermelon Salad
1 (5 lb.) watermelon
1 Vidalia onion
1/4 cup red wine vinegar
Salt and pepper
1/2 cup extra virgin olive oil
2 Tbsp. chopped fresh mint
4 oz. feta cheese crumbled
Salt and pepper
6 whole mint sprigs
Cut melon into bite-size pieces, removing seeds and set aside.  Peel and slice the onion into rings.  In a small bowl, combine vinegar, salt, pepper, and whisk until salt is dissolved.  Slowly whisk in olive oil, a few drops at a time.  Add chopped mint.
In a large bowl, combine the melon, onion, and feta.  Pour dressing over melon mixture and toss.  Garnish with mint sprigs.