By STACEY PATTON WALLACE
Mike and I have been retired from teaching for almost two-and-a-half years now. And I must say that I highly recommend retirement. I've found that the secret to a happy retirement is to find activities which you really love. Otherwise, boredom can set in quickly.
Besides being an active member of my church, Central Baptist of Opelika, traveling with Mike and writing this column, I have also really enjoyed being a member of Osher Lifelong Learning Institute (OLLI) at Auburn University.
OLLI offers classes primarily to people who are age 50 and up, and tuition is extremely reasonable. A wide variety of classes are offered, some of which include writing, history, art, line dancing, Spanish and many others.
In September of 2020, I signed up for "Writing Our Lives," a memoirs writing class taught by Dr. Terry C. Ley, professor emeritus from Auburn University (and my former and favorite English/language arts professor) and Cathy Buckhalt, a well-known educator in Lee County.
In this past fall term, which we just completed, our class was in person and not virtual. As a former teacher and once again a student, I much prefer face-to-face instruction. Classmates get to talk to each other in person, and as a great bonus, you can make new friends such as Leslie.
Leslie and her husband Randy are originally from Baton Rouge, Louisiana, and they have lived in Auburn for 34 years. Leslie is a retired commercial interior designer, and Randy retired from teaching economics at Auburn University.
Recently, I met Leslie at Well Red, a really unique establishment, at 223 Opelika Road in Auburn, across from the post office. Well Red offers customers not only a great selection of coffees, baked goods and wines; it is also a bookstore.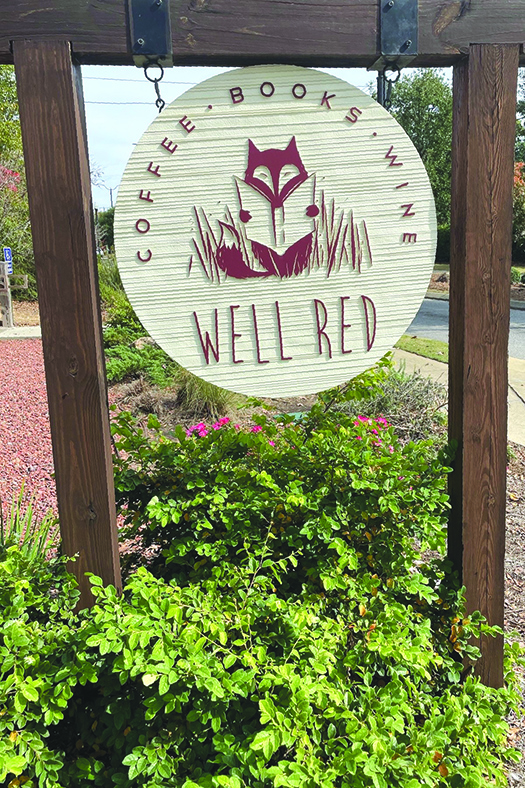 When we entered Well Red, I really admired the cozy couch, chairs and tables. As a retired English teacher, I also felt right at home with books lining the walls.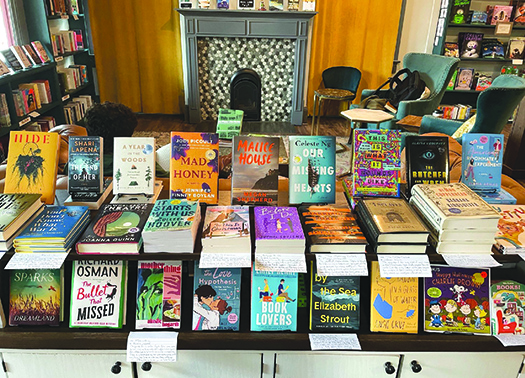 Leslie ordered tea while I chose a drip coffee and a s'mores tart. I loved that we were each given a bookmark. I used to chide my sweet Mama for "dog-earing" her books to save her place.
I still get onto my husband for the same offense. After all, books are our friends and shouldn't be mangled. However, I continue to be ignored.
That s'mores tart was oh, my two times delicious. There I was, a "Pooh-sized" woman, surrounded by baked goods and books. What's not to love?
Besides our tea and drip coffee, Well Red offers customers a variety of beverages, some of which include espresso, macchiato, cortado, cappuccino, Americano, latte, French press and hot chocolate.
Also, that day, besides my delectable s'mores tart, Well Red's talented bakers served up Snickerdoodle, chocolate chip and red velvet cookies, apple crumble bars, dark chocolate cake, Affogato, a charcuterie plate, vanilla bean cheesecake and apple cider crème brulee. The Affogato, cheesecake and crème brulee were gluten-free. Run and do not walk to Well Red for a great treat.
Well Red is locally owned by Crystal and Richard Tomasello. Crystal was so kind to take time out of her busy day to tell me about their business.
"We started construction smack-dab in the middle of the pandemic in March 2020 and opened in June," Crystal said.
According to Crystal, she and Richard went to a wedding in Asheville, North Carolina, where they visited Battery Park Book Exchange, which sold coffee, wine and used books.
Crystal and Richard said that they thought that Auburn could use something like that, so they took the idea and made it their own. Well Red sells new books and has three in-house bakers who bake every day. Well Red serves cinnamon rolls, bacon cheddar biscuits and quiche daily. The bakers change out what other desserts they bake during the week.
"The community really embraced us," Crystal said. "We have bi-monthly wine tasting, author events and poetry nights. We also cater and do special events such as engagement parties, wedding showers/weddings and baby showers. All ages come here; we run the gamut."
When I asked Crystal why her business was called "Well Red" instead of "Well Read," (a good question which Leslie brought up), she said that it was a play on words.
"I wanted people to know that we sell wine as well as books," Crystal said. Well Red offers customers at least 50 different wines from which to choose.
Well Red is open on Sunday from 9 a.m. to 2 p.m.; Monday through Thursday from 7 a.m. to 9 p.m.; on Friday from 7 a.m. to 10 p.m.; and on Saturday from 8 a.m. to 10 p.m.
Well Red makes the grade with an A+ from this retired English teacher. Remember, "Pooh-sized" people NEVER lie about food. Enjoy!
Stacey Patton Wallace, who retired from teaching language arts for 30 years, is a professional diner. Her column, "Making the Grade," will appear each week in The Observer. Stacey may be reached at retiredlangartsteacher2020@gmail.com