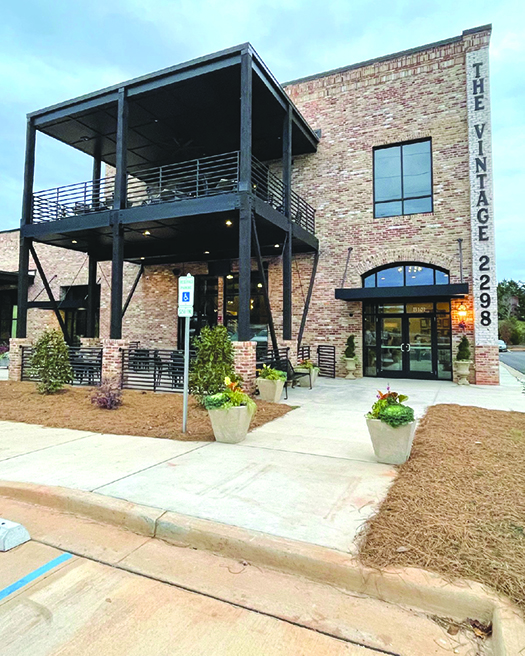 On Nov. 5, 2005, I married Mike Wallace, the best man I have ever known. At the time, Mike was 46, and I was almost 43. So long before our wedding day arrived, most of our family and friends had probably given up on ever seeing either of us get married
Therefore, that day at Orr Street Baptist Church, my home church, when Brother George Stewart, my favorite minister of all time, announced, "May I present to you Mr. and Mrs. Mike Wallace," the applause was joyous and quite loud.
My sweet Mama and Daddy were on the front pew, applauding and crying, but hopefully from happiness and not from the relief of finally unloading me. My sweet husband later quipped, "Your Daddy was glad that he wouldn't have to drive over to LaGrange the next time you had car trouble." No, that baton had passed to my new husband, who still enjoys teasing me.
My Mike is a wonderful, loving, supportive man. And being married to me isn't easy; he's probably earning jewels in his crown by just putting up with me.
When our 17th anniversary rolled around, we wanted to go somewhere really special, and we found just the place: Vintage 2298, at, you guessed it: 2298 E. University Drive in Auburn.
Vintage 2298 opened on Oct. 22, and Mike and I really admired the beautiful new building. The bricks appeared to be old; we loved the "vintage" look. Sorry, I just couldn't help myself.
The interior of the restaurant was lovely and elegant. Each table was decorated with a small candle and floral arrangement. Also, the beautiful, quiet music being played was quite soothing.
Again, we were in the right place for a special night.
In addition, the staff members were all outstanding. Scott Thomas, the front house manager, was so kind and patient, answering all my questions about the restaurant.
Scott said that Vintage 2298 is locally owned by Randall and Laura Baldwin. In addition, Randall is the restaurant's chef.
"Chef Randall and Laura support our local economy by buying from local sources, from goat cheese to grits and Conecuh sausage," Scott said.
The restaurant gets fresh Gulf seafood from Greg Abrams, a local fisherman in Panama City, as well as oysters from Mobile Bay and Louisiana.
Also, Randall pays homage to his late mother Nancy, who taught him how to cook. A beautiful painting of Miss Nancy, which was drawn from a photograph taken by Chef Randall's dad on his parents' honeymoon, appropriately hangs above the center of the restaurant, over the heart of the kitchen. Also, Miss Nancy's heirloom silver and cookbooks are displayed in the restaurant. Chef Randall gets an A+ from this retired English teacher for these beautiful tributes to his mother.
When we were seated, Amanda, our server, was wonderful, sweet and helpful. Mike and I both ordered a bowl of the Vintage Gulf seafood gumbo, which had Conecuh sausage, crabmeat, oysters, shrimp and Carolina gold rice. Oh, my two times. You just can't beat fresh Gulf seafood. That gumbo was so good, it would make you slap your grandma twice. Again, I'm kidding; that's just an old saying. I would NEVER have slapped my amazing grandmothers, Pearl Coker Patton or Vivian Brooks McEachern Adamson. Please don't call or email my boss Michelle Key.
For our entrees, we both chose the fried Gulf seafood platter, ordering double shrimp instead of oysters. We aren't oyster people. Don't you love when restaurants let you do that? Vintage 2298 earned bonus points from me.
The platter also came with flounder, a stuffed baked potato and a luscious green salad. Everything was decidedly delectable (Again, I love alliteration.). Even the salad was fresh and fabulous; I LOVED the house dressing. This part is important; after all, "Pooh-sized" people don't generally get excited about salad.
Then, even though Lynn Hudson, my wonderful endocrinologist, may be reading this column, Mike and I split a Meyer lemon tart with Chantilly crème and strawberries for dessert. Oh, my three times. Vintage 2298 was worthy of our 17th wedding anniversary. Run and do not walk to this restaurant.
Besides our wonderful gumbo, Vintage 2298 also offers other appetizers such as oysters on the half shell, housemade meatballs, charcuterie board, Bayou La Batre crab claws, West Indies salad and others.
Other entrees served include beef tenderloin, Nancy's buttermilk fried chicken (I have to try that next time.), pecan wood grilled venison leg, New York strip and short ribs, among others.
Besides dinner, Vintage 2298 also serves a Sunday brunch from 10 a.m. to 2 p.m. Last Sunday, the restaurant served appetizers, some of which included oysters on the half shell, housemade buttermilk biscuits, fried Bayou La Batre crab claws, South Alabama seafood gumbo and housemade pimento cheese.
Some brunch entrees included fresh farm egg crabmeat omelet, Southern Vintage Breakfast, Stinson's brioche French toast (with Conecuh bacon) and Nancy's buttermilk fried chicken. Brunch menus change weekly.
Mike, this review was for you. I hope and pray that God blesses us with at least 33 more happy anniversaries. As our dear friend Dottie says, "I love you to the moon and back!"
Vintage 2298 is open on Sunday from 10 a.m. to 2 p.m., and on Monday and Wednesday through Saturday from 4:30 to 10 p.m. The restaurant is closed on Tuesday.
Vintage 2298 makes the grade with an A+ from this retired English teacher. Remember, "Pooh-sized" people NEVER lie about food. Enjoy!
Stacey Patton Wallace, who retired from teaching language arts for 30 years, is a professional diner. Her column, "Making the Grade," will appear each week in The Observer. Wallace may be reached at retiredlangartsteacher2020@gmail.com