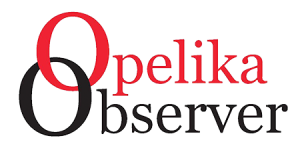 By Stacey Patton Wallace
I know this review is 10 days past Valentine's Day, but since my first one ran before the holiday, this one had to be after it, so please forgive me.
Valentine's Day, the most romantic day of the year, used to be my least-favorite time of all. I looked forward to it as much as one would a root canal without Novocaine.
Back in 1978-81, when I attended Benjamin Russell High School in my hometown of Alexander City, Alabama (or "Eleck City" to the locals), I was a short, plump, outspoken nerdette, hardly any high school boy's dream date.
The front office of BRHS looked like a florist's shop on Feb. 14. Colorful bouquets of flowers waited eagerly for pretty, popular girls to claim them from their boyfriends.
As the years went by, and I became older and a whole lot plumper, my feelings about Valentine's Day hadn't changed. When I was about 30, living and teaching in LaGrange, Georgia, I even hosted a "Love Stinks" party for my single-women friends at my apartment. A friend who couldn't make the event sent us a heart-shaped cake with a slash through the middle. We had a great time, munching and sharing our worst Valentine's Day war stories.
Thankfully, on Feb. 14, 2004, my intense dislike of Valentine's Day finally ended; I shared the day with Mike, who is now my husband and forever Valentine. I cooked dinner for us that day (Never do that, ladies. Have your boyfriend or husband take you to a great restaurant.)
Mike brought me beautiful red roses and a new computer printer because he is a computer nerd. I loved the roses and mentally chuckled about the printer because I don't like practical gifts. However, the roses conked out after about a week; that printer lasted for many years.
The next year, I said to Mike, "Do you know what I would really love this Valentine's Day?" (Sometimes, you just have to tell a man what you'd like; they honestly have no idea and could use some help.)
"What?" he asked.
"A dozen long-stemmed red roses delivered to school."
I explained the rose-less Valentine's Days in high school and my dislike of the holiday in general. Also, I told him that flowers don't count unless other women see them. (A secret I shared with my students; most of the girls understood immediately.)
From that time on, my sweet Mike has always sent me roses, and two nerds fell in love and married on Nov. 5, 2005. This fat nerdette had finally arrived.
On this past Valentine's Day, we dined at Venditori's, my favorite restaurant in Lee County. Just walking in Venditori's makes me gain five pounds because the aromas coming from the kitchen are truly amazing.
Also, Venditori's is very careful regarding COVID-19 safety protocols. For instance, the tables are spaced 6 feet apart; the room in which we dined had only four regular-sized tables (which could seat four) and one table for two. In addition, all employees were wearing masks.
Our waitress Karley was truly a delight. She was so friendly, helpful and attentive. Also, John Sellers, the owner, always jokes with us, making us feel right at home.
Mike and I really love the salad and rolls, which are cooked in garlic and butter sauce. I ordered my usual, the meat ravioli with meat sauce, covered with a luscious layer of melted cheese. As always, my mouth felt like it had died and gone to heaven. Mike also thoroughly enjoyed his shrimp and scallops alfredo.
We both stopped before we reached the point of no return. Then, risking a diabetic coma, I shared a piece of delectable, homemade strawberry cheesecake with Mike. Our meal from start to finish was a perfect dining experience.
Venditori's makes the grade with an A+ from this retired English teacher. Remember, fat people NEVER lie about food. Enjoy!
Stacey Patton Wallace, who retired from teaching language arts for 30 years, is a professional diner. Her column, "Making the Grade," will appear each week in the Observer. Stacey may be reached at retiredlangartsteacher2020@gmail.com.