By Stacey Patton Wallace
As I've mentioned several times before in this column, I absolutely LOVE dining in downtown Opelika. I'm so glad that Opelika's downtown has maintained the quaint charm it possessed from decades ago when my husband Mike used to ride a train to it from West Point, Georgia, when he was a little boy. Also, there's free, plentiful parking, and you don't have to wrestle with a ridiculous kiosk. In addition, Mike and I are looking forward to going to Christmas in a Railroad Town; our friends Jack and William say it's terrific.
Recently, Mike and I met our friends Jack, William and Thomas to dine at Twice Baked in downtown Opelika at 909 South Railroad Avenue. The interior of the restaurant is interesting and attractive. I loved the original, old brick wall on one side and the eye-catching, hand-painted wall on the other. On that wall was the slogan, "Don't be a hater — Come get a tater." I also admired the seasoned, wooden floors.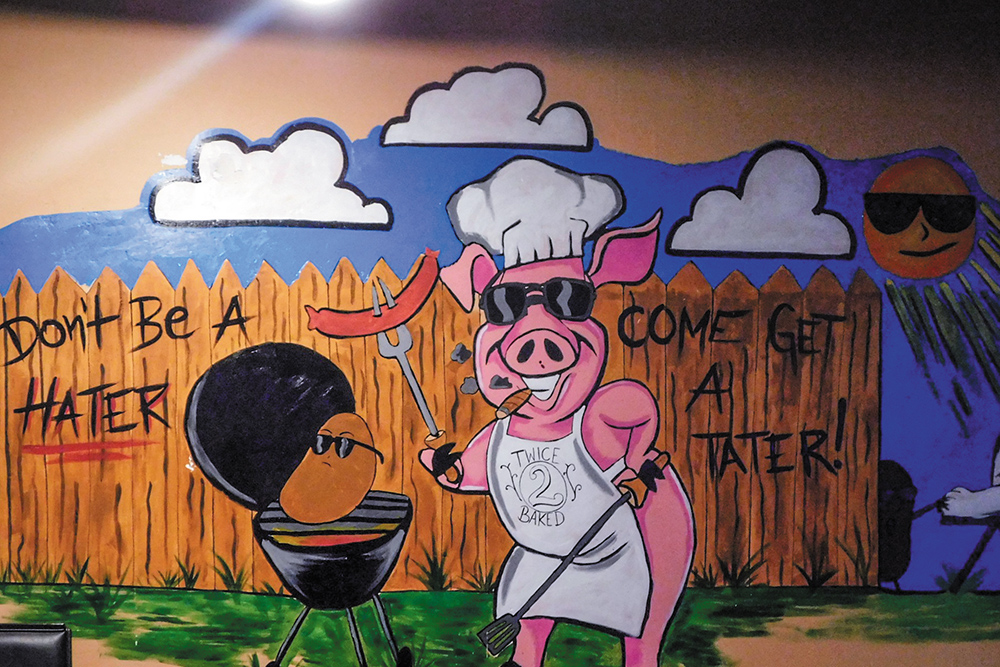 Joseph Shorter, the owner of Twice Baked, was a complete delight. He was so welcoming, chatting and joking with us. He said he opened the restaurant in July 2020.
"Love, time and effort, honey," Shorter said.
Shorter also said that they make their bread fresh every day. And he said, "If your stomach touches your back, stop by Twice Baked and relax." As a former radio salesperson and a retired English teacher, I love Shorter's way with words.
Also, back in the summer, when I was putting up posters to advertise Central Baptist of Opelika's Vacation Bible School, Shorter had been SO kind, putting up my poster himself and with a lot of enthusiasm. He gets extra points for doing that; I appreciate people who support our community.
But on to our dining experience. Mike, still being health-conscious, chose the lemon pepper wings. I, not being health-conscious, ordered the walking taco, which included chips topped with lettuce, cheese, sour cream, salsa and beef. I chose beef, but you have your choice of meat. I gobbled up that walking taco as though I hadn't eaten all day. (I had; I can promise you.) Also, I ordered a side of Crazy Corn. Too. good. to. be. described. It could be considered addictive.
Both William and Thomas ordered the pulled pork sandwich. Last, Jack chose the Opelika hot sauce chicken sandwich. Oh, my two times. Everything was really delicious. Run, do not walk, to Twice Baked NOW.
Besides our delectable choices, Twice Baked offers diners: steak, chicken, pull pork and veggie Phillies, a variety of sandwiches and baked potatoes, hot dogs, burritos and rib, chicken, pork and wing plates; half plates include two 6-ounce sides, and full plates include two 16-ounce sides.
Twice Baked dessert choices include: pound, caramel and million dollar cakes, peanut butter pie and sweet potato soufflé. They all sounded delicious. However, after I had eaten my walking taco, if I'd had dessert, I couldn't have walked, so I wisely declined.
Besides having delicious food, eating at Twice Baked is a good, economical choice in these inflationary times because their meals are inexpensive, another plus for a girl on a teacher pension.
Twice Baked on Railroad Avenue in beautiful, downtown Opelika is open Sunday from 11 a.m. to 5 p.m.; is closed on Monday; Tuesday-Thursday from 11 a.m. to 8 p.m.; Friday-Saturday from 11 a.m. to 12 a.m.
Twice Baked makes the grade with an A+ from this retired English teacher. Remember, "Pooh-sized" people NEVER lie about food. Enjoy!
Stacey Patton Wallace, who retired from teaching language arts for 30 years, is a professional diner. Her column, "Making the Grade," will appear each week in the Observer. Stacey may be reached at retiredlangartsteacher2020@gmail.com