By Stacey Patton Wallace
Although it doesn't seem possible, this is my 52nd restaurant review, which I've written for The Observer. The old adage is certainly true: "Time really flies when you're having fun." I love writing this column, and I really appreciate the feedback I've received from my readers; thank you so much for making this retired English teacher's day. Also, please email me if you have a restaurant you'd like for me to review, because if I run out of restaurants, I won't have a column.
If someone had told me two years ago that I would one day write a column in a weekly newspaper, I would have laughed in disbelief. After all, two years ago, I was still teaching 6th grade language arts in LaGrange, Georgia.
The truth is, I really fell into writing this column. In January of 2021, I wrote about a restaurant, which Mike and I had really liked in, "What's Happening in Auburn/Opelika" on Facebook. The post, to my astonishment, received over 400 reactions.
Then a woman, whom I didn't know, sent the post to Michelle Key, the owner and publisher of The Observer. Key contacted me, and suddenly, I was writing, "Making the Grade," which I really enjoy.
I think I've found the key to a happy retirement: Find things you love to do; otherwise, boredom, depression and 100 extra pounds may be the result. Besides writing this column, I, along with my husband Mike, am a Standardized Patient for the Harrison School of Pharmacy at Auburn University. Also, I take two classes with Osher Life Long Learning Institute (OLLI) at Auburn. Last, as I've previously mentioned, I take piano lessons from my sweet friend Lynda, and I'm involved with my church, Central Baptist of Opelika.
But back to my 52nd review. Recently, Mike and I met our friends Jack and William at the Savanh Thai Kitchen at 1750 Opelika Road, Suite B, in Auburn.
Mike and I had never eaten Thai food before, so we were looking forward to trying it. When we entered the restaurant, I was really impressed by the very attractive interior. I admired the light, airy, modern décor.
Karsyn, our waitress, was a complete delight, being sweet, patient and helpful. We asked her what "Pad" meant on the menu. She said it meant, "Stir fried." Also, I loved that diners are asked which spice level they prefer, 0 to 5. 0 is not spicy at all, and 5 means, "How much water can you drink?"
Being a wimp who doesn't enjoy spicy food (If my lips burn, I'm not enjoying myself.), I found the spice rating very comforting. I wish all restaurants had that rating system.
For our appetizer, Mike and I chose the shrimp rolls. Jack ordered the gulf blue crab rangoon, and William selected the beef jerky street food. All of them were quite good.
For our entrees, Mike and I both chose the teriyaki chicken and fried rice (spice level 0). Jack ordered the house-fried rice with beef (spice level 1). Last, William selected the crunchy chicken with fried rice (spice level 1).
All of our entrees were very delicious. Also, our meals were presented in such an attractive manner. In Alabamian, that means that the food looked really pretty. I loved that my fried rice was shaped like a mini volcano. The portions were enormous; in fact, Jack and William had enough for another meal and ordered to go boxes; therefore, the restaurant is very economical for diners; however, Mike and I didn't leave enough to box up, surprise, surprise. Dining at the Savanh Thai Kitchen was terrific in every way. We will DEFINITELY be back there soon.
Besides our delectable dishes, the restaurant also offers diners many other choices, some of which include: crab fried rice, pineapple fried rice, pad cashew, pad ginger and Thai chargrilled platter.
The restaurant's desserts sounded tempting; choices included: mango sticky rice, tempura ice cream (deep fried ice cream, a Southerner's dream!), fried banana ice cream and sliced fried banana. Again, when my stubborn A1C drops below 7.0, I'd love to give one of them a try.
  Savanh Thai Kitchen is closed on Mondays. The restaurant is open Tuesday through Sunday from 11 a.m. to 3 p.m.; is closed from 3 to 5 p.m.; is open from 5 to 9 p.m.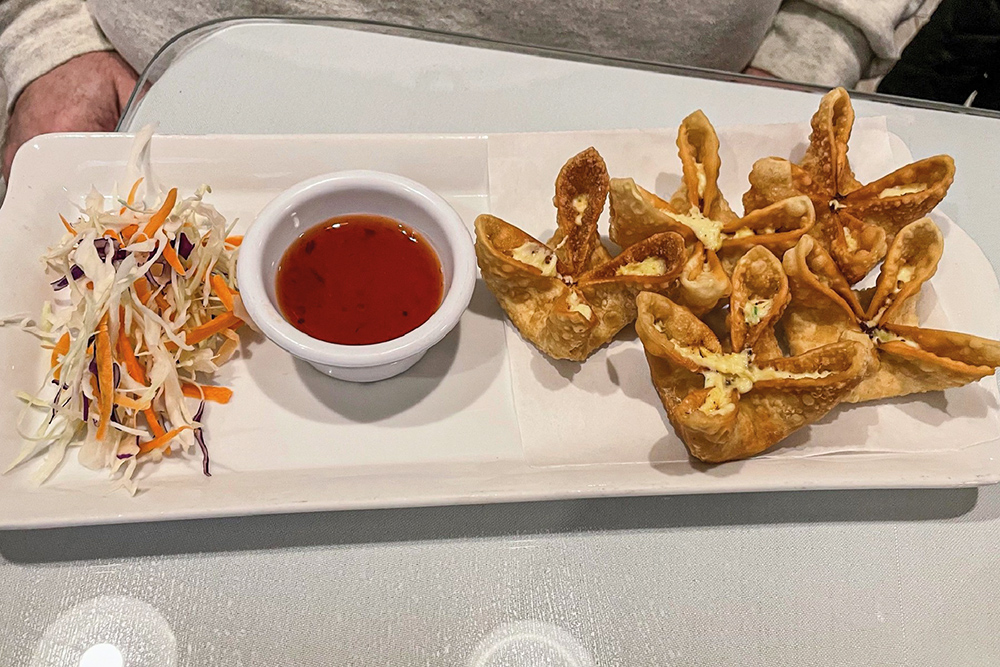 The Savanh Thai Kitchen makes the grade with an A+ from this retired English teacher. Remember, "Pooh-sized" people NEVER lie about food. Enjoy!
Stacey Patton Wallace, who retired from teaching language arts for 30 years, is a professional diner. Her column, "Making the Grade," will appear each week in the Observer. Stacey may be reached at retiredlangartsteacher2020@gmail.com