By STACEY PATTON WALLACE
From the time I first learned to read the "Janet and Mark" series of books in the first grade in Alexander City ("Eleck" City to the locals), I fell in love with books.
Over the years in school and at home, I read voraciously, enjoying "Little Women," "Nancy Drew," "Little House on the Prairie," among countless others.
Without a doubt, my favorite novel, which I read in a class at Benjamin Russell High School, was "To Kill a Mockingbird." This well-known book by Harper Lee remains one of my all-time favorites. I'm sure that Harper Lee is the reason that Monroeville, Alabama, her hometown, is called "the literary capital of Alabama."
I also loved the movie adaptation of the book. In my opinion, Gregory Peck certainly deserved the Oscar he earned for portraying the part of Atticus Finch.
Actually, all the actors in the movie were terrific, especially the child stars.
When my good friend Leigh Ann texted me about the play version of "To Kill a Mockingbird," which has been performed in Monroeville for over 30 years, I knew that I had to see it. My husband Mike, also a fan of the story, was on board, too.
Therefore, a while back, Mike, Leigh Ann, Leigh Ann's Aunt Sandra Hamby and I headed south to Monroeville. When we arrived at the courthouse, where Act II of the play took place, we looked around the pretty, small town. Since the play started at 6:30 p.m., we wanted to eat an early supper.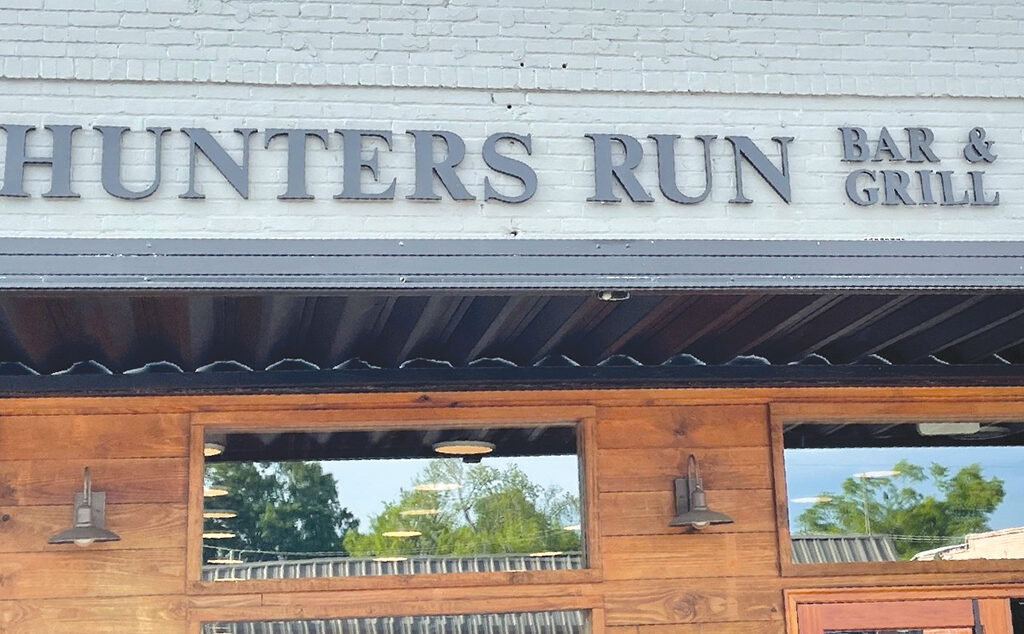 We asked some locals where to dine because they certainly should know the best places. Two ladies told us to go to Hunters Run Bar & Grill at 38 W. Claiborne St. The restaurant was only two blocks away, so we could walk there.
When we arrived outside Hunters Run, I noticed a big bunch of Baptists from Andalusia (Remember, I love alliteration.) were gathering on the sidewalk. "Quick, let's go!" I said to my fellow travelers so that we could be seated first.
Unfortunately, that didn't matter. After we ordered, we sat at our table for almost an hour before our food finally came. And the Andalusian Baptists, who came in after us, were being served first. Now, the sweet servers were running their legs off bringing food to this large group. Also, they were probably short-staffed, as many restaurants are these days, so I was certainly not blaming them.
However, I began to get a little warm. Also, we didn't want to be late for the play. Therefore, I got up, walked calmly to the group and politely asked a lady, "Did y'all have reservations?" The lady said, "No, but we had already ordered our food."
Not long after this short conversation, our food finally arrived. Mike had ordered shrimp & grits, while I chose the steak sandwich with a side of shrimp & grits.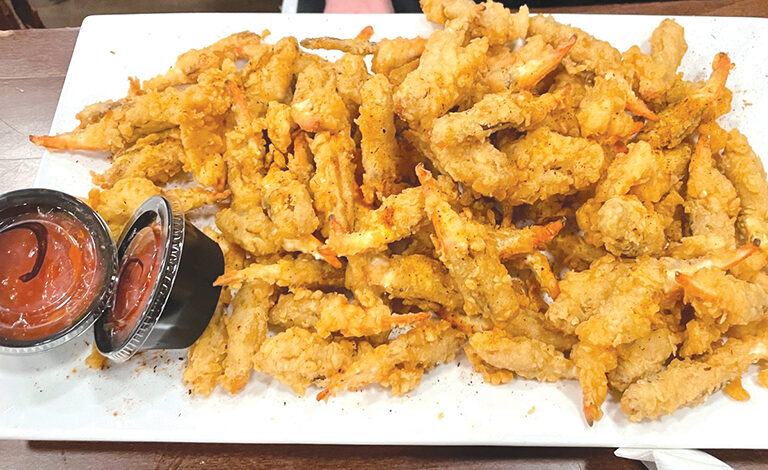 Leigh Ann ordered fried crab claws as an appetizer. The serving was piled high and was enough for several people, so Leigh Ann generously shared with us. Leigh Ann's Aunt Sandra ordered "Grandma's Favorite," which consisted of fresh golden fried gulf shrimp. Sandra chose a baked potato and a side salad to go with her entrée.
Oh, my three times. The food was really delicious, and this "Pooh-sized" woman's happy attitude quickly returned. We had a really great time eating, laughing and talking. In fact, once I laughed so hard, my head went back and connected with the wooden partition behind me. Since that part of my anatomy is extremely hard, I recovered quickly. I hope the wood did as well.
Besides Leigh Ann's tasty crab claws, Hunters Run has a large variety of appetizers, some of which include a nacho platter, fried pickle spears, tuna dip, buffalo chicken dip and quesadilla.
The restaurant also serves salads, wraps, tacos, sandwiches and entrees. Believe me, if you travel to Monroeville, you'll want to eat at Hunters Run Bar & Grill.
Now, after we had finished eating, I went to the ladies' restroom. The door had the word "ladies" and even had a drawing of lips wearing lipstick.
Therefore, when an older man came out of that door, my jaw almost hit the floor. In all of my 60 years, I have NEVER seen a man come out of the ladies' restroom. However, some women, including myself, sometimes go in the men's restroom when our line is too long, provided they have a friend to stand guard as a lookout.
Some Andalusia Baptist women were also waiting to use the restroom, and they howled with laughter at my shocked expression. After I exited the restroom, we had a good time chatting, and I told them that I'd have to put this incident in my column. "His name is Bill," one woman was happy to tell me. Poor Bill; those women are probably still giving him a hard time.
When we arrived back at the courthouse to see the play, a young woman who volunteered to help with the production came up to Mike and asked him if he would like to be a juror in the courtroom during Act II. (Act I took place outdoors; we were under a shade tree, and the weather was perfect.) Mike, who is a little introverted, politely declined. Mike was really introverted before we married. However, after we married, he came out of his shell a good bit because in my family, if you're too introverted, you never get to speak and won't get anything to eat.
Since I'm a complete extrovert, I wanted to be a juror, so I said excitedly, "I'll do it!" However, the sweet, young lady kindly told me that I couldn't be a juror because I was a woman. I had forgotten that in 1935 Alabama, only men served on juries.
The cast of "To Kill a Mockingbird" was composed entirely of Monroeville residents and people from surrounding areas. Their performances earned an A+ from this retired English teacher. We had a wonderful time on our overnight trip. But I digress.
Hunters Run Bar & Grill is open on Sunday from 11:30 a.m. to 2 p.m., Tuesday through Friday from 11 a.m. to 2 p.m. and 5 to 9 p.m., and Saturday from 5 to 10 p.m. The restaurant is closed on Monday.
Hunters Run Bar & Grill makes the grade with an A+ from this retired English teacher. Remember, "Pooh-sized" people NEVER lie about food. Enjoy!
Stacey Patton Wallace, who retired from teaching language arts for 30 years, is a professional diner. Her column, "Making the Grade," will appear every other week in The Observer. Stacey may be reached at retiredlangartsteacher2020.com.