By Stacey Patton Wallace
Oct. 4,  2003, … the last day my then future husband Mike ever let me drive him anywhere, if he could help it. Back then, we were dating for the second time (The first time didn't take because it wasn't God's time, as my wonderful friend Shelly said.).
In 2003, I lived in LaGrange, Georgia, and Mike lived in West Point, Georgia. We were going to the Auburn/Tennessee game at Jordan-Hare Stadium (I've been an Auburn football season ticket holder since 1993.), so I picked Mike up because his house was on the way.
Now, I tend to have a lead foot when I drive; also, I hadn't started using cruise control very much yet. As we were traveling down I-85, which is an incredibly straight highway, Mike nervously said, "Stacey, you're going almost 90 miles per hour." Surprised, I looked at my speedometer; Mike was correct, so I eased up considerably on the accelerator.
You see, we were riding in my very favorite car of all time: my 2003 Toyota Camry, which was silver, sleek and beautiful. I called her the Silver Bullet. She was the most wonderfully smooth ride; it didn't feel as though we were going that fast.
As a result of that speedy trip, Mike now drives us wherever we go, which is fine by me. Mike is a great defensive driver, and when we go on long trips, I get to take naps, letting him be my chauffeur.
Because he's a sweetie, Mike worries about me when I drive somewhere without him. I do admit that in my younger days, I received two traffic citations and had various accidents: hitting the Sonic tray with my Daddy's truck; bumping into the back of another car; backing into and breaking someone's paper box; side swiping my much older brother Jim's mailbox, etc. Thank the Good Lord, no one was hurt. However, I'm a much better, more responsible driver now.
Still, Mike was very grateful to my friend Leigh Ann for offering to drive me to Columbus, Georgia, last week when we met our friend Amelia to celebrate her belated birthday at Fuji Steakhouse and Sushi Bar at 6499 Veterans Parkway. Amelia's birthday is November 3, mine is December 19, and Leigh Ann's is July 13, making Amelia the oldest of our terrific trio.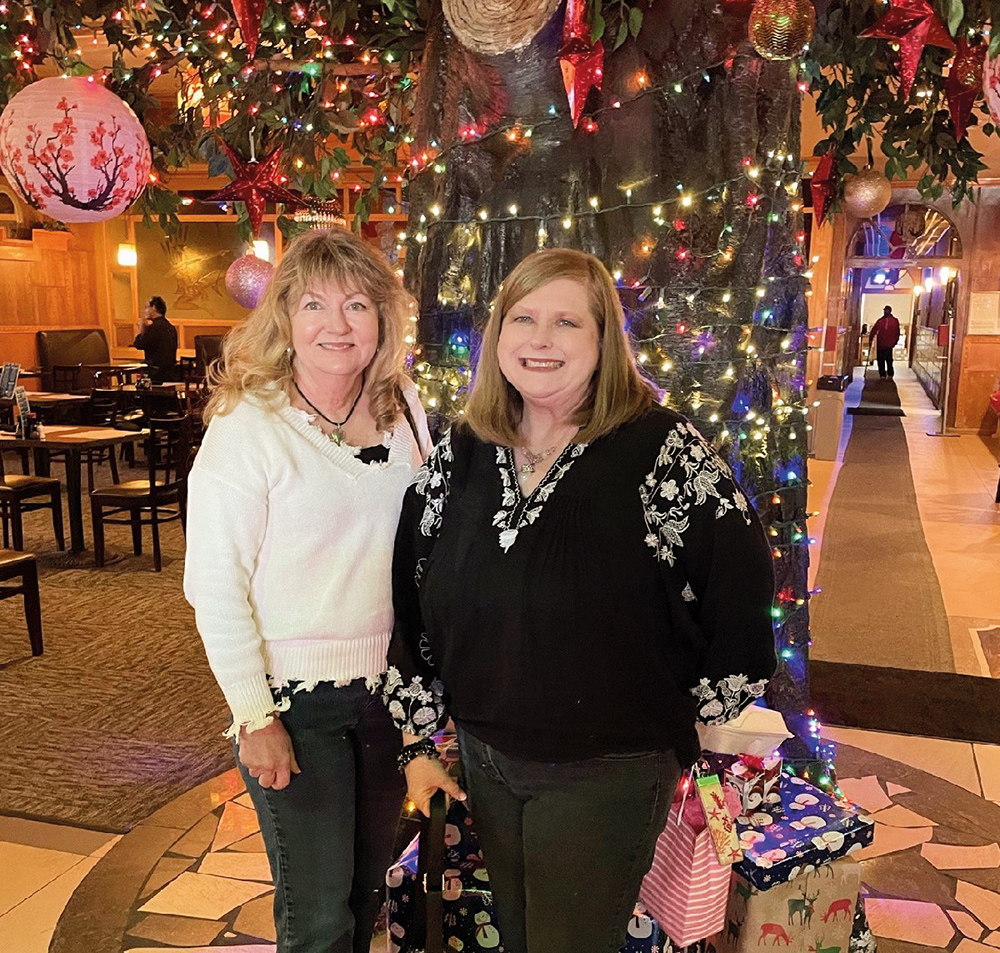 Mike was a little jealous because he loves Japanese food, and Fuji is his favorite place to eat it. We used to go there often when we lived in LaGrange. However, he didn't want to invade our "hen party," as he called it. No problem; he wasn't invited.
Fuji is a very attractive restaurant, and Christmas decorations made it even more beautiful. We elected to eat at the Hibachi grill, and we weren't disappointed. Abe, our waiter, was really funny, kind and attentive.
At lunch, diners choose either soup or salad. All three of us chose the salad. I LOVE the salad dressing at Fuji; next time I need to ask if I can buy a bottle of it.
Our chef was very funny and entertaining. If I had tried to toss eggs and metal cooking utensils around as he did, there would have been a law suit; I have enough cooking mishaps without purposefully throwing things.
For their entrees, Amelia and Leigh Ann both chose the filet mignon, cooked medium well. I chose the filet mignon and shrimp, cooked well done. The ONLY pink I want to see is in my cheeks, and I don't want to hear the cow moo. When I ordered my steak well done, the chef said,
"Come back tomorrow." To which I said, "No problem; I'm retired." I love being able to say that now.
Along with our entrees, we ate generous portions of wonderful fried rice; after all, everything tastes better fried. Also, we had vegetables and double portions of yum yum sauce, which is well named. Everything was amazing and definitely worth the drive. Amelia and Leigh Ann got to-go boxes. Yours truly didn't need one; I only had a little rice left.
Besides our Hibachi lunch specials, Fuji also offers diners steak & chicken, chicken & scallops, along with many other choices. The restaurant also offers entrees such as chicken, salmon or beef teriyaki, shrimp lamen (spicy Japanese noodle soup) and chicken yaki udon (stir fried).
At dinner, Hibachi combinations come with both soup and salad. Also, Fuji serves special dinners, some of which include: lobster, shrimp and scallops; steak, chicken and shrimp; and filet mignon, chicken and shrimp, among others. There are numerous delectable dishes to be sampled.
Fuji Japanese Steakhouse & Sushi Bar is open on Sunday from 11 a.m. to 9 p.m.; Monday-Thursday from 11 a.m. to 2 p.m. and 4 to 9 p.m.; Friday from 11 a.m. to 2 p.m. and 4 to 10 p.m.; Saturday from 11 a.m. to 10 p.m. All times are Eastern.
Fuji Japanese Steakhouse & Sushi Bar makes the grade with an A+ from this retired English teacher. Remember, "Pooh-sized" people NEVER lie about food. Enjoy!
Stacey Patton Wallace, who retired from teaching language arts for 30 years, is a professional diner. Her column, "Making the Grade," will appear each week in the Observer. Stacey may be reached at retiredlangartsteacher2020@gmail.com