As I've said before, I'm an Alabama girl, born and raised in Alexander City ("Eleck" City to the natives). Therefore, I dearly love fried foods. I've always said that a Southerner could eat ANYTHING that's fried; even a shoe could be palatable with the right amount of Wesson Oil. However, I have to admit that when I heard from my friend Lynda, who is my piano teacher, that Jim Bob's on Frederick Road in Tigertown was serving breakfast, including fried biscuits, I was a little skeptical. After all, my Grandma Patton, daddy's mama, cooked light, fluffy biscuits that almost floated right off the plate. Her biscuits were perfection, and you don't mess with perfection.
To be honest, I was WRONG. Mike and I recently ate breakfast at Jim Bob's in Tigertown. Owner Steve Ferrell coined the phrase, "The best biscuit you'll ever have." In the words of my much older brother Jim, "He ain't wuffin'." Forgive me, Grandma Patton, but Mr. Ferrell spoke the truth. These amazingly delicious fried biscuits were made for us by Chef Jim Spain; Jim and his wife Amy both work at Jim Bob's. Amy is also the daughter of my sweet friend Lynda, who plays the piano beautifully at our church, Central Baptist of Opelika.
When Mike and I arrived at Jim Bob's a little after 9 a.m., Lisa, one of the restaurant's employees, warmly greeted us and described all of the full breakfast items. All of Jim Bob's employees were so sweet and helpful. I chose the biscuit combo, which included an indescribably delicious sausage and cheese fried biscuit, hash browns and a drink. I also chose a second side, cheese grits. Mike picked the WD Ramble Scramble breakfast bowl, which had eggs, cheese, bacon and Conecuh sausage, made in the great state of Alabama.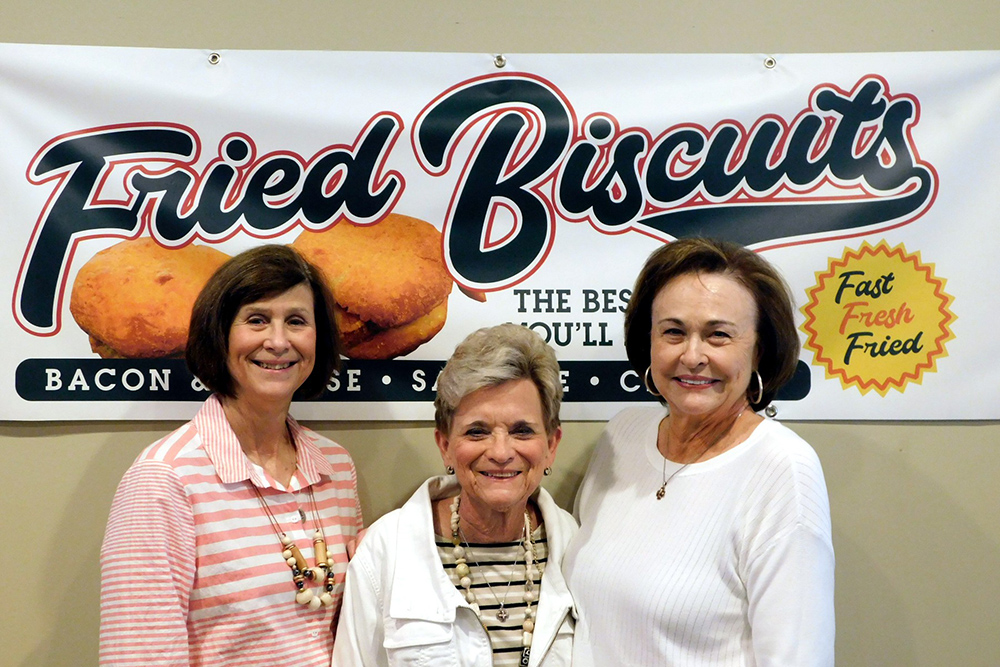 We also split a half dozen "doughbillies," which are fried biscuits cut in quarters and dipped in your choice of six toppings: powdered sugar, cinnamon and sugar, maple syrup, honey or chocolate. Mike chose cinnamon and sugar, and I picked chocolate. Oh, my. Trust me: Run, do not walk, to Jim Bob's on Frederick Road in Tigertown. Chef Jim and the rest of the cooking staff at Jim Bob's really know how to serve up a delicious, down home breakfast.
Another great thing about Jim Bob's is that you can actually come in, sit down and have breakfast with your family or friends. It was so homey, comfortable and NORMAL after the last 15 months of this terrible pandemic. Mike and I met some really sweet Opelika natives and enjoyed chatting with them, particularly with Shell, a funny, brave school bus driver. (All bus drivers are brave and are my heroes.) Also, three couples came in as Mike and I were finishing our meal. When they heard that I worked for the Opelika Observer, one of the delightful ladies asked Mike if he would mind taking a picture of her and her friends. Of course, my sweet husband obliged.
Jim Bob's at Tigertown serves breakfast from 6-11 a.m. I'm particularly happy that breakfast is served until 11 a.m. because this retired person doesn't like to get up early; I never did.
Come out and enjoy a fabulous breakfast at Jim Bob's. As the old saying goes, "It's so good, it'll make you slap your Grandma." Please, before you email my boss, let me explain that I would NEVER have slapped my grandmothers; I loved them dearly. The saying just means that it would take something terrific to make anyone do such an unthinkable act. In this day and age, I thought it best to explain.
  Jim Bob's in Tigertown makes the grade with an A+ from this retired English teacher. Remember, "Pooh-sized" people never lie about food. Enjoy!
Jim Bob's is located at 2070 Frederick Rd, Opelika, AL 36801.
Stacey Patton Wallace, who retired from teaching language arts for 30 years, is a professional diner. Her column, "Making the Grade," will appear each week in the Observer. Stacey may be reached at retiredlangartsteacher2020@gmail.com