By STACEY PATTON WALLACE
I am a big fan of condiments, with ketchup being my all-time favorite. Now, my husband Mike says that I will put ketchup on everything; however, that is incorrect. Once when I was in single digits, I saw my cousin Lance dip his cornbread in ketchup. There's no way that I could bring myself to do that to cornbread or ketchup.
  One of the most popular condiments in the South would have to be barbecue sauce, and most folks would argue that their state's is the best. I wondered how many different types of barbecue sauces there were, so I asked my sweet husband to do a little research on the internet for me. Mike found that there were 12 types of barbecue sauces in the United States.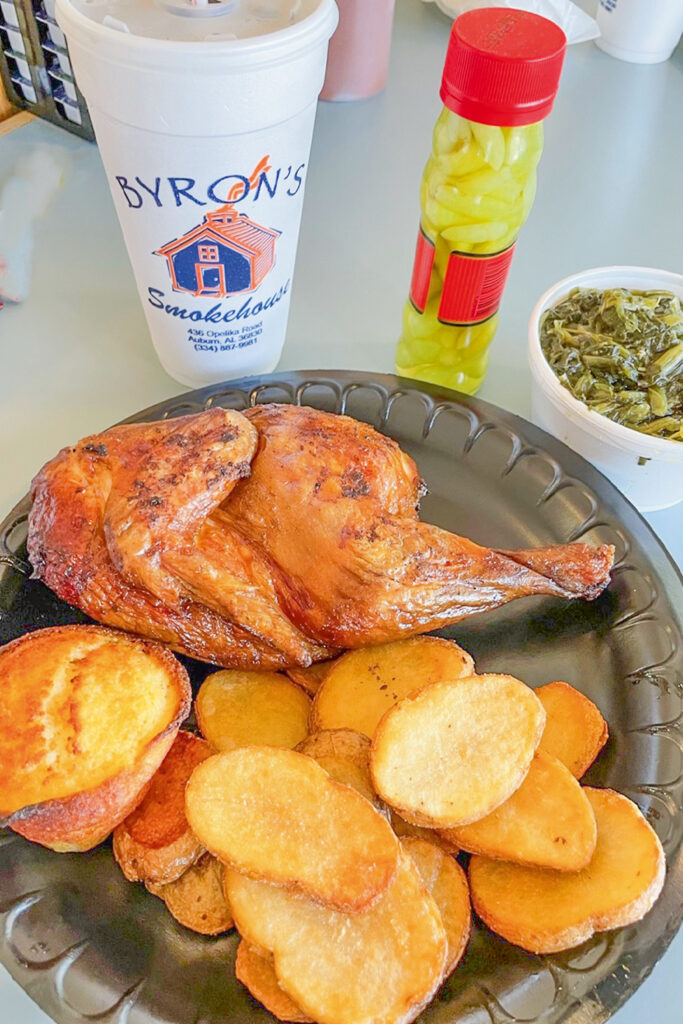 Recently, Mike and I sampled some Alabama white barbecue sauce. Argh! Now, Mike and I love Sweet Home Alabama as much as anyone. However, we won't be partaking of that particular sauce again; it was too bitter for us.
My friend Ashley Kuehl-Binder is from North Carolina, and she thinks that East North Carolina barbecue sauce is the best. However, I can't agree with her because her barbecue sauce, which has a slight, reddish tint, has too much vinegar for me. Mike and I were glad to visit with Ashley, her husband William and their children Nelia and Russell last week when they spent the night in Auburn on their way to Gulf Shores.
According to the description of the sauce, Mike and I prefer the Kansas City-style barbecue sauce. It is sweet, tangy and has a tomato or ketchup base and has brown sugar or molasses as a sweetener. Since I'm a diabetic, it figures that I would love sweet-tasting barbecue sauce and not bitter.
Also, years ago, our friend Jack told us that the lighter the barbecue sauce, the hotter it was.
That was very helpful; I always grab the dark sauce when I go to barbecue restaurants because I love mild sauce. As I've said before, if my lips are burning while I'm eating, I'm not having a good time.
Last week, Mike and I dined at Byron's Smokehouse at 436 Opelika Road in Auburn. I loved the orange and blue trim on the outside of the building. I also admired the pictures of Auburn's past players and coaches. The restaurant had a really down home, comfortable atmosphere.
  We met Glen and Stephanie Gulledge, who have owned Byron's Smokehouse since 1989. The restaurant is named after Glen's dad, who used to do the cooking. The Gulledges were so warm and welcoming. I laughed when Stephanie told me that over the years, Glen has sent home a couple of employees to change clothes when they came to work in Bama shirts. However, Glen said that he loved serving Bama fans.
For his entrée, Mike ordered the sausage platter with fried potatoes and baked beans. I chose the chicken, fried potatoes, turnip greens and cornbread. Even though the restaurant was busy, Stephanie quickly brought out our food. Everything was delicious. I was really glad that I took Stephanie's advice when I was ordering and chose the turnip greens and cornbread. My turnip greens tasted like my Grandma Patton's, so they were terrific; Stephanie said that they were cooked fresh, and I could certainly tell that they were. Also, there was plenty of pot liquor, so the restaurant got bonus points. In addition, my cornbread muffin was soft, golden brown and delicious, practically melting in my mouth. "We found cast iron skillet cornbread muffin pans because we wanted them to taste like our Mamas' cornbread," said Stephanie. Now, I loved my chicken, but I could have made a meal out of those wonderful greens (which of course had hot pepper sauce poured on them by me) and cornbread. Byron's Smokehouse is a DEFINITE do-over.
Besides our delectable dishes, the restaurant serves diners chipped or sliced barbecue, ribs (Thursday through Saturday only; we're looking forward to eating them), salads, sandwiches and a vegetable plate.
Byron's Smokehouse is also the place to enjoy a great country breakfast. Come by and enjoy eggs, sausage, bacon, link sausage, ham, grits, fried potatoes, biscuits, toast and gravy. Run and do not walk to Byron's Smokehouse.
Ashley, this review was for you. I love you bunches!
Byron's Smokehouse is closed on Sunday and Monday. The restaurant is open Tuesday through Saturday from 6 a.m. to 3 p.m.
Byron's Smokehouse makes the grade with an A+ from this retired English teacher. Remember, "Pooh-sized" people NEVER lie about food. Enjoy!
Stacey Patton Wallace, who retired from teaching language arts for 30 years, is a professional diner. Her column, "Making the Grade," will appear each week in The Observer. Stacey may be reached at retiredlangartsteacher2020@gmail.com