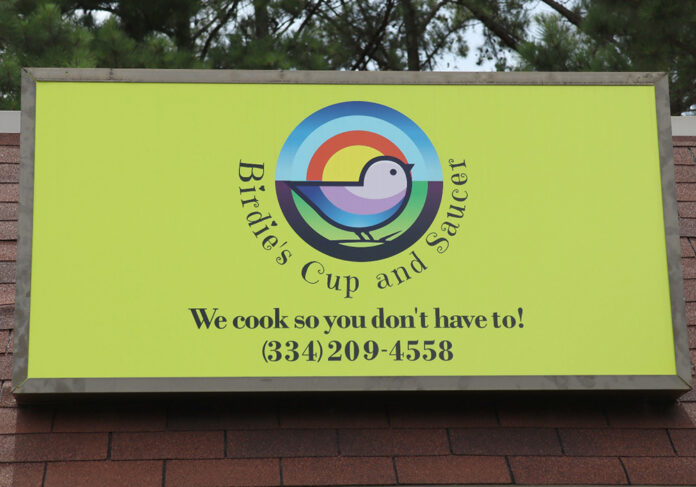 By STACEY
PATTON WALLACE
I've mentioned Tanya Simms, my dear friend, several times in my column. She taught for 26 years in the great state of Alabama, retired and then taught for 11 years at Long Cane Middle School in LaGrange, Georgia. I was blessed to teach on the same team with her for 10 years.
  Before Tanya retired in 2016, I had a great idea for her, I thought. Tanya is a marvelous cook; she even LOVES to cook. Therefore, I told her that after she retired, she should open up "Tanya's To Go" in Valley, where she lived. Tanya could prepare delicious dishes, which working mothers with children could come and pick up. That way, the women could serve wonderful, homemade meals to their families without the time and energy needed to prepare them. Also, Tanya could feed certain "Pooh-sized" friends who hated cooking but loved to eat.
Unfortunately, Tanya passed on my great idea. Instead, she moved to Huntsville to be near her family. I couldn't blame her; Mike and I moved to Auburn from LaGrange for the same reason.
However, I'm thrilled to say that last week, Mike and I found a wonderful place to feed us those delicious, homemade meals that I don't have to cook. Also, Mike won't have to wash any dishes.
Recently, Mike and I were busy working at Vacation Bible School at our church, Central Baptist of Opelika. We had a great time, and it was a blessing. However, we didn't have time to cook supper or eat out anywhere.
It was Birdie's Cup and Saucer to the rescue. This delightful establishment is located at 555 Opelika Road, #4 in Auburn.
  When we walked into Birdie's Cup and Saucer, we were met by tantalizing smells of homemade food. Ann Price Bishop, a sweet, young woman who is a student  in Auburn University's Culinary Arts Program, waited on us. Ann is currently doing an internship with Birdie Jones, who bought the original Cup and Saucer last December.
Mike and I chose a large poppy seed chicken casserole and a large Mandarin house salad.
In addition, Ann brought us out a sample tray of goodies, all of which were homemade: bread, cheese and onion firecrackers and Rosemary parmesan cheesebread, a freshly baked shortbread. Oh, my two times. It was all amazingly delicious. Mike and I raved over the cheesebread; it was addictive. In fact, we came back the next day and bought some. I thought to myself, "Oh, no. Just what I need as a diabetic … another wonderful carbohydrate."
When Mike and I came home, we baked the casserole for 90 minutes. It was really great, as was the salad. Birdie's Cup and Saucer now has two more permanent customers. I love their motto:
"We cook so you don't have to." There you go.
I didn't have to cook, and Mike didn't have to wash dishes, a win-win situation. Also, we had plenty for two suppers, which was great in these inflationary times. Last, what we paid for those two suppers was less than what we usually pay for one night at a restaurant. Cha-ching!
Mike and I came back the next day because we wanted to meet Birdie. Also, we bought a Buffalo chicken cheese dip that was "slap your grandma" good. Again, I'm just kidding; I would NEVER have slapped Grandma Patton or Mother Mac, my sweet grandmothers. Mike and I agreed that was some of the best dip we'd ever had. Now I know what I'll be serving for company and Auburn away games when we're watching at home.
Meeting Birdie, who is originally from a small village called Kingsbury, England (20 miles from Birmingham, England), was an absolute joy. She sat and chatted with us as if she had all day, and I could have listened to her delightful British accent for hours.
Birdie moved to Auburn with her then- husband because he worked for Milliken and had been asked to transfer to a plant in America; they had three boys. In 2018, Birdie officially became an American citizen.
"I cried and creid," Birdie said. "I love America more than anything. I'll never leave here."
  Besides being talented in the culinary arts, Birdie also paints. She has paintings and signs for sale in her shop. My favorite sign reads: "The more you weigh, the harder you are to kidnap. Stay safe and eat cake." Also, she taught art part time at Auburn Classical Academy for four years. Now she is a licensed official Auburn University artist.
Eventually she and her family moved to Arkansas because of her husband's new job. In 2020, she and her husband divorced. She decided to move back to Auburn with her boys. A friend encouraged her to buy The Cup and Saucer, so she took out her 401k and bought it.
Birdie is passionate about cooking.
"I put love in the food. I want to be Mom to everyone," she said.
Birdie and her staff cook mostly from scratch. They use block cheese, real eggs, milk, potatoes, mushrooms, etc. Fresh ingredients and no powdered foods.
"We call this a ministry," Birdie said. For instance, a woman in Atlanta orders five meals a week for her elderly mother; this has allowed the mother to stay in her own home and have homemade meals. Also, Birdie has the meals delivered to this customer.
In addition, Birdie's Cup and Saucer, as I mentioned previously, is very affordable. For example, a single person can purchase five meals for around $75.00.
When entering Birdie's Cup and Saucer, you will immediately notice the camaraderie of Birdie and her staff; they are family.
"Birdie has been the best mentor," Ann said. "She's taught me every aspect of the business. I'm learning more than my friends who work at other restaurants."
Jana Gilmore, another employee of Birdie's, said, "It's a great place to work. Birdie is wonderful. She has a great vision. I'm looking forward to the future."
One vision of Birdie's is to help people in her community. Once when she was alone at Christmas with just her dog Buddy for company because her boys were with their Dad, she made a promise to God. Birdie said, "God, please get me through this Christmas, and when I get back on my feet, I will help other people."
Therefore, at a future Christmas, Birdie plans to have her staff cook dinners for people who are alone; they will then deliver the dinners on Christmas Eve, telling the recipients that someone in the community loves them.
"I'm not wanting to make a profit," she said. "It's not about me. When I make a promise to God, I'd better keep it. This place is God- given, and I'm happier than I've ever been."
Besides our delectable casserole, Birdie's Cup and Saucer offers customers others such as chicken broccoli Divan, cheesy broccoli chicken and brown rice (gluten free) and beef stroganoff bake, among others.
Customers may also choose from warm-and-serve dinner entrees, side dishes, fresh salads and cheesebreads, take-and-bake appetizers, sweet breads and yummies. For a full list of Birdie's menu for the week, just scan the QR code on your phone; Birdie even showed me how. Also, Birdie's has a dine-in lunch which includes a sandwich on homemade bread with chips, a small salad, drink and dessert. Trust me, run and do not walk to Birdie's Cup and Saucer. Mike and I will see you there.
Birdie's Cup and Saucer is closed on Saturday and Sunday. The shop is open Monday through Thursday from 11 a.m. to 6 p.m. and on Friday from 11 a.m. to 5:30 p.m.
  Birdie's Cup and Saucer makes the grade with an A+ from this retired English teacher. Remember, "Pooh-sized" people NEVER lie about food. Enjoy!
Stacey Patton Wallace, who retired from teaching language arts for 30 years, is a professional diner. Her column, "Making the Grade," will appear each week in The Observer. Stacey may be reached at retiredlangartsteacher2020@gmail.com