By STACEY PATTON WALLACE
As I've mentioned previously, breakfast is my least favorite meal. Again, I don't follow the old adage, "Breakfast like a king, lunch like a prince and supper like a pauper." In fact, I do the opposite, which is probably one of the reasons that I'm "Pooh- sized." I'm just not as hungry at breakfast.
However, when Mike and I travel, I do like to take advantage of the breakfast, which is included at our hotel. Since we've paid to stay, I like to get my money's worth. One of the foods I enjoy at hotels is a toasted bagel with cream cheese; they are delicious and a treat from my usual breakfast fare at home.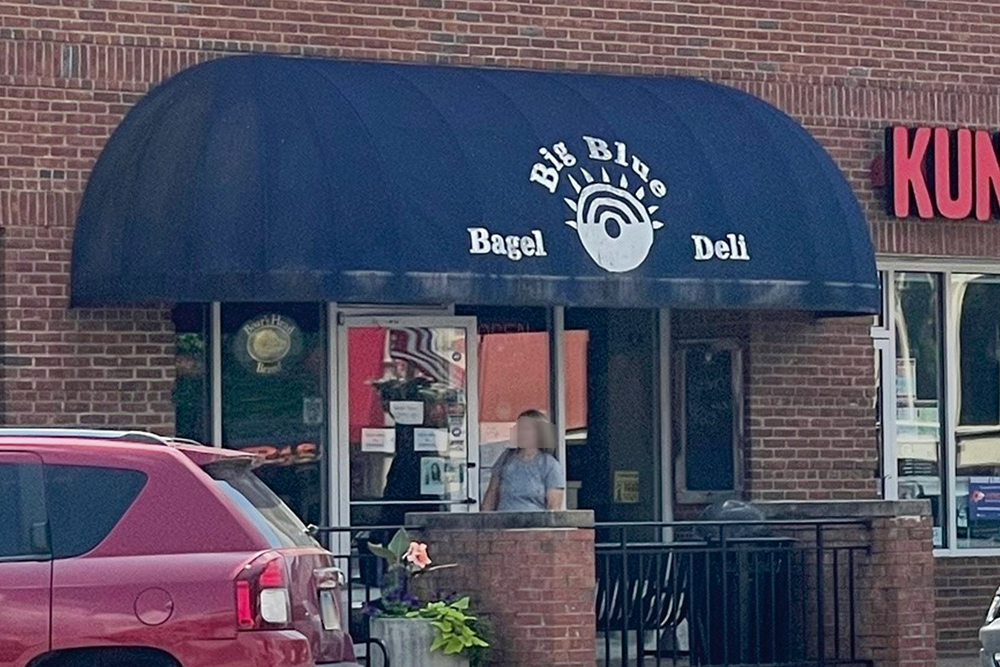 Unfortunately, bagels are very high in total carbohydrates, which are terrible for diabetics such as myself. In addition, at my last diabetic check up at Endocrinology and Metabolism, Lynn Hudson, an amazing nurse practitioner who treats me, said that she enjoys reading my column.
Uh-oh. I really appreciated her kind comments, but now she has written evidence of what I'm eating at restaurants. Oh well; she already knew; blood tests don't lie.
Since Mike and I aren't traveling anywhere in the near future, I decided to treat myself at Big Blue Bagel & Deli at 120 North College St. in Auburn.
Mike was busy that day with some at-home tasks, so our good friends William and Jack were kind enough to drive me to the restaurant.
When we arrived at Big Blue Bagel& Deli, I admired all the photos of Auburn players and coaches. I also liked the old brick on one side of the building; the restaurant had a cozy, friendly atmosphere.
William chose a fruit plate and a honey wheat bagel with strawberry cream cheese. His food was presented beautifully, and he really enjoyed it.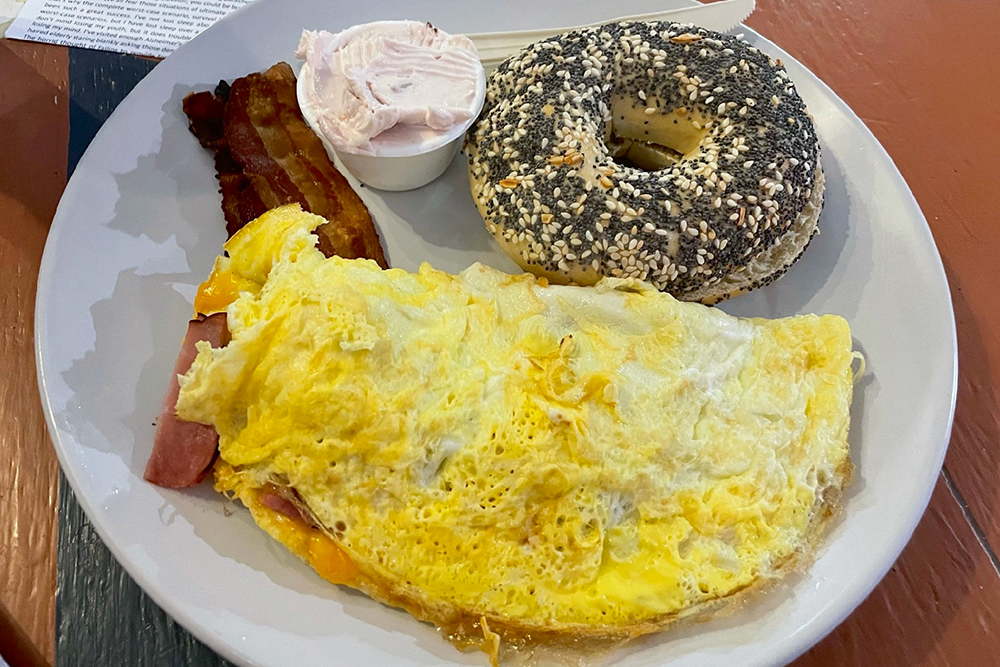 Jack selected the War Eagle omelet, which had tomatoes, spinach, mushrooms and cheddar cheese. Omelets come with a bagel, and Jack chose the everything bagel, which had poppy seeds, sesame and onion; he picked the cinnamon raisin walnut cream cheese. Jack said his meal was delicious.
I ordered a ham and cheese omelet, a side of extra crispy bacon and an everything bagel with strawberry cream cheese. Everything was great. Also, that was the best bagel I have ever eaten. Look out, hotels everywhere, Big Blue Bagel & Deli serves the best. bagel. ever.
Besides our delectable dishes, Big Blue Bagel & Deli offers diners breakfast bagel sandwiches, some of which include: the Cajun, which has two eggs, Cajun turkey and pepper jack; the Scramble, which consists of two eggs, cheddar and tomatoes; the Nova, which has salmon, capers, onions, tomatoes and cream cheese. All sandwiches come with choice of bagel, which include: plain, multigrain, sesame, poppy seed, pumpernickel, garlic, onion, blueberry, cinnamon raisin, salt and cinnamon sugar.
Big Blue Bagel & Deli also offers a variety of omelets, breakfast plates and a breakfast burrito. The restaurant serves breakfast until 11 a.m.
After 11, diners may choose appetizers such as hummus, a toasted cheese bagel, a basket of bagel chips and a pizza bagel. The restaurant also offers super salads and a great selection of sub sandwiches, some of which include: the Havarti melt, which consists of Cajun roast beef or turkey, melted Havarti, lettuce, Roma tomatoes, mayo and spicy mustard; the Reuben, which has corned beef, Swiss, sauerkraut and spicy mustard, served with a side of thousand island dressing.
Specialty items are also available, some of which include: the Big Blue wrap, Mom's chicken salad and the BLT.
Lynn Hudson, this review was for you. Thanks for taking care of my diabetes; I know I don't make it easy for you. Your medical care gets an A+ from me.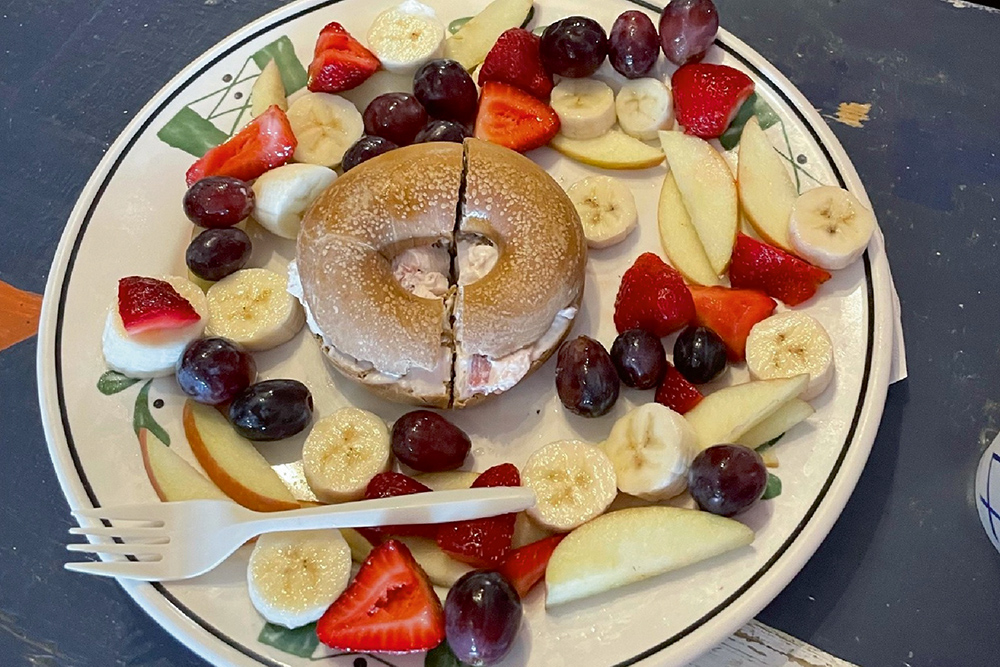 Big Blue Bagel & Deli is open on Sunday from 8 a.m. to 2:30 p.m. and Monday-Saturday from 7 a.m. to 2:30 p.m.
Big Blue Bagel & Deli makes the grade with an A+ from this retired English teacher. Remember, "Pooh-sized" people NEVER lie about food. Enjoy!
Stacey Patton Wallace, who retired from teaching language arts for 30 years, is a professional diner. Her column,"Making the Grade," will appear each week in The Observer. Wallace may be reached at retiredlangartsteacher2020@gmail.com