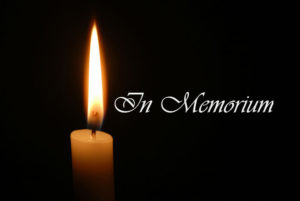 Mae Trimble Abrams
February 6, 1920, Mae Trimble Abrams was born at home to her late parents, William and Nevada. Life took her through the Great Depression, World War II, marriage, motherhood, a career of 29 years at Orr Radio (later called Ampex), and a lengthy retirement. She met each season of her life with determination, dignity, and resourcefulness.
Mae kept her hands busy all her life. Many hours were spent at her sewing machine mending and making for her four little girls and later her grandchildren and great-grandchildren. She enjoyed keeping her yard neat all her life. She was a member of Northside Baptist Church since 1968, rarely missing a service, preparing to teach until 95 years of age every night for her Sunday School lesson. She was always lending a hand to cook, clean, and serve.
In the final season of her life, she enjoyed going on car rides. There are not many places in East Alabama where her daughters have not driven her over the past 5 years. She loved to see the places of her past and reminiscing about the people she knew and loved there. After 100 years of living and loving, Mae died on March 26, 2020. She was a woman of strength and dependability. No one who met her could ever believe how old she was. Her door and her heart were always open to her family. She leaves a legacy of love and faithfulness.
She is survived by her four daughters, Priscilla Fralish, Brenda Bumby, Janet Parker, and Nancy (James) Escoe; four grandchildren, Tonya Eisenhardt, Jason (Tina) Bumby, April (Dave) Smith, and Sarah (Jacob) Wallace; seven great grandchildren, Tristan, Kali, Jack, Eden, Emily, Cameron, and Owen.
She was preceded in death by her husband, Roy Paul Abrams; brother, Jesse Trimble; sister, Irma Dean; grandson, Tifton Eisenhardt.
A graveside service was held Sunday, March 29, 2020 at Rosemere Cemetery with Pastor Johnny Coker officiating.