BY WIL CREWS
SPORTSCREWS@OPELIKAOBSERVER.COM
The AHSAA released the rosters for the 35th annual Alabama-Mississippi All-Star Football Classic last week and a number of local high school football stars made the 40-man team that will represent the Yellowhammer State.
"We are thankful to the selection committee for their efforts in selecting this year's group," said Director of the Alabama High School Athletic Directors and Coaches Association, Brandon Dean. "They went to great lengths to make sure each AHSAA class and district is represented in the selections. We believe we have assembled a group of student-athletes who will be outstanding representatives for their respective schools, communities, and the AHSAA. We look forward to traveling to Hattiesburg and putting forth our best effort."
Overall, the squad is comprised of 17 players who have already committed to a total of seven SEC school, four committed to Big 5 conference school and 12 uncommitted.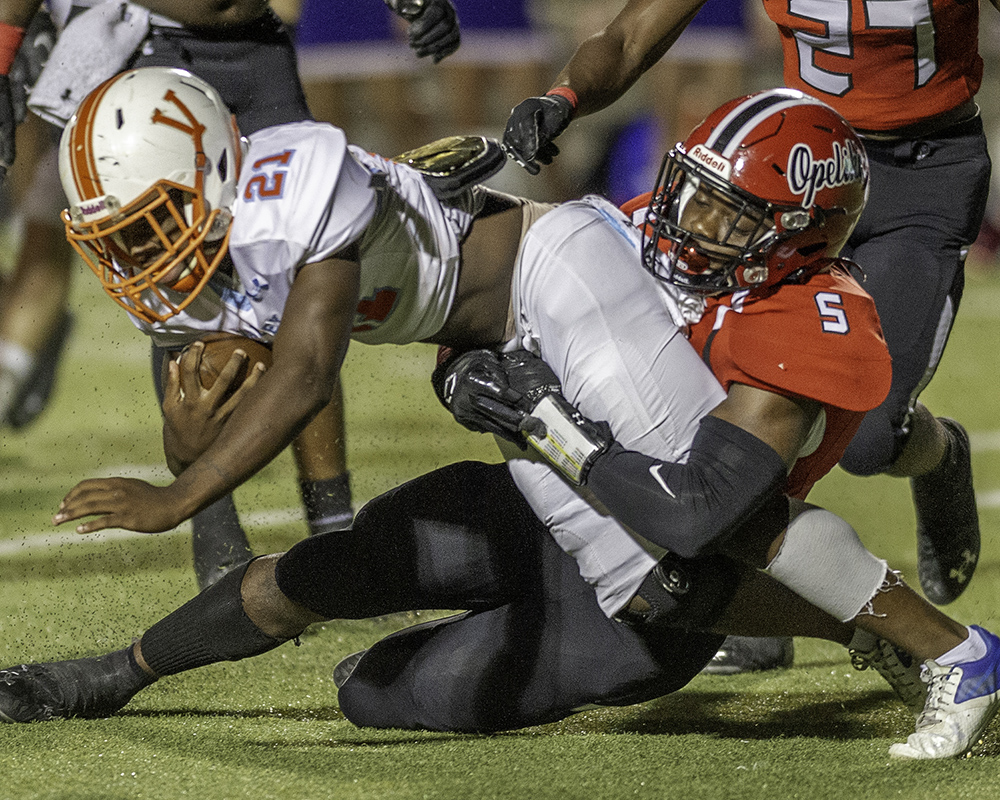 The game is scheduled to be played at Carlisle H.H. Stadium in Hattiesburg, Mississippi, on the campus of Southern Mississippi on Saturday, Dec. 11. The roster in its entirety can be found at: www.ahsaa.com/Media/AHSAANOW/News-Articles/all-star-football-staff-completed-for-35th-alabama-mississippi-all-star-football-classic.
OPELIKA | CURRENT 2021 RECORD: (6-3)
– Jarell Stinson (DB) — committed to Ole Miss
• 3-star
• 5-foot-10-inches, 160 pounds
• Decommitted from Auburn
• All-State in 2020
• 95 Tackles, 1 INT, 126 punt return yards and 2 TD's in his junior season in 2020
– Taylor Love (DE/LB) — undecided
• 3-star
• 6-feet tall, 210 pounds
• Led Opelika in total tackles in 2019
• 91 tackles, 4 TFL, 1 INT in his junior season in 2020
AUBURN | CURRENT 2021 RECORD: (7-1)
– Justin Powell Gordon – committed to Auburn
• 3-star
• 6-foot-3-inches, 215 pounds
• 2020 All-State
• 88 tackles, 32 TFL and 14 sacks in 2020
– Drew Bobo (OL) – committed to Auburn
• 3-star
• 6-foot-5-inches, 290 pounds
• Son of Auburn offensive coordinator Mike Bobo
• Third high school in three years
• Described as being capable of playing anywhere on the line (had to play center earlier in 2021)
– Eston Harris (OL) —committed to Auburn
• 3-star
• 6-foot-5-inches, 295 pounds
• Transferred from Beauregard in 2021
• All-state in 2020 at Beauregard
LANETT | CURRENT 2021 RECORD: (7-2)
– Caden Story (DL) 6'4 265 — committed to Auburn
• 4-star who committed to AU over UCF
• 6-foot-4-inches, 265 pounds
• 18 TFL, 15 Sacks, 26 QB pressures in 2020
• All-state in 2020
LAFAYETTE | CURRENT 2021 RECORD: (5-3)
– Antavious Woody (DL) — committed to Florida State
• 4-star
• 6-foot-4-inches, 290 pounds
• 2020 All-State