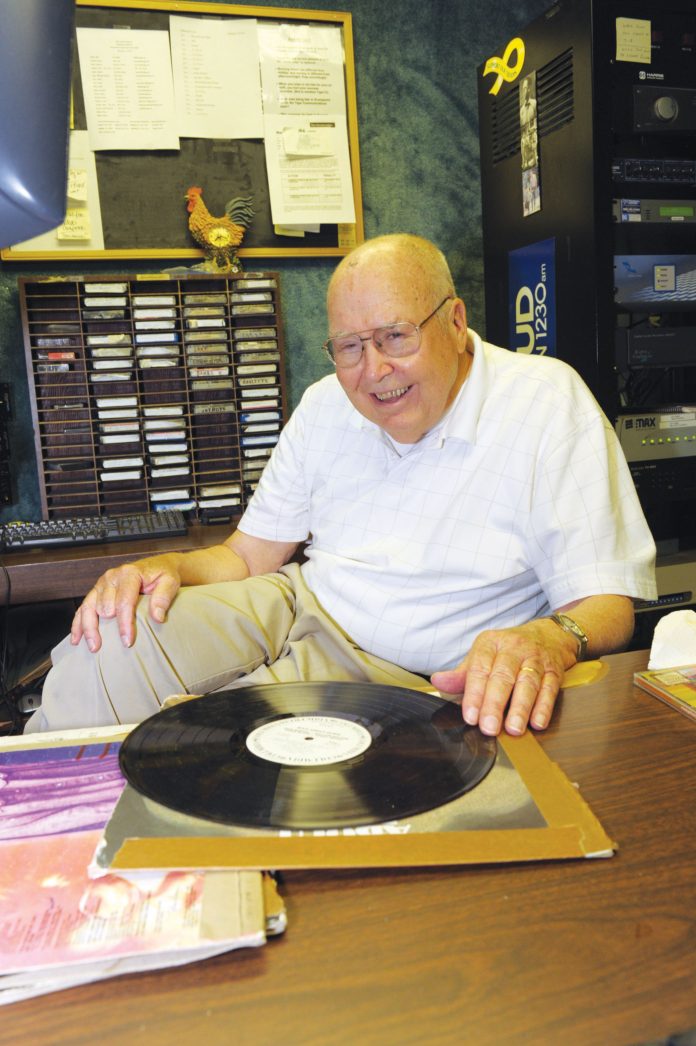 By Fred Woods
For the Opelika
Observer
Bob Sanders, retired radio personality, former Opelika Observer columnist, charter member of the Opelika Order of Geezers and the Geneva Street Think Tank and devoted husband of Peggy (always called Frosty on the radio and in the columns) died earlier this month. We'll sorely miss him. He was 86 years old and made a big difference in many lives, bringing smiles, laughter and knowledge of an earlier time.
Bob grew up on a small farm in the Mount Pisgah community of Lamar County, near Vernon in northwest Alabama. He referred to it as "Frontier Country" on the radio and in his columns and his growing up experiences were a frequent topic of his newspaper columns.
In addition to Peggy, Bob is survived by two children, Cynthia and Alan, and three grandchildren.
Bob didn't like a lot of fanfare.
When he retired from the longest running radio program in our part of the country (61 years and 2 months) he just decided it was time to quit and he quit; just like Forest Gump decided to quit running. Forest got tired and went home. Bob got tired of getting up at 4 a.m. and decided he'd just sleep in.
Sanders had occupied the 5:30 a.m. – 10 a.m. time slot on Auburn's radio station WAUD for so long that we all just took it for granted he'd be there when we got up and turned on the radio ( from April 1, 1955, through the end of May 2016). Every morning, Monday through Saturday. Then, one morning he just wasn't there.
People started calling. What's wrong with Bob? Is he sick? Did he have to go out of town?
No, he just decided it was time to quit.
Bob wrote a newspaper column, "Esoterica for Everyone," from May, 1970, through August, 2017. The column appeared in various local papers, including the Observer from August 2012. Its topics ranged from growing up in Frontier Country to memorable movies to discussions of the "Big Band Era." Sanders could cite chapter and verse on all the big bands and name the boy and girl singers for each, including when and why they switched bands (which they did fairly often).
It's hard to imagine a more eclectic radio music show ever existed.
Spinning the old vinyl records exclusively, Bob played everything from Grand Opera to Grand Ole Opry. And everything in between, from jazz to classical to bluegrass and novelty. I kid you not: once he played a song called "Clean Underwear!"
Bob played excerpts from the Golden Age of Radio at holiday times each year, Christmas especially. That's gone.
No more listening to the radio in hopes he'd mention your name on the air, even if it was a friendly insult. No more homespun advice like, "don't let your Jell-O get runny" or "keep them cows out of the bitter weeds, for gosh sakes."
No story about Bob would be complete without mentioning the helicopter. Bob flew an imaginary and highly unusual "traffic helicopter" around the Auburn area every morning. The chopper was crewed by his friends and armed like a WW II B-24 bomber and carried a flight attendant who served "soggy collard sandwiches" to the crew.
Bob was the pilot, unless he turned the controls over to a guest pilot. Then the chopper would inevitably crash, usually by hitting Merrell Jones' "Money tree," or cell phone tower, on Moore's Mill Road, but always it was repaired in time for the next morning's flight by one of Bob's car repair sponsors. All this no more. What a loss. What a gain for Heaven.
Bob didn't like fanfare for himself. I believe Bob just got tired of the aches and pains and infirmities associated with an 86 year-old earthly body and decided to go enlighten the Heavenly Chorus about the Big Band Era here on earth and good movies and growing up in Frontier Country and such. His memorial service was on Feb. 3.