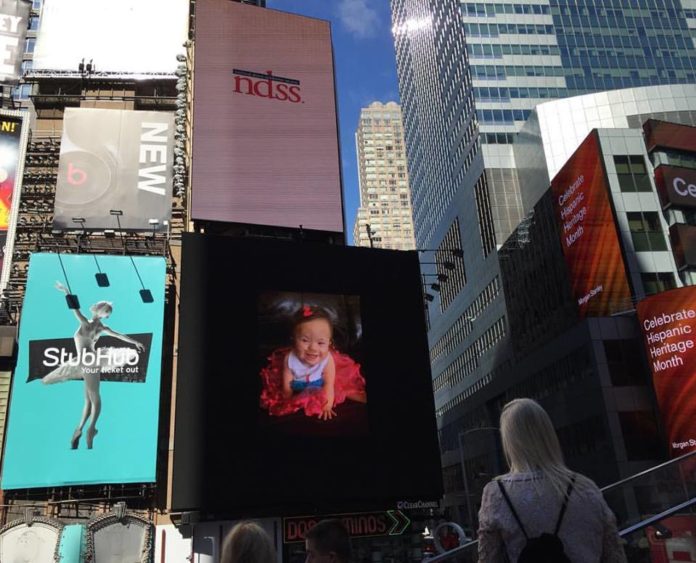 By Morgan Bryce
Staff Reporter
This weekend, the smiling face of 2-year-old Jordan Alexander will light up Times Square.
Jordan, the daughter of Opelika Police Department Sgt. Justin Alexander and wife Brittany, was chosen for the second-straight year to be featured in a video presentation for the National Down Syndrome Society's 23rd-annual Buddy Walk event.
One of more than 2,000 submitted entries, images of Jordan and 499 other people with Down syndrome were chosen, highlighting them working, playing and interacting with friends and family.
"…I think it brings a lot of awareness, especially to this area that these children – they're just like us, but they just have an extra chromosome. I think it opens people's eyes that there's a lot more people with Down syndrome out there that are productive in society than many think or imagine," Justin said of the video presentation.
Justin said he and Brittany stay heavily involved in Lee County's Down syndrome community, and are members of the Exceptional Foundation of East Alabama, a non-profit organization that provides social and recreational activities for people with special needs.
Following the video presentation and remainder of the opening ceremonies, attendees will embark on the mile-long Buddy Walk to Central Park's Great Hill, where they will spend the afternoon participating in different activities, and wrap up the day with a dance party.
For more information about the NDSS, visit www.ndss.org or like and follow them on Facebook.
Below are photos of Jordan and her family: