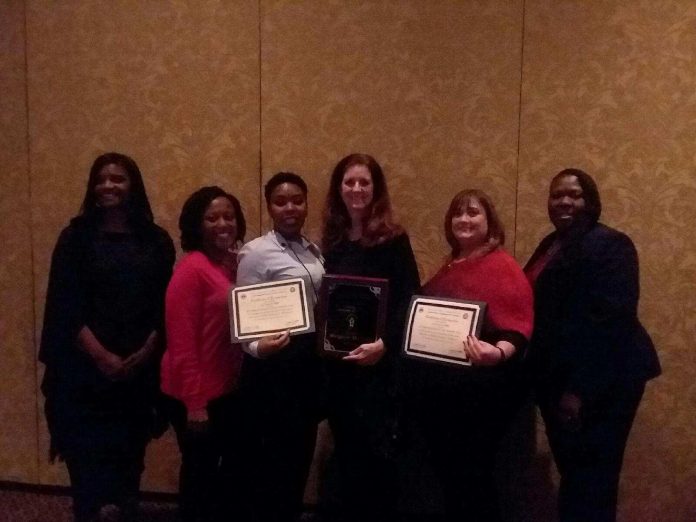 By Morgan Bryce
Associate Editor
Opelika resident and attorney Margaret Mayfield received the Gordon F. Bailey Attorney of the Year Award during the Alabama Child Support Conference held in Point Clear last week.
Given out by the Alabama Child Support Association, the award's namesake was an original member of the Alabama Child Support Committee and co-authored the Alabama Uniform Parentage Act of 1984. The association created the award in 2002 to honor Bailey's 25 years of service to the program.
Mayfield's award was the second for Lee County. Earlier this year, the county's child-support program was recognized for its superior performance after exceeding state mandates and gathering nearly $11.5 million in child support collections during the 2017 fiscal year.
"It was so special to be recognized by the Alabama Child Support Association – a group that knows and understands all of the hard work that goes into achieving a successful program. I am blessed to have such a dedicated child support staff at the District Attorney's office and to work with Lee County Department of Human Resource child support supervisors and enforcement workers," Mayfield said. "District Attorney Brandon Hughes is very supportive of the program as is Family Court Judge Mike Fellows, his staff, Referee (Attorney) Ben Hand and DHR Director Emily Jones. The Lee County Sheriff's Department and deputies assist us in so many ways as does the Circuit Clerk Mary Roberson and her staff. Together, we all make a good team."
A graduate of the Cumberland School of Law, Mayfield joined the District Attorney's office in 1984 to become Lee County's first female Assistant District Attorney. Mayfield was assigned to the child-support unit in 1986, and has served under four district attorneys.