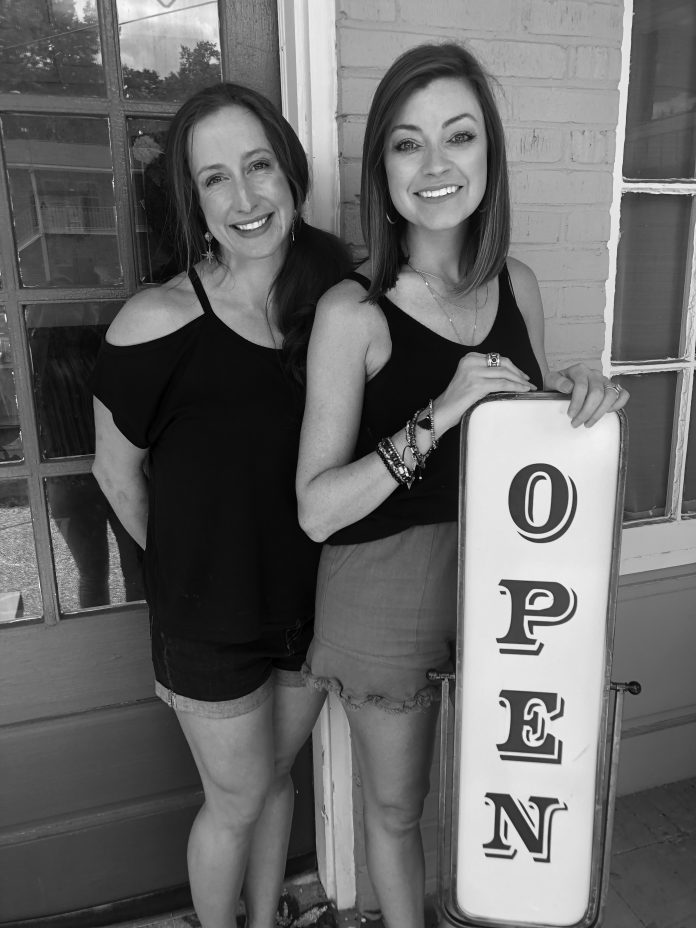 By Bradley
Robertson
For the Opelika
Observer
In the little nook of the world that is East Alabama, people can find the pleasures of that small town, community feel but enjoy the reach and sustainable business of city life. Everywhere one looks, they can see supportive efforts from one small business to the next, lifting up each other in our endeavors, to reach the goal of serving their community well.
Two outstanding businesswomen, Searcy Kelly and Lindy White, operate their businessines in a small white brick building off Thach Avenue in Auburn.
Both women have their own unique model to serve their customers and yet they are joining forces to better influence each other and their clients.
Kelly of Auburn MedAesthetics has been serving Auburn at 305 E. Thach, Suite N. for nearly three years.
Along with her mother, Dr. Nancy Haring, they specialize in helping women care for their skin. Their services include facials, chemical peels, waxing, Botox and fillers by Juvederm.
Kelly has been an aesthetician for more than 13 years. She has worked in doctors' offices, spas and large private practice settings. She believes the small, intimate atmosphere she serves in today is ideal for her clients and best suits their needs.
To Kelly's pleasant surprise, another young entrepreneur moved into the same Thach Avenue building this summer, White of Tanology in Auburn.
"I was thrilled when Lindy moved in," Kelly said. "Someone with similar values and clientele. It made perfect sense to me that the Lord was doing something cool on Thach Avenue."
White has been tanning women all over the Auburn-Opelika area and beyond for 10 years. Her specialty is an all-natural spray tan that is healthy for the skin and gives women of all ages a natural look.
Moving onto Thach was not in the original plan for White and her business. She was set to move into a larger, local office, but when plans fell through, she soon discovered the open space next to Kelly.
"I had been a client of Searcy and Dr. Haring for a while and had always loved their location. God shut the door on my original plan and opened the door on Thach," White said.
Kelly and White have the opportunity to each run their own, individual business but are able to offer more opportunity to their clients by having their spaces side by side.
The partnership is one that will benefit both women as they serve similar clientele. Kelly and White both hold strong beliefs too in serving women and boosting their confidence.
"I like to say 'a spray tan is confidence applied directly to the body.' Personally, I feel better with a spray tan and my clients tell me they feel the same way. They feel like their makeup looks better and they feel more confident in shorts or a swimsuit," White said.
When asked about her mission within the community, Kelly's answer was similar, "What we do is take care of people's skin, which in return makes them feel more confident. Many women feel better with a tan. But we all know it is not healthy for our skin coming from the sun. So now I am able to offer people the best tan there is around!"
Both women have demographics that easily cross paths from one business owner to another. White can take an appointment for a tan and easily send them to Kelly for their facial services.
"We serve high school girls that maybe want a wax and a tan, we serve college girls that want to begin taking care of their skin. And of course, we serve moms and grandmothers that want to have a tan look but also are very much wanting to take care of their face as well."
Kelly sees their smaller, intimate space and easy communcation as an asset as well.
"We have a non-intimidating atmosphere. It's comfortable. You don't have to wait in a waiting room for either one of us. We serve women who may want to show up and tan in their pajamas or want to try Botox without seeing someone they know. We are easily reached through text message and we can coordinate clients with one another." Kelly said.
White agreed that the personal touch they offer is key to their clients and giving them the best experience in town.
"For the services we offer, generally, you come in, not in your best clothing, no make-up on and you get your services and leave straight to your car with out having to walk through a waiting room. It's a very personal one-on-one setting."
A smaller scale space also gives Kelly and White the opportunity to offer very competitive pricing.
Another bonus to their Thach location is the close proximity to Auburn University.
"We are walking distance to literally thousands of college students," White said.
Kelly and White are eager to serve women and allow them to feel their best in their own skin.
"Many of us work hard by eating and exercising to feel our best but it doesn't always show in the mirror," Kelly said. "I want people to walk by their reflection and feel good about what they see, with or without make-up."
"I have a passion for serving women and helping them feel confident. I'm especially driven to mentor college girls and (build) relationships over time that I know will last forever," White added.
Kelly and White kicked off their new season together by holding an event last Tuesday at their location on Thach, offering discount services and monthly subscriptions. Both businesses may be found on Instagram or be reached by texting Kelly at 251-753-4133 and White at 816-769-3159.