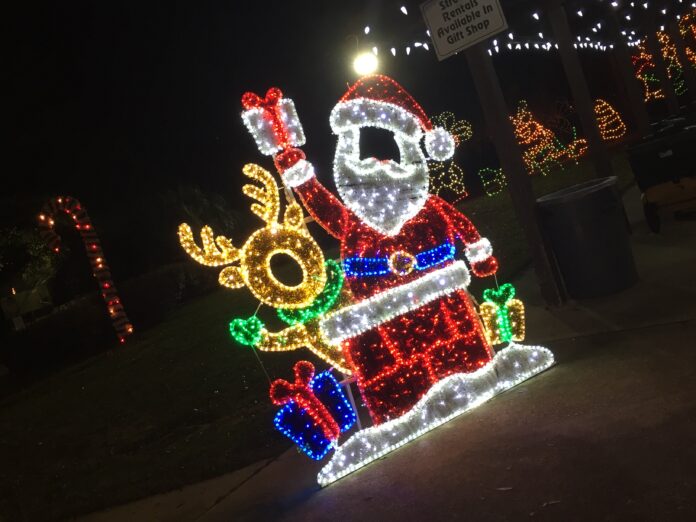 Story By Michelle Key
Photos Contributed By The Montgomery Zoo
Lighting up a yard, home and business with bright strands of light has become quite the tradition here in America. This year, those looking for popular light displays will have a few options.
Auburn: Walker Family Christmas Light Show
The Walker Family created a local, spectacular light show in Auburn in 2014. The light show consists of more than 5,000 bulbs and is synchronized to 13 popular songs. The selection includes holiday favorites but also music from Star Wars and Frozen. The show usually begins right after the Thankgsiving weekend and will run through the weekend after New Years. View this free light show at 2078 Autumn Ridge Way in Auburn.
Montgomery: Montgomery Zoo Christmas Lights Festival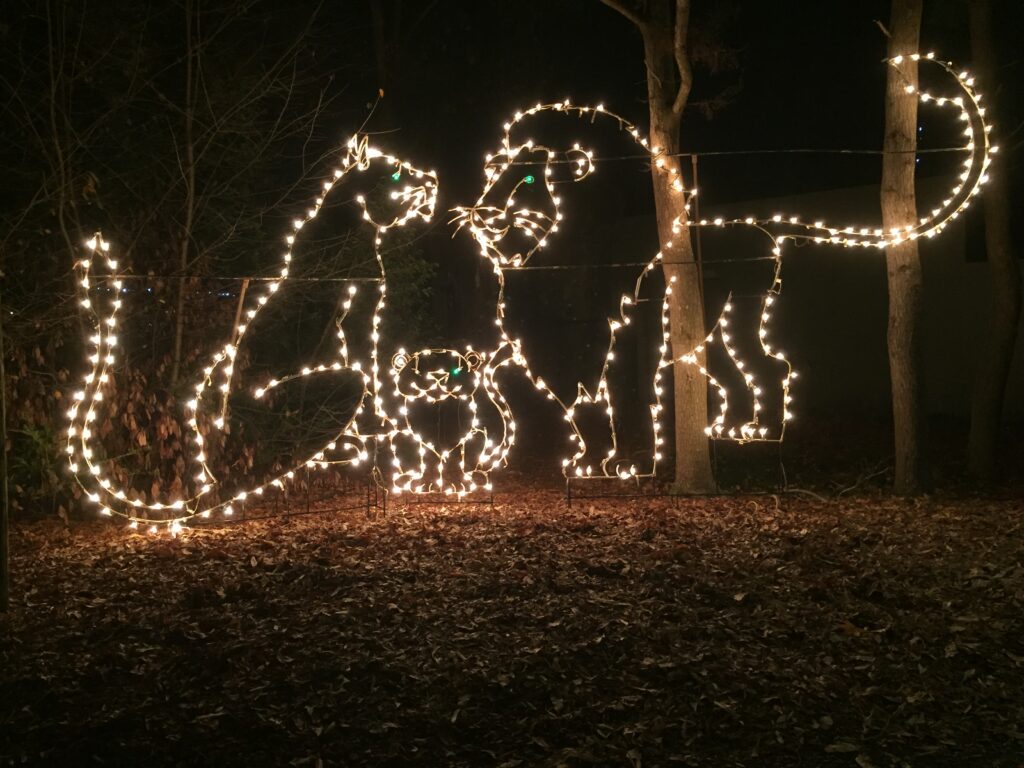 The Montgomery Zoo will be transformed in a sparkling winter wonderland on Dec. 3.
Attendees can view the lights while strolling through the zoo, riding the train or from the Zoofari Skylift Adventure Ride, according to the Montgomery Zoo website.
A new feature this year is the Christmas Tree Village at the Mann Museum. Twenty trees will be decorated by businesses, groups and other organizations from around the area.
Children and families can visit Santa and his elves in 'A Winter Wonderland' that waits upon exiting the Christmas Tree village. Visits with the jolly guy will be a fun and safe experience following all of the federal and state COVID-19 compliance guidelines. Santa keepsake photos can be purchased for $5 per photo, according to the Montgomery Zoo website.
Prices and options vary. To purchase tickets or for more information visit www.montgomeryzoo.com/Home/Components/Calendar/Event/5666/2981?curm=12&cury=2020.
The Christmas Lights Festival ends on Dec. 25. The zoo is located at 2301 Coliseum Parkway in Montgomery.
Atlanta: World of Illumination

World of Illumination's mile-long, drive-through light show takes place this year in Marietta, Georgia, and it will take viewers back to the days of playing the beloved children's board game Candyland.
The theme of the light show is Candy Rush, and drivers will be surrounded by 40-foot-tall candy canes, giant animated Christmas characters and twinkling sweets galore, according to World of Illumination's website.
"Santa's Magic Portal" will lead through a 500-foot-long tunnel, entering into a gigantic gingerbread village with Christmas characters and simulated snowfall.
The exhibit contains approximately two million lights that are synchronized to holiday music. Singing along is expected.
The World of Illumination's Candy Rush light show is located at Six Flags White Water, 250 Cobb Parkway N. #100 in Marietta, and the show officially opened on Nov. 13 and will run through Jan. 3, 2021.
Tickets must be purchased online (www.worldofillumination.com/candy-rush-2/.)
Pine Mountain: Calloway Garden's Fantasy in Lights

Located in beautiful Pine Mountain, Georgia, Calloway Garden's Fantasy in Lights has been named one of National Geographic's 'Top Ten Light Displays in the World.'
This year's event is bound to be stunning with more than eight million lights and 15 displays. The Magical Field of Lights was added this year to mark the 28th year of Fantasy of Lights. The Field of Lights scene is nearly two football fields long, featuring a Christmas tree over 10 stories tall, which will make it the tallest Christmas tree in the South.
Two short 10-minute shows will be held at Robin Lake inside Calloway Gardens this year: The Nativity, which is a reverent and inspiring telling of Jesus' birth accompanies inspirational music and an orchestrated lights presentation, and 'Twas The Night Before Christmas — this holiday favorite has been put to music and illustrated with twinkling images of sugar plums and jolly old St. Nick doing his night's work.
The show opened on Nov. 14 and runs through Jan. 4, 2021. Ticket prices vary based on date and can be purchased online (www.callawaygardens.com/resort-experiences/signature-events/fantasy-in-lights/fantasy-in-lights-ticket-prices/.)
The gardens are located at 4500 Southern Pine Drive in Pine Mountain.