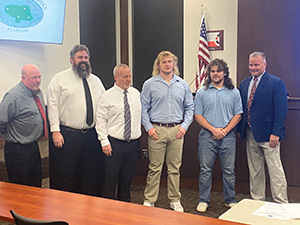 BY WIL CREWS
SPORTSCREWS@OPELIKAOBSERVER.COM
The Lee County Schools Board gave an update Tuesday night on how the school system plans to spend a portion of its COVID-19 American Rescue Plan Elementary and Secondary School Emergency Relief funds (ARPESSER).
"Ladies and gentlemen this is … the money that we get, everybody has heard of … the millions of dollars from the federal government to help close the gap from the COVID incidences," said Superintendent James McCoy.
According to the law, Local Education Agency's (LEA's) must reserve at least 20% of the ARPESSER funds to address the instructional time lost due to the pandemic. Assistant Superintendent and Director of Federal Programs, Dr. Brad Hunter, gave the presentation on behalf of the board and explained how the funds have been used thus far and how they will be used over the course of the next two years.
"We had about 850 kids that came back to school [from virtual schooling] this year, just at the elementary level," Hunter said. "That is a lot of children. So, this money is to be used in order to close those gaps."
According to Hunter, the school district budgeted $1,854,017 of ARP funds to after-school programs this school year — covering salaries and benefits, materials and supplies, bus drivers, replacement parts for buses and purchased services. Hunter cited that each of the county's elementary schools alone service between 40 to 100 students per week in their after school programs. To adequately service the programs, payroll for 84 teachers (six per school, of which there are 14) is needed.
Underneath the umbrella of the comprehensive Lee County Schools 2022 Summer Program (for which the total projected expenditure is $1.3 million) are four individual programs: Summer Learning Loss Program (K-3 Literacy), Summer Learning Loss Program (grades 7-12), Summer Enrichment Program (4th-12th) and Career Tech Enrichment Program.
Budgeted for these programs is $5,500 for all schools to purchase supplies and materials for the Summer Enrichment Program; $5,800 for Title 1 schools to purchase supplies and materials for the Summer Learning Loss Programs; $1,500 for secondary schools to purchase supplies and materials for the Summer Learning Loss Program; $5,000 for the four high schools to purchase supplies and materials for the CTE Enrichment Program; and $5,000 for parent and family engagement (for the entire school year, not just summer).
"I think we have it covered in every aspect with those four programs," Hunter said. "That's the way we have been spending our money, totally focused either on our children … where it should be … or the people serving our children."
The employment of an estimated 22 units of personnel per school (excluding an additional three bus drivers and two multipurpose bus drivers (technicians)) will be paid for with the the budgeted funds to adequately service the summer programs.
"We feel like with what we have had from after school turnout that the summer school is going to be significant as well," McCoy said. "Parents have been very positive thus far with what we are doing with their children after school and I hope it will continue into the summer."
The programs will take place Monday through Thursday and on Saturdays from June 6 to June 30, and service students from 7:45 a.m. to noon — equaling a total of 76 hours and 30 minutes of instructional time.
Also at the meeting, two Smiths Station High School state champion wrestlers were recognized as "High Achievers" for their performance at the state meet; bus driver Carnessa Hughley was also recognized for her dedicated employment and recent actions taken to ensure the safety of her student passengers during a roadside emergency. Smiths Station Elementary School teacher Joshua Riles and Beauregard High School teacher Whitney Dyess were also recognized as the Elementary Teacher of the Year and Secondary Teacher of the Year, respectively.
During the community speaker portion at the end of the meeting, a Lee County bus driver and substitute teacher implored the board to look into the need for more drivers and substitutes within the school system.
IN OTHER BUSINESS THE BOARD:
– Approved out of state/overnight field trips for Smiths Station High School Band and Jazz Band, Smiths Station Elementary School and Smiths Station Art Club
– Approved the 2022 system-wide textbook committee nominations
– Heard the Superintendent's Report from Lee County Chief Financial Officer Ken Roberts
– Approved human resource recommendations.
The next Lee County Schools Board meeting will take place on April 12 at 6 p.m. at 2410 Society Hill Road in Opelika.