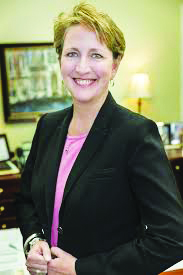 By Morgan Bryce
Associate Editor
New East Alabama Medical Center CEO/President Laura Grill is entering her third week at the helm of one the area's largest hospitals.
In office since Oct. 1, Grill is the hospital's seventh president in its 66-year history and first-ever female to hold the position. She will fill the void left by Terry Andrus, who served in that role for more than 34 years.
"Having been here and being involved (for more than 26 years), I have always felt ownership in the success of the organization. But, I told someone that the weight on my shoulders was a little heavier that first morning," Grill said. "There was not one degree of separation between me and it, so the gravity and realization of the circumstances finally hit, but a part of me realized too that it was just another day at work."
A Birmingham native, Grill started her nursing career at the University of Alabama before transferring to UAB where she would receive her bachelors degree. During her college years, she worked as a nursing assistant for the defunct Carraway Medical Center in Birmingham, who granted her a scholarship to cover the cost of her education.
After several nursing stints across the Southeast, Grill returned to Birmingham briefly before coming to Opelika in 1992 to become the hospital's Director of Cardiology. In 1995, she was promoted to vice president of Patient Care Services and Chief Nursing Officer.
Eleven years later, Grill was hired to become the hospitals COO before attaining the rank executive vice president/administrator and being named as Andrus's replacement in 2008.
During her tenure, Grill said she has seen a number of needed changes and improvements made to the hospital to keep up with the area's increase in development and population.
"As the area has grown, so has the hospital to meet the community's needs. There's always a challenge and opportunity to grow, which is one of my favorite things to do," Grill said.
The outlook for the hospital's future is bright, as construction on a planned Cancer Center is slated for completion next summer and they are close to launching a mobile wellness clinic through a partnership with local municipalities and other health organizations.
"In the future, one of the big things we're going to have to figure out is providing healthcare to patients in different locations so that they don't have to come to the hospital or emergency room. We want to be able to connect with them and be able to keep them healthy and keep them going," Grill said.
In her spare time, Grill said she enjoys reading and spending time at the beach.
For more information about EAMC and the services it provides, visit www.eamc.org.
The hospital is located at 2000 Pepperell Parkway.