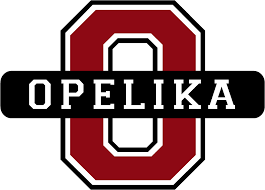 By D. Mark Mitchell
The Opelika Lady Bulldog soccer team (12-6-1) defeated Wetumpka 7-0 in the first round of the AHSAA 6A Soccer playoffs last Friday at the W. James Samford Soccer Complex. Opelika earned a home game after winning the area Title. Opelika scored four goals in the first half and added three in the second half, while Emily Lux helped hold the Indians scoreless.
Amiya Brown led the scoring with four goals, Estafany Alba, Kaitlyn Goodman and Erica Mathews scored one goal apiece. Alba and Mathews combined for four assists while teammates, Goodman, Abigail Morgan and Motley added one apiece.
On Monday night, the Lady Bulldogs soccer team punched their ticket to the third round of state playoffs after beating Benjamin Russell. Brown and Alba scored a goal each while Erica Matthews and Brown recorded an assist.
Opelika will play the winner of Chelsea v. Northridge in the 6A quarterfinals.
Opelika's boys Soccer team (11-6-5) battled Wetumpka to a 0-0 tie after regulation, but the Indians converted all five penalty kicks to win 1-0 in double overtime. The Bulldogs were peaking at the right time and appeared ready to make a run at a state title. Instead, the loss ended Opelika's season.
SOFTBALL
Opelika softball team (11-13) travelled to Alexander City last night for the area tournament. The Lady Bulldogs reached the sub-regionals in each of the three prior seasons. Russell County, Benjamin Russell and Opelika are battling for two spots in the AHSAA 6A Softball playoffs.
Opelika softball coach and OCS physical education teacher Tina Deese told school officials that she would retire in June. Deese wanted to give the administration enough time to find the right person to lead the softball program. It appears that school administration hired Roger Belyue as a teacher and new head softball coach. Belyue, currently the head softball coach at Calera, is an Opelika graduate with an extensive and impressive resume. Roger guided Wetumpka to the 6A State title in 2015, earning him AHSAA Coach of the Year. His teams won area championships in 2011, 2015, 2016, 2017 and won area championships in 2011, 2013, 2015, 2016 and 2017. His teams went to the regionals in 2011, 2014, 2015, 2016, 2017 and 2018. Coach Belyue sent seven players to the North/South games, 25 players signed scholarships to play college softball and 11 players won ASWA first-team honorable mention.
Belyue played baseball at Jacksonville State in 1990 and 1991, winning two NCAA National Championships and batted .435. He was drafted by the Chicago Cubs in the 1991 MLB draft. Belyue has been married to Jennifer McInnis Belyue, for 24 years. They have two daughters, Sydney who enjoys band and Addison who plays softball.
TRACK
The following Opelika girls placed well in the sectional meet. Haley Sanders won the 100-meter dash and 200-meter dash.
The Opelika boys track team won the Sectional meet 197.50 over Homewood at 196.50 by very slim margin.
The two teams travel to Gulf Shores today for the state track and field championships. The meet covers three days, concluding late Saturday.
OHS SPRING
FOOTBALL
Opelika Coach Erik Speakman will conduct his second spring training as the head coach. The Bulldogs will practice April 30, May 2, 7, 9, 10, 13, 15 and play Valley in a spring game at 6:30 p.m. at Bulldog Stadium on May 16.
D. Mark Mitchell is sports director for iHeart Media, Alabama Dixie Boys State Director and vice president of the A-O Sports Council.