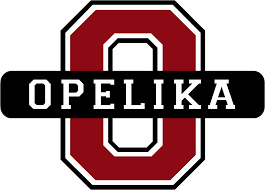 By D. Mark Mitchell
The Opelika High School Lady Bulldog basketball team (27-5) advanced to the AHSAA's Final 56 (Final 4) after beating Carver 61-54 in the regional finals last week. This will be the second-straight trip for the Opelika girls under coach Devin Booth.
Opelika will play G.W. Carver High School of Birmingham (26-8) at 9:30 a.m. Wednesday at the BJCC Legacy Arena. The winner advances to the finals against the winner of Hazel Green and Blount. Carver enters the game riding a 17-game win streak. The Rams beat Bessemer City (65-45), Muscle Shoals (58-45) and Hartselle (50-49). The two teams are familiar opponents. Opelika beat Carver 55-28 Nov. 9 in the Hazel Green Tipoff Classic.
The Lady Bulldogs departed for Birmingham yesterday. Opelika Mayor Gary Fuller and Opelika Police Department Chief Johnny McEachern surprised the team with a "Blue light" police escort out of town. Opelika police vehicles led the team from the high school to Highway 280 with police SUV's in front and back. The team visited the arena last night, the first time since they fell in last year's semifinals.
You can listen to the Opelika/Carver basketball game on WZMG 910 AM at 9 a.m. and online at kickerfm.com and click sports or search WZMG on the iHeart Radio app.
BASEBALL
The Opelika baseball team finished the first week of the regular season 0-6. Opelika dropped two on opening day, Smiths Station 6-5 and Enterprise 8-1.
The Bulldogs lost four games in the Terry Sykes Invitational last Friday and Saturday at Troy. Following are team results: Prattville 4-2, Robertsdale 6-1, Northview 7-6 and G.W. Long 14-9. No individual stats were available.
Opelika will play Brookwood Friday at 4 p.m., and play a doubleheader Saturday against Oak Grove at 11 a.m. and Wetumpka at 3:30 p.m.
SOCCER
Marshall Meyers scored the lone goal in a 3-1 loss to Brookstone in a tough match. Brookstone's girls shutout Opelika.
DAWG POUND CLASSIC
Opelika's soccer teams will host the annual Dawg Pound Classic soccer tournament on March 1 and 2 at the W. James Samford Soccer Complex. Teams will play Friday and all day Saturday.
SOFTBALL
Opelika's softball teams lost their first two games, to Dothan 12-2 and Smiths Station 12-0.
DIXIE BOYS BASEBALL ( 13-14-15 year olds)
The Opelika Dixie Boys Baseball League will open registration during March. The baseball league is for 13, 14 and 15 year olds. Registration is held at the Sportsplex during regular business hours. Cost is $45 and all players will be on a team. For more information, email foxonthemark@yahoo.com
MARCH 1
My grandson, John-Mark Farmer, will celebrate his third birthday on March 1. Although he lives in Houston, I still want to take a moment to express my love and wish him the happiest of birthdays from his Paw Paw.
D. Mark Mitchell is sports director for iHeart Media, Alabama Dixie Boys State Director and vice president of the A-O Sports Council.